The University of Birmingham is set to launch a major new climate report on its Dubai campus on the eve of COP28 to support policymakers, businesses and wider society build a more sustainable future for all. 
The report, Adaptation and Building Resilience in a Changing World, will be launched at an event on 29 November as part of the institution's COP28 activities in Dubai. Its activities during the climate conference will also include a series of events, convening academics, researchers, industry leaders, government officials and media.
The report comprises four separate policy briefs focusing on water and food security, global adaptation, global finance and health and environmental quality. Created by top climate experts and other academics, it includes recommendations on how research can help us to understand and address climate challenges. To mark the launch of the report, the Dubai campus will host a panel discussion exploring the themes of the report, hosted by Chancellor Lord Bilimoria.
Professor David Hannah, Deputy Pro-Vice-Chancellor (Sustainability) said: "As one of the world's leading research institutions, we feel a deep sense of responsibility to inform governments, societies, and industries on critical challenges, especially climate change. The launch of our adaptation and resilience report ahead of COP28 will be a critical tool for empowering policymakers, reflecting our role as a strategic knowledge partner for governments. We are committed to using our cutting-edge research to support governments, businesses, and communities to address the future of energy, cities, water and food security, environmental health, and green financing."
---
Dubai campus to host researchers and stakeholders as University brings full weight of expertise to bear on targeted climate challenges and support policymakers.
---
Dr Rasha Bayoumi, Head of Research University of Birmingham Dubai said: "Our world-leading climate experts, academics and researchers stand ready to share their insights and knowledge at COP28, contributing to meaningful discussions in the Blue Zone, the Green Zone, and at our new smart campus in Dubai. Throughout COP28, our campus will serve as a dynamic hub for dialogue and networking, fostering collaboration as we work collectively towards a more sustainable future."
BEACON launch
During COP28, the university's Dubai campus will host the official launch of the new Behavioural Analysis of Climate and Security Network (BEACON). BEACON is a new network based at the University of Birmingham that brings together leading researchers, innovators, policymakers, and enablers to analyse climate change as a threat multiplier and inform policies tailored to escalating human security risks. For instance, researchers will explore how climate change can impact crime, militantism, sexual violence, child abuse, and other injustices.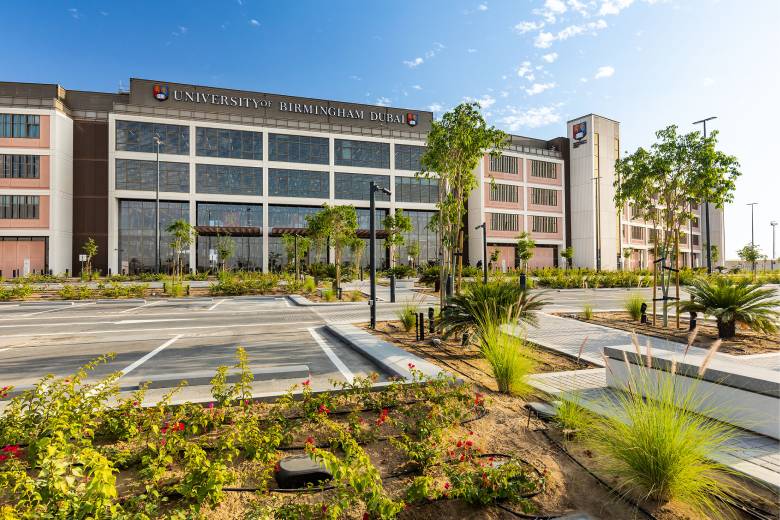 The network aims to advance understanding of the complex intersections between climate change and human security, defence, and resilience. Through its research, BEACON+ aims to inform policies and solutions tailored to managing the escalating security and defence risks in our rapidly changing world. BEACON researchers use data science techniques like geospatial analysis, predictive modelling, and machine learning to derive actionable intelligence.
To celebrate BEACON's establishment, the university will host a roundtable discussion on its Dubai campus, where it will address key climate-security challenges.
---
BEACON research to explore links between climate change and security risks, such as crime, militantism, sexual violence, child abuse.
---
Targeted events tackling specific climate issues
Throughout COP28, the University of Birmingham will host a full programme of events zoning in on specific challenges arising from climate change. It will harness its pool of world-leading academics and researchers, drawing on its broad network, including UN organisations and other universities in the UAE.
On 4 December 15-Minute Cities, Integration and Net Zero, will look at social sustainability and how innovation can help to drive greener urban development. The Mobility Event Series will be held from 6-8 December in collaboration with international and regional transport authorities, industry and academia.
On 13 December, the Dubai campus will host the first Climate Change, Urban Challenges, Renewable Energy, and Extreme Events (CRUEE) Conference. The conference aims to foster collaboration and knowledge exchange among researchers working on crucial aspects of climate change, urban challenges, renewable energy, and extreme events. By bringing together leading experts and emerging scholars, the workshop aims to generate innovative ideas, address pressing challenges, and explore sustainable solutions to global environmental concerns.
Throughout COP28, academics from the University of Birmingham will share their insights and research with policymakers and industry leaders in the Green Zone and Blue Zone. They are also available to speak with media.  
To read more from the University of Birmingham