Stairwells are often regarded as a problem area in school buildings because they can be dull, unsightly and difficult to maintain.
But, your Stairwells are actually a perfect blank canvas for beautiful, high impact Wall Art and can help you achieve your improvement goals.
Impart knowledge from your curriculum with a timeline or subject feature.
Improve wellbeing and environmental awareness with a nature wall
Inspire pupils by featuring role models and uplifting quotes across your stairwells
You can also use your step faces to showcase popular books or complex Maths equations.
Stairwell Wall Art is designed for busy school environments. It's highly durable and requires zero maintenance.
Stairwell Timelines
Some schools use their stairwells to step back in time, with history timelines. Students can walk alongside key events in history, see how certain eras overlapped and get a visual guide to chronology.
Best of all, pupils will absorb and memorise the information as they make their way up and down the stairwells each day.
Many teachers also use stairwell timelines to promote active learning and prompt discussion and debate between students.
In this way, timelines can develop vocabulary, curiosity and critical thinking outside the classroom.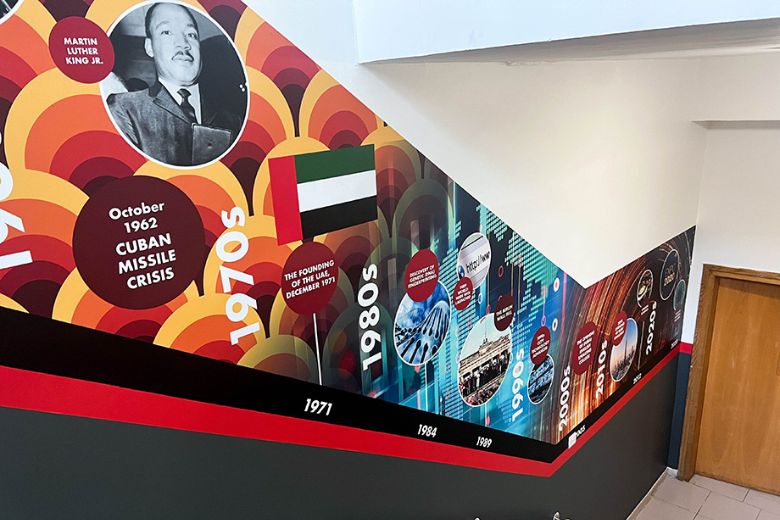 Environmental awareness
Many schools in the UAE have a huge focus on sustainability and environmental awareness. So it's reassuring to know that it's possible to transform stairwells with beautiful and immersive environment inspired designs.
Rainforests, maps, biomes and landscapes are all popular choices for environment related designs. Nature Wall Art creates a sense of calm, so pupils will feel relaxed as they make their way between lessons.
You can also include facts and stats about the environment and tips to help pupils reduce their carbon footprints and minimise waste.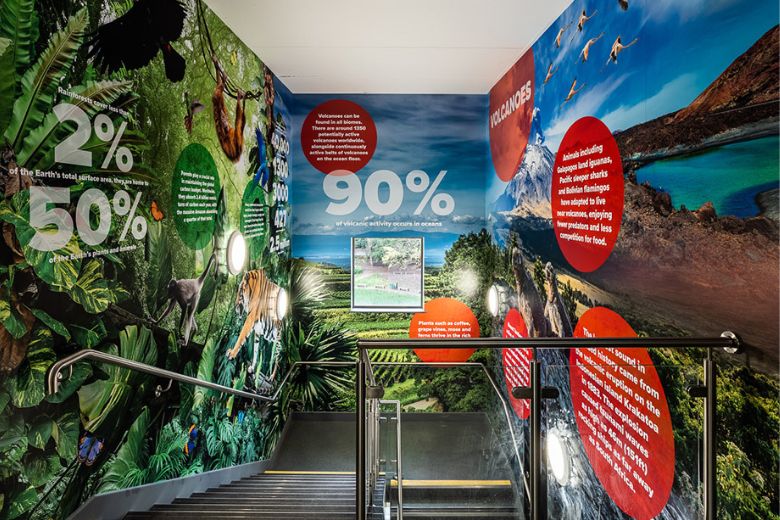 Stepping up
Some schools use their stairwells to inspire and uplift pupils with images of aspirational role models.
This might mean showcasing people from a certain subject or field of interest. Or you can feature sports people, actors, authors, musicians, political figures, inventors or philosophers.
As students make their way up and down the stairs, they'll be inspired to follow in the footsteps of people who have achieved great things. Complement the images with inspiring quotes or phrases that boost morale and motivate pupils to change their mindsets.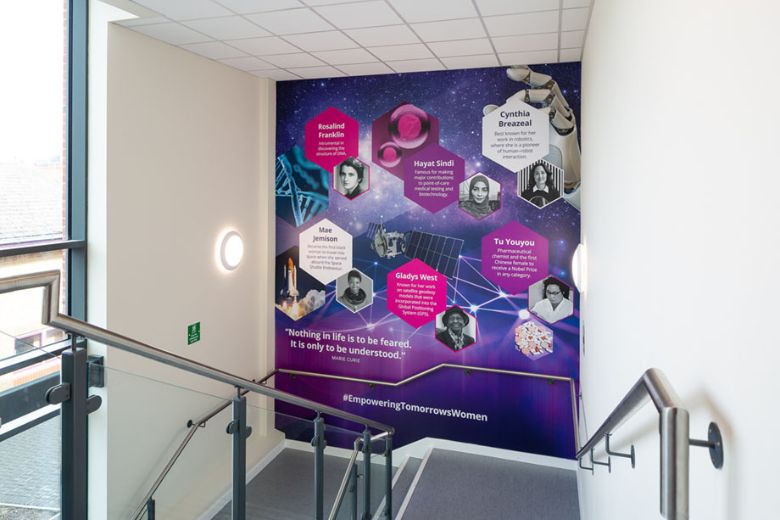 Facetime
It's not just your stairwell walls that can be transformed. Your step faces are also a blank canvas, waiting to be transformed.
Many schools use their step faces to feature popular books that are age appropriate for all pupils at your school. If your stairwell leads to a particular Year Group, department or subject area, you can use your step faces to showcase complex maths equations, sounds, words or stats.
Combining designs for your stairwell walls and your step faces creates a powerful overall effect!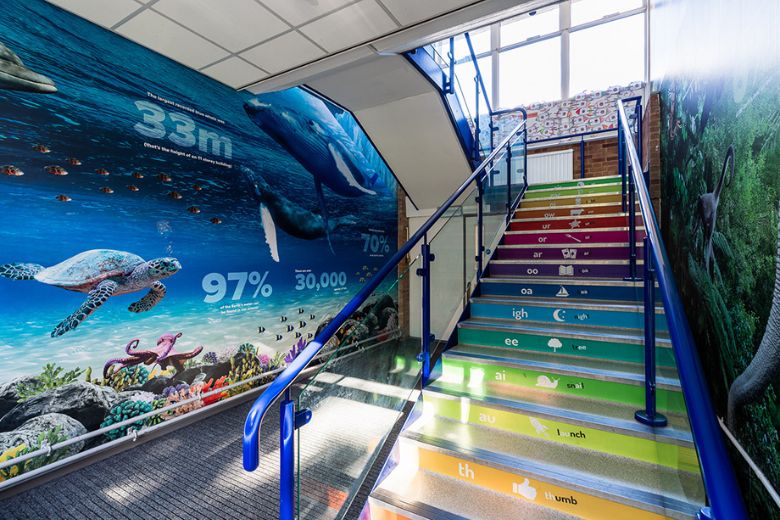 Wall Art for Schools in the UAE
Promote Your School has created Wall Art for some of the leading schools in the UAE, including The Arbor School, Dubai English Speaking College and Ibn Khuldoon National School (IKNS).
Their service includes a free on-site consultation to get you started. This allows them to understand your objectives and review your available space. From there, they'll guide you through their seamless design process, and print and install your Wall Art too.
Transform your stairwells – watch the video right here.
Ready to get started? Email [email protected] to arrange your free consultation.