Your school buildings can play a big part in securing a successful UAE school inspection.
Premium visual displays will make a positive first impression, even before inspectors initiate discussions, review your evaluation folders and sit in on lessons.
Displays can also help to showcase your ethos, values and approach to learning, as soon as an inspector enters your school.
"More than any other time, we need to boost innovation among young people, build nurturing environments in our society, and encourage our schools and universities to equip our youth with skills in research and discovery methodologies." – Sheikh Mohammed Bin Rashid Al Maktoum, Vice-President and Prime Minister of UAE and Ruler of Dubai (2014)
Visual displays can support your UAE school inspection in a number of key areas;
Reinforce how your school values and ethos are communicated
Demonstrate an innovative mindset for teaching and learning
Show the strength of your curriculum across english, maths, science and MSCS
Express your provision for pupils with special needs and requirements
Explain how you represent and include International and Emirati students
Display your commitment to supporting the wellbeing of all pupils
"Your school's walls provide a blank canvas to communicate key messages about your learning environment. Visual displays can share your ethos and values, promote core subjects and improve wellbeing. They can show, at a glance, that you offer an inclusive and positive learning environment for all pupils." – Lisa Savage, Director at Promote Your School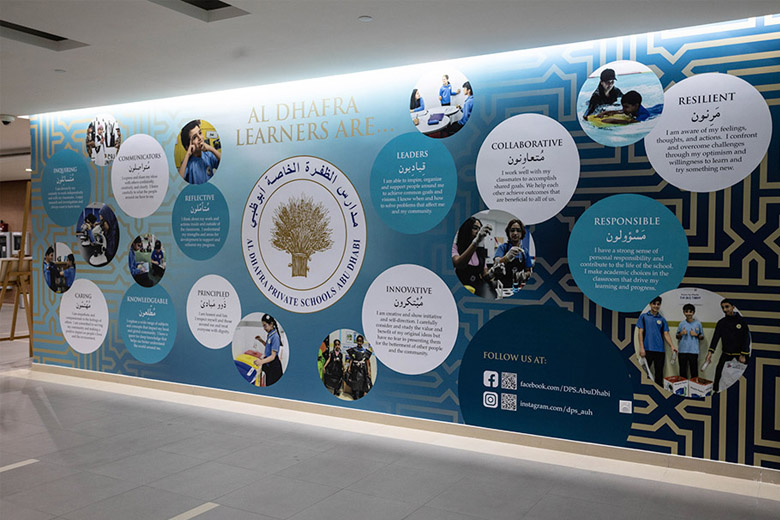 Share your values
During a UAE school inspection, inspectors will be keen to find out how your school reinforces your values and ethos to pupils, parents and staff.
Naturally, you can explain this in your self-evaluation as part of the inspection process. But there's another, more visual, way to showcase your school's unique ethos…
A large Values display in a communal area of the school can greet inspectors as soon as they arrive.
In fact, a values display will achieve a few of your inspection goals in a single design;
show how your values are an inherent part of your school's DNA
use representative images in the design to demonstrate your inclusive approach
detail your values in english and arabic to show that you cater for international and local students
brand the designs with your school logo and colours for a slick and professional effect
Innovation
Visual wall displays can show that you're an innovative, forward-thinking school.
For example, an 'Innovative People' display will give a visual nod to innovative thinkers who have shaped the world we live in.
UAE School inspectors will be impressed by your capacity to inspire and motivate students to apply innovative thinking to their schoolwork. They'll see that you're inspiring pupils to follow in the footsteps of innovative people who have preceded them.
A technology timeline is a great resource to show the evolution of innovative technology through the years.
Use striking images against a futuristic background to add wow factor to your school's walls. Inspectors will admire how you have set the scene for innovation to flourish. And they'll be impressed that you have created an awe-inspiring learning environment for students.
If your school offers something truly unique and innovative to students, display this visually on your walls!
Perhaps you offer unrivalled extra-curricular activities, a groundbreaking Science programme or consistently outstanding academic results. Use your school's walls to celebrate this and show inspectors, at a glance, that your school is one of a kind.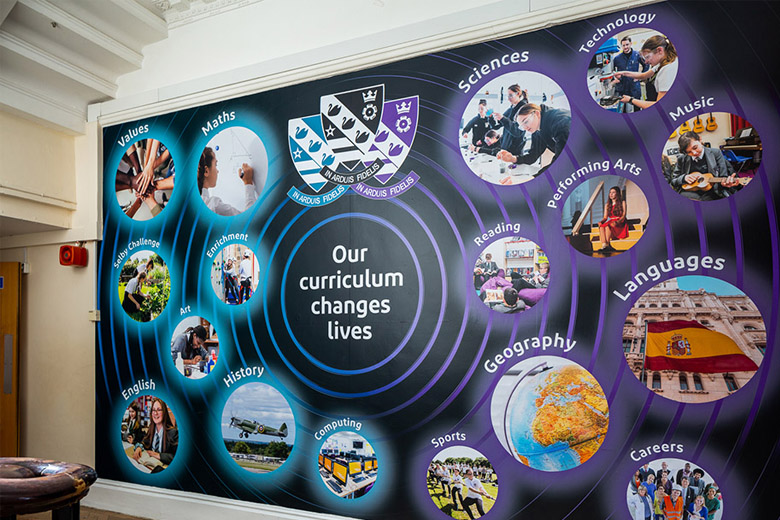 Celebrate your curriculum
School inspectors will pay close attention to your curriculum.
Is it broad, balanced and implemented well? How do you inspire learning across the core subjects?
Curriculum Wall Art can show inspectors that you're clear on what your curriculum offers. It demonstrates how you prepare students for their journey into the world beyond school.
You can create dedicated subject walls for each of the core subjects. This works well in designated subject departments or generally in your school corridors.
Not only will this support your inspection, but it will serve as a valuable learning aid for students too.
Something special
UAE School inspectors will want you to demonstrate that you offer special provisions for certain students. This includes students with special education needs and disabilities, those with learning and behavioural disorders, and any gifted and talented students.
Often, inspectors will spend dedicated time with any students that have special education needs or additional learning support requirements.
You can use clever visual signage to help students with learning difficulties navigate your school with ease. Inspectors will be impressed by your visible commitment to accommodating all pupils.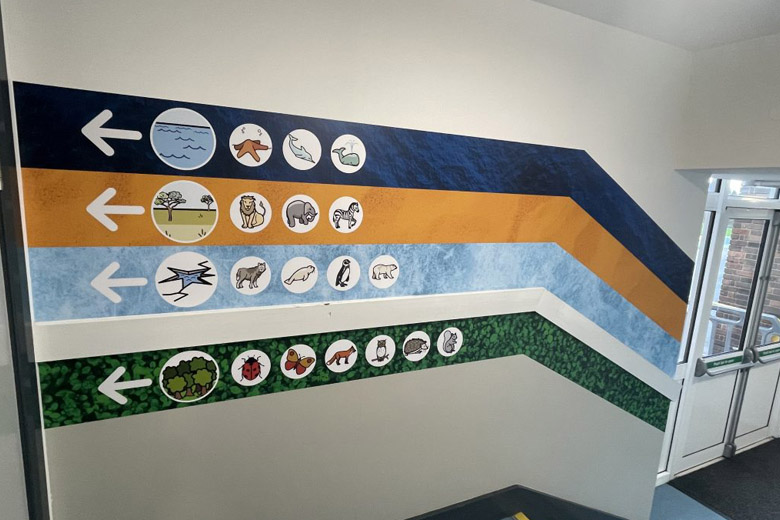 All are welcome
Inspectors will also want to see your commitment to Emirati and International students – how you make everyone feel welcome, equal and included.
Use diverse and representative images, positive messages and inspiring phrases in all visual displays to deliver an inclusive message.
You might also present your visual wall displays in Arabic and English (as well as any other languages your students speak) for added effect.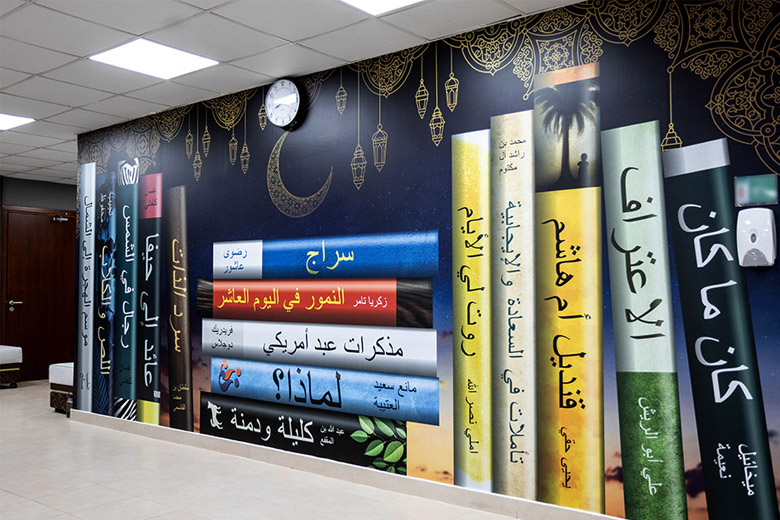 Student Wellbeing
Wellbeing is a key aspect of a school inspection. Inspectors will be looking at how you keep pupils safe, happy and healthy so they can achieve their full potential.
Tailor your visual displays to motivate and inspire pupils – and secure a successful school inspection at the same time!
Provide tips on how to look after mental, physical and emotional health
Use uplifting phrases and quotes to boost morale
Create a positive learning environment with images, striking colours and bold text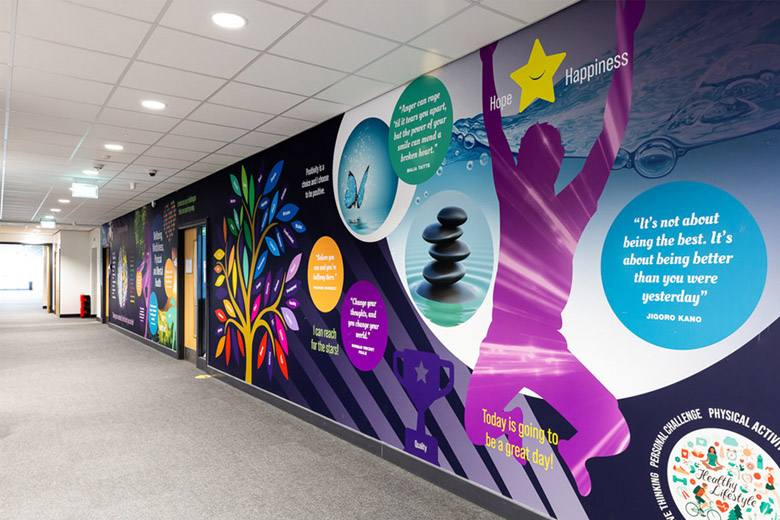 Visual Wall Art by Promote Your School
Promote Your School is an education design agency that creates bespoke visual Wall Art for schools in the UAE, and the rest of the world.
Their stunning Wall Art is suitable for all school types and can be installed on walls, floors, ceilings, windows, doors and outdoor buildings.
Email [email protected] to arrange a free consultation.
To read more tips from Promote Your School