TikTok launches an in-app learning content hub, titled 'School Ready' to bring together entertainment and learning on TikTok. As part of its ongoing efforts to support education content on the platform, TikTok has partnered with a number of top e-learning platforms in the MENA region to spotlight high school education and exam preparation content through the 'School Ready' in-app learning content hub. In addition to providing access to e-learning platforms, the hub will offer bite-sized courses and exam readiness tips to help students achieve their academic goals and beyond.
By collaborating with some of the region's most popular educational platforms, namely Abwaab, Noon Academy and Nafham in both Saudi Arabia and Egypt, TikTok will bring even more credible and authentic educational content to help students to better navigate the learning landscape and prepare more effectively for exams.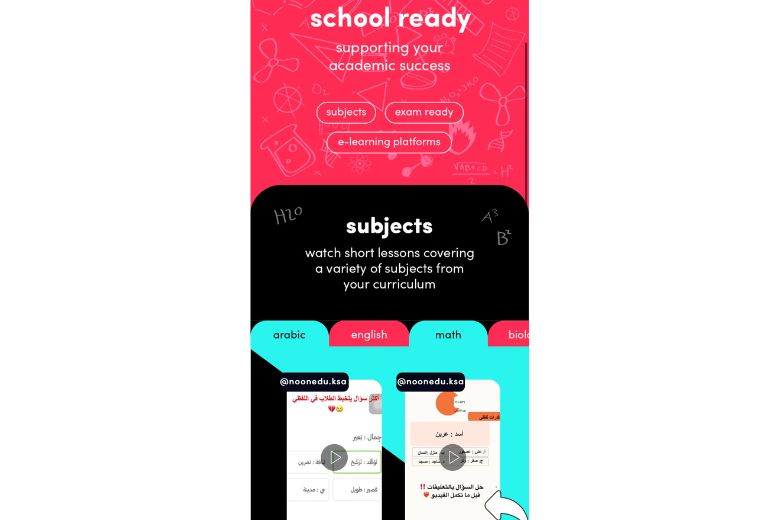 ---
TikTok partners with top e-learning platforms in the MENA region to strengthen high school education and exam preparation content to the platform.
---
A dedicated landing page will function as the main location to showcase school education and tutoring content around various subjects for Grade 10 to Grade 12 students.
The new hub builds on TikTok's existing range of useful educational content, which brings together learning and entertainment to engage high school students and strengthen the exchange of ideas within the community.
As part of this latest addition to the platform's versatile sources of educational content, the partners will regularly publish educational videos, curriculum-related updates and more on the platform. The hub will also include partner accounts, and extended content from authentic educational creators, which will cover a wide range of subjects and issues ranging from mathematics, language lessons and scientific breakthroughs to time management tips and strategies to handle exam anxiety. Additionally, the community will have the opportunity to share their feedback in the suggestions box on additional educational content they would like to see more of.
A push notification will alert TikTok users in MENA about the learning content hub and direct them to the landing page to peruse quality educational content.
You can visit the TikTok 'School Ready' learning content hub here.