There are many reasons to invest in your learning environment, but competing priorities may make you question if now is the right time.
Here we'll detail a few reasons why now is the perfect time to prioritise your visual learning environment. And, we'll explain how to allocate your improvement budget in areas that will deliver the best return.
"The real asset of any advanced nation is its people, especially the educated ones, and the prosperity and success of the people are measured by the standard of their education" – Late Shaikh Zayed Bin Sultan Al Nahyan
The visual learning environment
Your school is the home of future leaders. Future CEOs, scientists, thespians, sportspeople, firefighters, teachers and parents all walk your hallways daily. You're giving them the best start in life with a well rounded education, outstanding teachers and a diverse curriculum.
Investing in your learning environment plays a big part in inspiring future leaders too. A positive, visually appealing school environment can raise aspirations and get pupils in the right mindset for learning, while nurturing their creativity and wellbeing too.
"The temporary introduction of 100% online teaching [during the Covid-19 pandemic], often had a detrimental effect on student learning" (El-Sakran et al., 2022).
Now that physical teaching has returned, for the most part to normal levels, many schools are investing in their learning environments to make them engaging and exciting for students.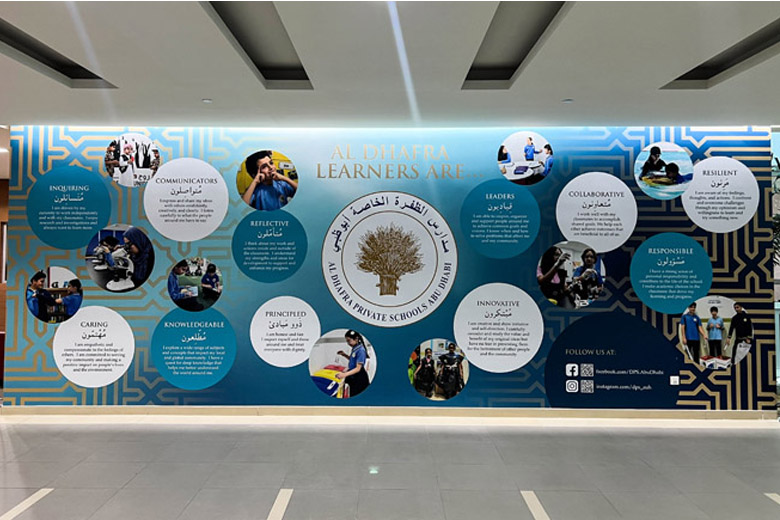 Long-term investment
It can be tempting to go with low cost options for school improvement. But, what saves you money in the short-term could cost you more over time.
For example;
Many temporary visual displays can become worn and dated after a short time and may need to be replaced regularly. This can end up costing a lot more than if you'd invested in a higher quality, long-term product upfront.
Upkeep can also cost money, so make sure you check out what maintenance is required on any products you invest in.
Any visual displays you invest in should be designed specifically for busy school environments, so they can withstand any wear and tear, spills and heavy footfall.
Curriculum based Wall Art can complement teachers' lessons, saving teaching time as pupils will already be engaged in the subject when they reach the classroom.
Many schools rely on painting to keep their walls looking good, but this is a costly process that needs to be repeated regularly. It's often more cost effective to opt for a fixed visual display product, like Wall Art, as it will last years and requires no maintenance.
Wall Art for schools in the UAE
Take a walk around your school and reflect on any areas that are dull or unappealing. They may offer blank wall space that could be used to inspire learning, create a sense of belonging or raise morale.
This includes;
Stairwells with uninspiring walls – stairwells are an area of high footfall!
Corridors that are plain and practical but lack character or warmth
Classroom walls with temporary displays that need a lot of upkeep or must be replaced regularly
Communal areas like halls, reception areas and canteens where pupils meet every day
Outdoor areas in need of TLC or better branding and signage
Now, consider how bespoke Wall Art could transform these areas and create beautiful visual learning spaces.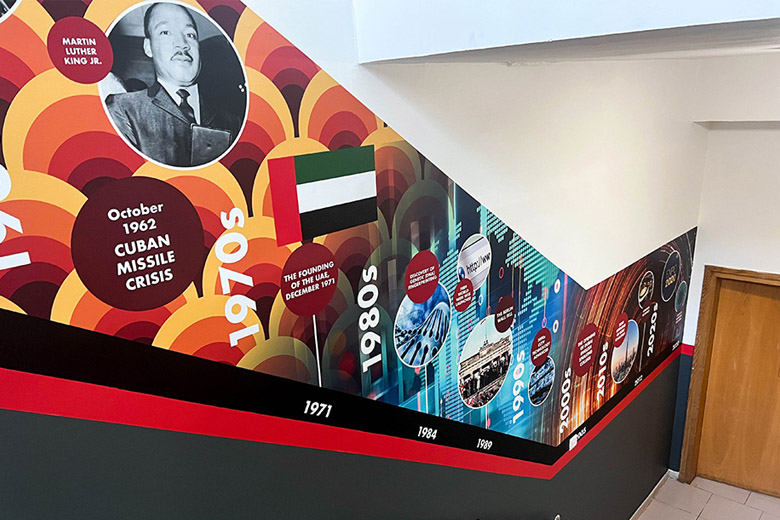 Stairwell Wall Art
Many schools don't realise that their stairwells can help them achieve their school improvement goals, in a cost effective way.
You may think, "but my stairwells are unsightly!", "it'll be a huge project" or "stairwells are purely functional".
However, you can achieve some of your improvement goals on a single feature wall.
Stairwells are a high footfall area of your school, used multiple times every day. So, why not use them to inspire learning, improve wellbeing or stimulate curiosity?
Some schools use their stairwell walls to impart knowledge or show the breadth and balance of their curriculum. Others use them to aid wellbeing, with images of nature, wildlife and immersive scenes.
Corridors and classroom walls – ideal for learning
School corridors tend to offer lots of continuous white wall space…boring to look at but perfect as a blank canvas for Wall Art!
You can add any type of design to your corridors, from a large world map to a subject timeline or feature wall. Inspirational leaders, uplifting quotes and local landmarks work well too. Think about what you'd like to achieve – learning, wellbeing or morale – and then we can help you decide what sort of design you'll need.
The same principle applies to your classroom walls. Instead of tatty temporary displays, you can invest in durable, long-term Wall Art that will ignite curiosity and engage pupils in learning.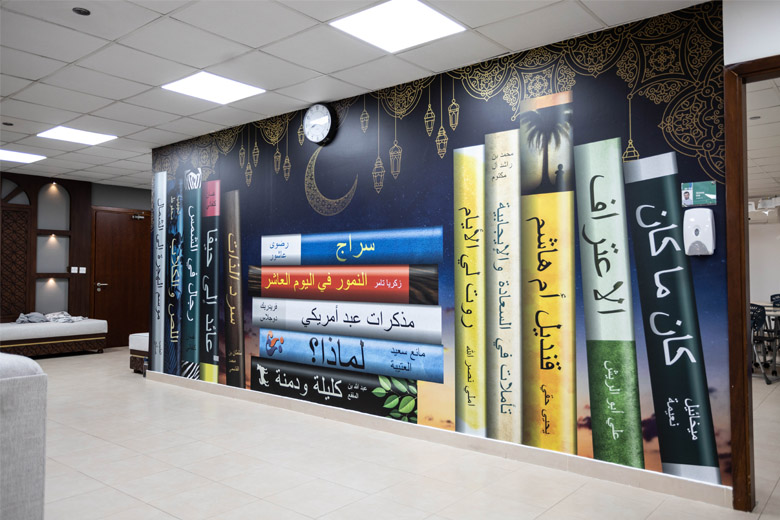 Communal areas and outdoors
A bold, branded design on your reception area wall can boost your brand image and make a positive first impression of your school. Your school hall can inspire pupils to harness their creativity or engage in physical activity and games.
Use your outdoor buildings, fences and gates to create a positive impression of your school to passers-by, before they've even stepped foot in your school.
Ready to get started? Email

[email protected]

to arrange your free consultation.