As you embark on a new academic journey, having the right laptop by your side can make all the difference. Whether you're a student gearing up for lectures, assignments, research, or an educator shaping the minds of tomorrow, the modern laptop is an indispensable tool that empowers, engages, and elevates the learning experience.
And the good news in 2023 is that the next phase of laptop evolution has arrived! It's not just for all things educational either, with the Cyborg 15 A12V and Acer Predator Helios Neo being the fastest gaming hardware on the market, powered by NVIDIA® GeForce RTX™ 40 Series Laptop GPUs.
Built with the ultra-efficient NVIDIA Ada Lovelace architecture, they bring a quantum leap in performance with AI-powered DLSS 3 and enable lifelike virtual worlds with full ray tracing. Plus, the Max-Q suite of technologies optimises system performance, power, battery life, and acoustics for peak efficiency.
So, whether you're a student ready to dive into the sea of knowledge, an educator poised to shape the minds of future generations, or a gamer ready to embark on the ultimate sci-fi adventure, the journey begins here!
CREATIVITY WITHOUT COMPROMISE
What makes NVIDIA GeForce RTX40series laptops so unique is their versatility. They make short work of even the most demanding applications and assignments, so you spend less time waiting for things to get done. They come equipped with powerful tools and software that help make it easier to be productive in everyday tasks.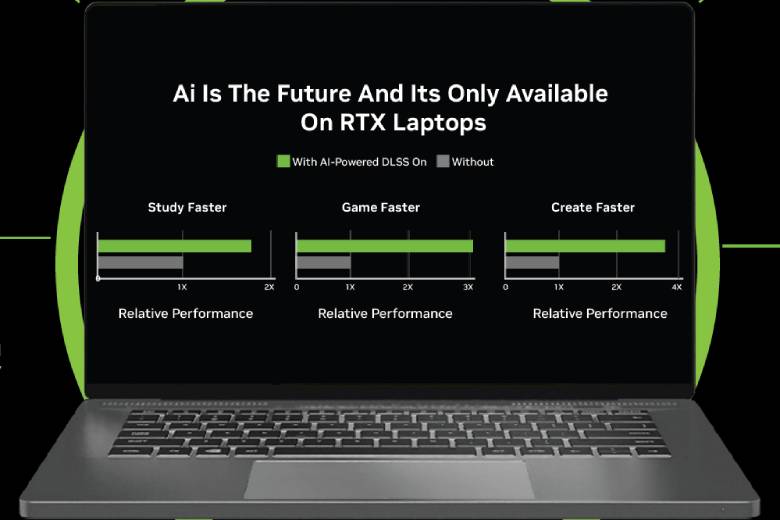 ---
Get a helping hand with schoolwork, only on NVIDIA® GeForce RTX™ 40 Series Laptop
---
For example, NVIDIA Broadcast makes it easier to attend remote learning sessions by intelligently removing your camera background and also removing unwanted noise when using your microphone. If you've ever drawn something on paper and wished that you could turn it into something artistic, then NVIDIA Canvas will do all the heavy lifting for you. With just a few simple mouse strokes, it can convert basic drawings into stunning landscapes or works of art. This fuels your imagination to create even more incredible things. These are just a few of the amazing free technologies and apps that come bundled with a NVIDIA GeForce RTX40-series laptop, that allows you to constantly evolve in your creative passions.
MAXIMUM PERFORMANCE POWERED BY AI
AI is fast becoming an important tool in our lives. So, it's no surprise that it's ingrained in NVIDIA GeForce RTX40series laptops. When gaming, NVIDIA's DLSS3 technology uses AI-powered graphics help to produce smoother gameplay, giving you a faster gaming experience. The library of games that support this technology is constantly growing, so you can rest assured that any NVIDIA GeForce RTX40-series laptop will be compatible with future games for years to come. Free, regular software updates from NVIDIA ensures that you always get the best performance for the latest games. You do not have to worry about expensive hardware upgrades.
NVIDIA GeForce RTX 40-series laptops also supercharge studies for STEM students.
The powerful NVIDIA hardware accelerates the top student applications in engineering, architecture, computer science, data science, economics, and more. With GeForce RTX, students can get out of the computer lab and work from anywhere, finish coursework faster, and study, create and play, all on the same laptop. You'll be able to work faster and take your homework with you. This gives you more time to explore the topics that interest you. For engineering and architecture students, you'll be able to take advantage of faster solutions and visualization for mechanical, structural, and electrical simulations. Computer Science, Data Science, and Economics students will benefit from faster data analytics for processing large data sets, as well as faster training for machine learning models for computer vision, generative AI, and tabular data.
---
Equipped with AI tools to accelerate studying, gaming, and creativity, NVIDIA GeForce RTX40series laptops bring unlimited performance to your fingertips.
---
Buying an NVIDIA GeForce RTX 40-series laptop will ultimately save you money, as it functions as a multipurpose device for studying, gaming, and creating. Rather than having to invest in multiple devices or platforms, you now have one powerful and portable tool to do all of these tasks. With an expanding library of compatible applications and games that take advantage of NVIDIA's unique technologies, there's no better choice to make when it comes to a single laptop that can handle any task with ease.
When it comes to picking a laptop for schoolwork, there are tons of options available on the market. From screen size to longer battery life, there are a lot of features to consider before making a commitment. Parents no longer want to buy the cheapest option available. They want to invest in a device that's going to last not just for the school year, but for years to come.
That's why an NVIDIA GeForce RTX40-series laptop is a great choice for a versatile laptop that can tackle everything from daily schoolwork to weekend gaming sessions. The true power of an NVIDIA GeForce RTX40-series laptop lies not only in the performance it offers, but also in its versatility and ability to handle a multitude of applications. Whether it's for typing up long assignments, creating new artwork, or exploring the beginnings of 3D design, an NVIDIA GeForce RTX40-series laptop performs faster and better than any laptop you've ever used before.