Saturday, 17 June marks the launch of the first ever 'BRICKS BRUNCH' at LEGOLAND® Hotel. The brunch is set in a LEGO themed world and is dedicated to families with children aged 2-12 to offer all youngsters an unmatched brunch adventure.
Here, every Saturday from 1pm to 4pm, families can explore a list of fun-filled activities, including LEGO® Building Bonanza, Kids Kitchen featuring Pizza Making Class and Ice Cream Sundae Building together with Crazy Craft Corner, Character Dance Party and Movie Madness. Moreover, foodies will enjoy a mouth-watering buffet presenting Middle Eastern, Mediterranean, Indian, Italian and Asian cuisines together with vegan and vegetarian delicacies to meet every taste. All of this is topped with exclusive access to the LEGOLAND Hotel outdoor family pool and kids splashpad area from 4pm until 7pm. To extend the awesomeness even further, families are welcome to join BRICKS BRUNCH Sleepover adventure with exclusive experiences featuring creative workshops, in-room treasure hunt with LEGO gifts, LEGOLAND® park(s) access where kids eat FREE* and more.
---
Family brunch in a LEGO Themed World
---
Once families reach LEGOLAND Hotel at 1pm, they are welcome to head to Bricks Family Restaurant and start their awesome BRICKS BRUNCH adventure. Here, all children will be escorted to 'BRICKS BRUNCH Activity Zone', where the fun happens – starting with LEGO Building Bonanza, where young LEGO® builders are encouraged to get creative in building their own LEGO® design or model as well as the chance to work in groups for various team building challenges.
For all young pizza lovers, Pizza Making class is their next challenge, where they become chefs for 20 minutes and are invited to decorate their own pizza with various toppings, hand it to LEGOLAND Hotel team members to place in the kitchen oven and as soon as it's cooked, all young chefs receive their 'masterpieces' together with their personalised 'Bricktacular Excellence' certificate for completing this delicious challenge. Further fun activities for the young guests include 'Crazy Craft Corner' an extensive selection of arts & crafts featuring card making, origamis, activity sheets, button making, friendship bracelets and more.
As the one and only 'BRICKS BRUNCH' cannot be complete without LEGOLAND® Characters, a special LEGOLAND Character Dance Party is announced every Saturday at 2.45pm where all kids and parents are invited to join and share their favourite dance moves with everyone. As for the ice cream lovers, they have an exclusive opportunity to showcase their 'creativity' by decorating their Ice Cream Sundae. They will have a huge selection of irresistible toppings and sauces to choose from, while wearing LEGOLAND® Dubai aprons in case they 'mistakenly' decorate their own clothes with toppings or sauces instead of their cool masterpiece. To keep the young 'BRICKS BRUNCH' guests relaxed after their 'sugar rush', they will be invited to join 'Movie Madness' in LEGOLAND® Hotel function room, which will be transformed into a special movie theatre with LOADS of beanbags to watch a LEGO® movie, while enjoying their complimentary popcorn.
---
Starting Saturday 17 June, running every Saturday during summer, 1-4pm
---
While the youngsters are having fun with the extensive activities, games and non-stop adventures, supervised by the very-well trained LEGOLAND Hotel team, parents are rewarded with relaxation time among friends and families. Here, an extensive culinary journey from around the globe awaits all foodies, featuring Middle Eastern, Mediterranean, Indian, Italian and Asian cuisines together with a wide variety of vegetarian, vegan as well as healthy culinary specialties to accommodate every guest's preference. California Maki Sushi, Lamb Steaks, Chicken Scallop, Butter Chicken, Paneer Masala, Lamb Ouzi, Samak Mashwi, Thai Seafood Curry, Beef Teriyaki, Vegan Shepherd's Pie, Mini Pizza, Chicken Popcorn, Umm Ali and Mango Cheesecake – are only some of the delicacies created by the talented LEGOLAND Hotel culinary team specially for the BRICKS BRUNCH guests. Along with the mouthwatering bites, families will enjoy a wide range of soft drinks, juices and mocktails with an opportunity for parents to upgrade their BRICKS BRUNCH adventure to include sparkling beverages and flavourful drinks.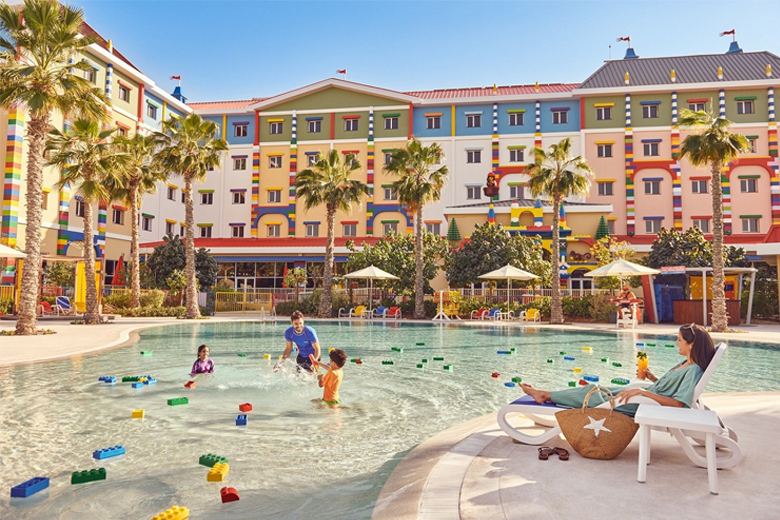 For all youngsters, a delicious range of their favourite cold and hot bites awaits them at their dedicated kids' height buffet to refuel their appetite and remain energised for the non-stop fun-filled activities and games of BRICKS BRUNCH. As part of our unique kid friendly-offerings, BRICKS BRUNCH will exclusively offer the awesome 'Kojito' – a signature BRICKS BRUNCH kids' Mojito with four of their favourite flavours awaiting them to choose from at the kids mocktail drink station, while watching LEGOLAND Hotel Barista personally prepare their 'Kojito' in minutes.
---
Access to LEGOLAND® Hotel family pool after 4pm for brunch guests plus kids LEGO movie-time post brunch
---
To extend the fun even more, after the conclusion of BRICKS BRUNCH at 4pm, guests are invited to enjoy the LEGOLAND Hotel outdoor family pool* and chill out until 7pm while their kids swim and have fun at the splash pad area – both supervised by professional Lifeguards throughout the day.
Why not continue this impeccable fun journey and explore LEGOLAND Hotel more by staying as guests? Here, parents can further entertain their youngsters for more than just one day, when choosing one of 5 room themes, whether Pirate, Adventure, LEGO® Friends, LEGO® Ninjago or Kingdom and book the ultimate LEGOLAND sleepover that includes breakfast buffet, LEGOLAND park(s) access, in-room treasure hunt, creative workshop, family activities, games and more.
With exclusive family-friendly brunch and unique kids' offerings, BRICKS BRUNCH at LEGOLAND Hotel is the perfect family brunch destination in the region, where both children and their parents will explore AWESOMENESS throughout every minute of this unforgettable LEGOLAND® Dubai adventure.
For more information or to book online
*BRICKS BRUNCH at LEGOLAND Hotel is available every Saturday, starting 17. June 2023 onwards from 1:00pm to 4:00pm at Bricks Family Restaurant priced at AED 195 per person (13 years and above) for Soft Drink Package (inclusive of food buffet, water, soft beverages and juices – self serviced from buffet) and at AED 295 per person for House Package (inclusive food buffet, water, soft beverages and juices – self serviced from buffet and selection of sparkling house beverages) applicable for adults aged 21 years and above. Children under 3 years old are complimentary. Children aged 3 to 12 years enjoy BRICKS BRUNCH at AED 99. BRICKS BRUNCH price is inclusive of service charge, food buffet, kids' activities and games, complimentary popcorn at Movie Madness, access to LEGOLAND Hotel outdoor family pool and splash pad area after 4pm to 7pm. BRICKS BRUNCH excludes access to LEGOLAND park(s). Any promotional offers or discounts are not applicable on BRICKS BRUNCH including Annual Pass Members. Booking is essential via https://www.legoland.com/dubai/bricks-brunch
**BRICKS BRUNCH Sleepover is applicable for a minimum of one -night stay at LEGOLAND Hotel in themed rooms, fully themed rooms and fully themed suites. 10% discount on room rate is applicable when booking at LEGOLAND.ae using mobile phone. Maximum 4 adults per room when booking 1,2,3 Bedroom Family Suites or Super Suite. Rate includes buffet breakfast, creative workshops, outdoor family pool and access to at least one LEGOLAND park, whether LEGOLAND Dubai theme park and/or LEGOLAND Water Park– tickets are applicable for one park per day. LEGOLAND Dubai theme park opens 7 days a week. Opening hours are from 10am – 6pm (Monday to Friday) and from 10am – 7pm (Saturday and Sunday). 'Kids Eat Free' offer is applicable on one child with each paying adult at 'Caesar's Pizza & Pasta Buffet Restaurant– offer is not to be used in conjunction with any other offer. LEGOLAND Water Park is open from 10am – 7pm (Thursday to Tuesday) and is closed on Wednesday. 'Kids Eat Free' offer is applicable on one child with each paying adult at 'Waves Bistro' after 4:30pm – offer is not to be used in conjunction with any other offer. LEGOLAND Dubai full day ticket price is AED 330 to be purchased at the gate or AED 295 when booking online in advance. LEGOLAND Water Park full day ticket price is AED 330 to be purchased at the gate or AED 295 when booking online in advance. LEGOLAND Dubai theme park + LEGOLAND Water Park combo full day ticket price is AED 395 to be purchased at the gate or AED 355 when booking online in advance. Complimentary entry for children under 3 years – ID is required. For additional information and booking, visit LEGOLAND.ae