Summer is here and it's time to make your kids learn new skills while they chill. Global Indian International School Dubai strongly believe that learning is maximised when enjoyed, so this summer, they are introducing an exciting GIIS Summer Camp at Dubai campus, which offers something new for every child to learn. Make this summer special for all students (GIIS or non-GIIS) from pre-KG to 9th grade with CAMPTASTIC 2022 commencing on 4 July for four fun-filled weeks until 4 August. The activities in this month-long summer camp will be age-appropriate so that there's something exciting and meaningful for everyone.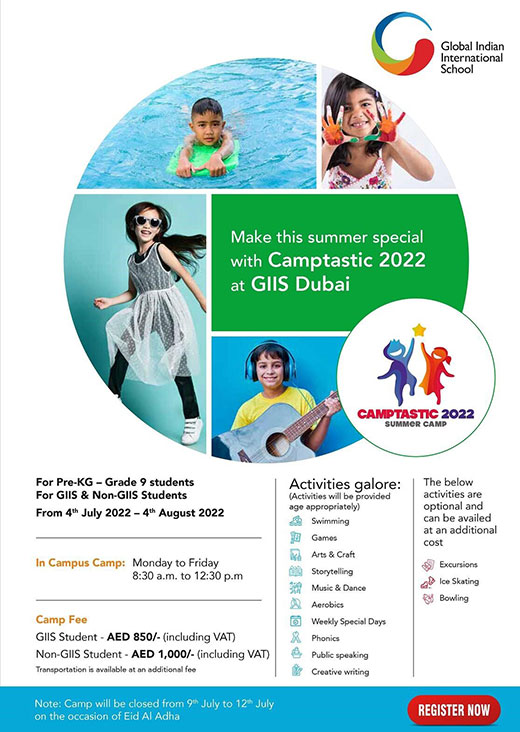 The activities include Swimming, Games, Arts & Crafts, Storytelling, Music & Dance, Aerobics, Weekly Special Days, Phonics, Public Speaking, and Creative Writing. There are two different sets of activities planned, one for the athletes and artists and the other for innovators. There's another section of activities that can be availed at an additional cost – Excursions, Ice Skating, and Bowling.
---
Summer Camp loaded with Fun and Learning Activities
---
The in-campus summer initiative will be organised on weekdays from 8.30 am-12.30 pm from Monday to Friday, except for being closed for Eid Al Adha from 9-12 July.
The camp is open for both GIIS as well as non-GIIS students. The fee for the full camp is:
AED 850 for GIIS students
AED 1000 for non-GIIS students
Let your children make the most of their summer break while enjoying themselves to the fullest by enrolling them for CAMPTASTIC 2022 at docs.google.com/forms/d/e/1FAIpQLSdK4nEeUb7nP1CIDn3orXGkjFwaKNJxj4_ogvrAsfPh-F61DQ/viewform
These four weeks can propel your child's learning curve by teaching them something new and innovative.