Ever dreamt of what it would be like to be a zookeeper? Get ready for adventure aplenty as The Green Planet can make those dreams come true! From now until the end of April, The Green Planet is challenging you to bring five empty plastic water bottles for recycling to have your name entered into a draw to win a 'Zookeeper for the Day' pass for four. This comes as part of The Green Planet's eco-campaign and ongoing efforts to encourage families to develop green and sustainable habits.
Home to over 3,000 exotic animals and plants, The Green Planet is a living classroom, transporting visitors to another world and offering an experience where anyone can learn about tropical wildlife.
The Zookeeper for the Day experience will offer the family a once in a lifetime opportunity to get up close and personal with some of The Green Planet's fascinating wildlife and shadow a biologist for the day.
---
Dubai's tropical biodome has launched an amazing eco-campaign, giving one lucky family the chance to unleash their inner zookeeper
---
Escorted by an expert team, the family will be able to venture behind the scenes, visit the laboratories and find out just what it takes to care for some of the most incredible and endangered species on the planet. Guests will soak up fascinating animal facts, whilst learning all about the challenges the animals face in the wild and the work The Green Planet does to support them.
Food preparation, mucking out, and close encounters with the animals – it's all in a day's work! Tasks include transitioning animals into the biodome, helping prepare animal program containers, feeding the animals, assisting the maintenance team, preparing diets for animals, observing monkey training sessions, plus much more.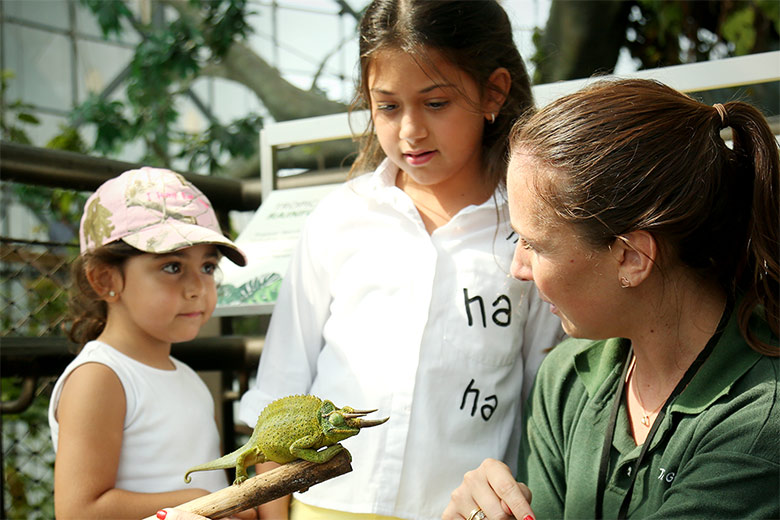 ---
Home to over 3,000 exotic animals and plants
---
Mini zookeepers will have the opportunity to talk with a biologist about future career options and will receive a TGP shirt to wear for the day and a printed name tag that can be kept as a memento.
So do your bit for the planet by recycling those bottles, to be with a chance of winning a truly unique, fun, and educational experience for the whole family at The Green Planet.
The Green Planet is also encouraging families to adopt more sustainable habits such as turning off the lights when you leave a room, turning off water taps when not in use, and using re-usable items, so do your bit and follow The Green Planet's top objective of encouraging everyone to care for our planet and all the animals who live there!