Canadian University Dubai (CUD) has been named the number one ranked higher education institution in Dubai for the third consecutive year in the recent QS World University Rankings for 2024. The institution also remains Dubai's top university according to the Times Higher Education (THE) Impact Rankings for 2023. Alongside the number one position in two of the world's most renowned university rankings, CUD also retains its prestigious five-star status in the QS rating system, reflecting the institution's excellence in broader metrics such as campus facilities, graduate employability, and social responsibility.
Maintaining the top position in the 2024 listing means that CUD has been recognised as Dubai's number one university every year since it first entered the QS rankings system in 2022. This year, the institution made notable advancements in the diversity metrics, climbing to a global ranking of number four for international faculty ratio, and number five for international student ratio. In addition, the recent THE Impact Rankings position CUD as number one in Dubai and number three in the UAE for Quality Education.
---
Institution also remains Dubai's top university in Times Higher Education Impact Rankings
---
Globally recognised among the most respected university rankings, QS (Quacquarelli Symonds) was the first worldwide system to have received International Ranking Expert Group approval. The 2024 listing marks the 20th edition of the QS World University Rankings and includes 1,500 institutions across 104 locations. This year's assessment also introduced three new metrics relating to sustainability, employment outcomes, and international research networks.
Speaking about the recent ranking, University Chancellor, Mr. Buti Saeed Al Ghandi, said, "We are honoured to be recognised once again as the top-ranked university in Dubai. As a world-renowned education destination, this city offers an abundance of international study options, so we are extremely proud to uphold the first-class reputation of Canadian higher education with another number one position. This achievement acknowledges the outstanding dedication of our faculty and staff and the tremendous talent of our students and graduates in helping to build our global reputation for academic excellence set in an inspiring campus community."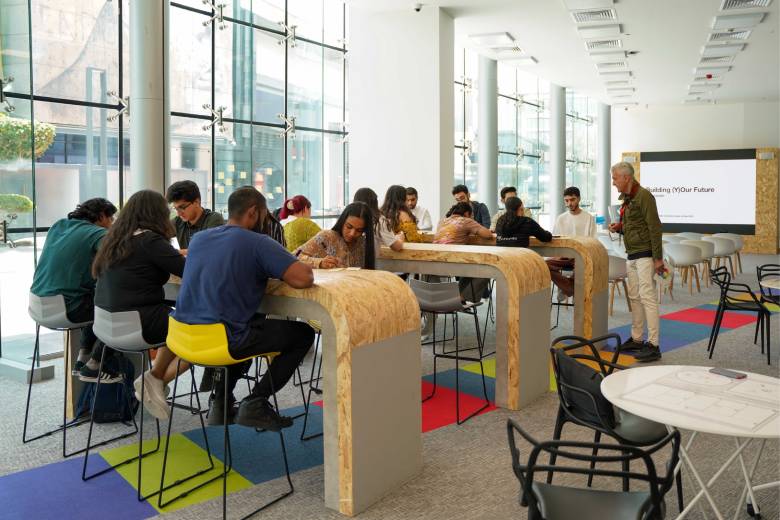 ---
"This achievement acknowledges the outstanding dedication of our faculty and staff and the tremendous talent of our students and graduates"
---
In recognition of the university's contribution to the United Nation's Sustainable Development Goals (UN SDGs), CUD has also topped the listing of Dubai-based institutions in the THE Impact Rankings for 2023. It is the second year in a row that CUD has been named as the number one university in the ranking, which assesses universities' contribution to all 17 SDGs across the core activities of teaching, research, outreach, and stewardship. According to THE, a record 1,705 universities from 115 locations were assessed this year.
CUD President and Vice Chancellor, Prof. Karim Chelli, remarked, "As we prepare the next generation of global citizens for the leadership challenges that lie ahead, we recognise our role in setting the standards for sustainable development practices. The top THE ranking is a testament to our academic and outreach endeavours, which create a positive impact in our local community, while also contributing to global sustainability goals."
To read more from Canadian University Dubai