Family, friends, and spectators flocked to Mohammed Bin Zayed Stadium to witness impressive displays of rising football talent, teamwork, and sportsmanship at the inaugural ADEK Sports Cup finals.
Following two action-packed final matches for the girls' and boys' teams, Brighton College was crowned girl's champions following a strongly contested final against The British School – Al Khubairat (BSAK), while International School of Choueifat – Abu Dhabi came out on top against Repton School Abu Dhabi in the boys' final.
The matches were attended by many Abu Dhabi government officials and dignitaries, including His Excellency Dr Mugheer Khamis Al Khaili, Department of Community Development Chairman; Her Excellency Sara Musallam, ADEK Chairman; His Excellency Amer Al Hammadi, ADEK Undersecretary; Homaid Al Shimmari, Deputy Group CEO and Chief Corporate & Human Capital Officer in Mubadala Investment Company; and Ali Al Hammadi, Al Jazira Chief Executive Officer showcasing Abu Dhabi's and ADEK's commitment to encouraging healthy and active lifestyles among students and the wider community.
"We have seen promising sporting talents displaying true sportsmanship," said HE Sara Musallam. "We are delighted with the success of the first ADEK Sports Cup and would like to congratulate all the participating teams who have shown great dedication throughout the qualifiers and the final stages – and of course a special mention for our first-place winners. Our thanks go to Abu Dhabi Cricket and Al Jazira Club for their support throughout the tournament, and their generous hosting of the qualifiers and finals matches respectively."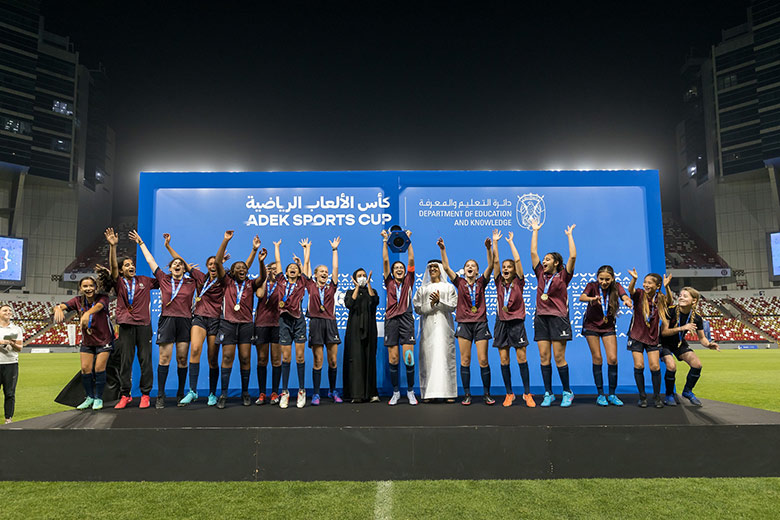 ---
The first edition saw more than 50 teams compete
---
"We launched the ADEK Sports Cup to accelerate students' return to a healthy and active lifestyle and provide a platform to instil a culture of wellbeing and inspire a continued passion of sports among upcoming talents. We are certain that such activities will have a positive impact on students' psychological, physical, and social well-being, hence improving their academic performance. On the other hand, the enthusiasm and excitement we have seen from the schools throughout the tournament reinforce our determination to expand this initiative to other sports in future editions," Her Excellency added.
After a closely contested 0 – 0 opening half in the girl's game, Brighton snuck two skilful goals past the BSAK defence to be the very first team to be crowned ADEK Sports Cup Champion following a 2 – 0 result.  For the boy's final it was the International School of Choueifat – Abu Dhabi whose attack was on top form netting five impressive goals against the talented Repton team for a 5 – 0 result.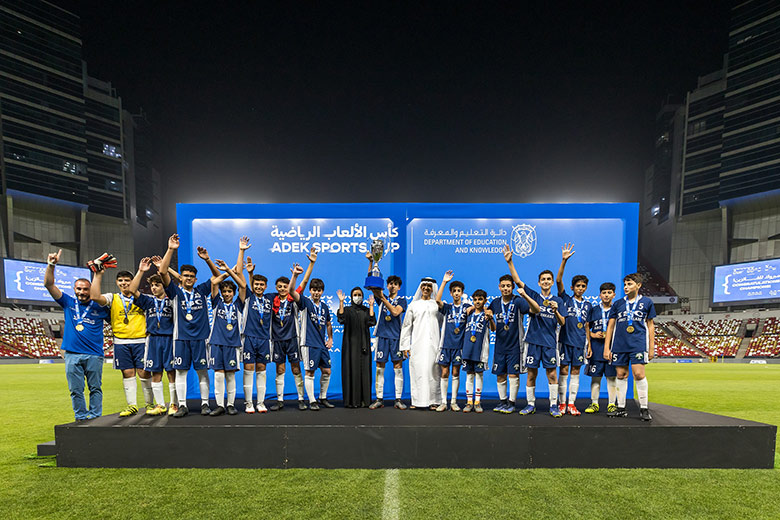 ---
Future editions of the ADEK Sports Cup will feature other sport disciplines as well as football
---
Passionate sports spectators of family, friends, and Abu Dhabi community cheered on their teams and were treated to a spectacle throughout the evening with an opening ceremony to rival professional football events and a mid-way pause to enjoy a talent show featuring future stars from the Mawhibaty programme – a talent development programme for visual and performing arts empowered by ADEK and the Department of Culture & Tourism – Abu Dhabi.
Following the matches, ADEK held an awards ceremony to present the winning teams with the ADEK Sports Cup trophy. HE Dr Mugheer Khamis Al Khailiand HE Sara Musallam presented the cup to the winners and awarded the gold, silver, and bronze medals to all the players of the first, second and third place holders, in both the boys and girls categories.
While the inaugural edition of the ADEK Sports Cup featured more than 50 male and female teams competing across more than 100 football matches, future editions will expand into additional sports to attract the largest number of students to play the sports they love in a safe, fun, and friendly competition.
As an integrated initiative, the ADEK Sports Cup aims to support the development of a physically active generation through enhanced physical education and school sports with lifelong participation opportunities that nurture talent and inspire students to achieve their full potential. It also instils positive values among students, including sportsmanship, cooperation, flexibility, and teamwork, in addition to empowering them with practical and leadership skills.
For more information, visit adek.gov.ae or follow ADEK on social media:
Instagram: @adek_insta
Twitter: ADEK_tweet
Facebook: Department of Education and Knowledge
YouTube: ADEK Abu Dhabi