Abu Dhabi University (ADU) offers students the opportunity to pursue their academic degrees in one of Ireland's most prestigious educational institutes, University College Dublin (UCD). In its continuous bid to elevate the student experience, ADU announced a new partnership with UCD, one of Europe's leading research-intensive universities and ranked within the top 1% of higher education institutions worldwide. The joint programme will allow students to study at ADU for the first two years and relocate to Ireland for the last two years of their educational journey to earn a degree from UCD. ADU continues to build on its successful track record of international collaborations with leading education institutions, which reflects its excellence in providing a world-class academic journey to students and faculty.
The partnership was announced through a Memorandum of Agreement (MoA) which was signed by Professor Thomas J. Hochstettler, Provost of Abu Dhabi University and Professor Don Bredin, Associate Dean of the College of Business at UCD. Additionally, the signing witnessed the attendance of His ExcellencyAidan Cronin, Ambassador of Ireland to the UAE. Post-signing, ADU and UCD facilitated an educational fair for ADU students and prospective students from a group of schools in the Emirate where they presented their partnership and answered questions related to studying in Dublin.
The joint programme will provide students with a personalised study plan in addition to the opportunity of enrolling in an internship programme anywhere in Europe. Dublin is home to nine out of the ten tech giants including Google, Facebook and Apple, which is an incentive for students who are looking to train and gain a greater understanding of their field post-graduation. Furthermore, Ireland offers post-study work visas to international graduates allowing them to attain valuable international work experience that will broaden their skillset.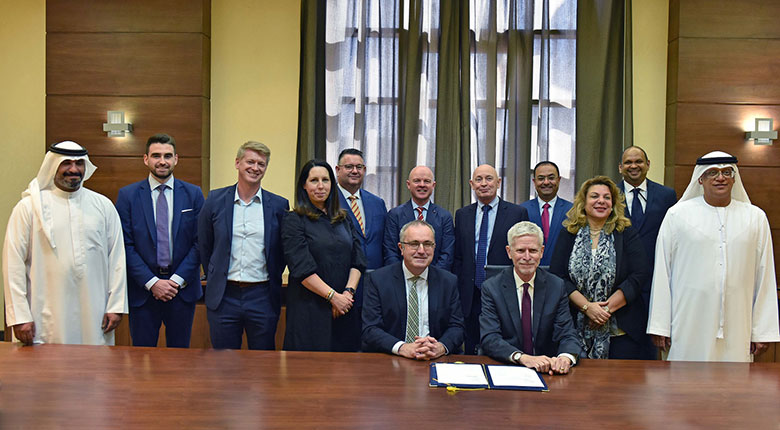 ---
The College of Business (CoB) at ADU has introduced a joint programme allowing students to go to Ireland in the last two years of their education journey and earn a degree from UCD
---
Professor Barry O'Mahony, Dean of College of Business at Abu Dhabi University, said: "At Abu Dhabi University, we are proud to build on our ongoing partnerships with academic institutions in Ireland, and specifically with University College Dublin. We are delighted to offer our students this unique academic experience which will allow them to begin their educational journey at ADU for two years and move on to earn a degree from UCD, a prestigious university that is amongst the top 200 universities worldwide. This partnership is a testament to ADU's College of Business quality and position that is recognised globally by our partners. We are both EQUIS and AACSB accredited – only 1% of business schools worldwide have this double accreditation."
Professor Barry added, "We continuously seek to collaborate with institutions that share our vision in providing students with world-class education. This partnership, in addition to others, will encourage students to tackle new experiences, obtain valuable knowledge and gain a greater understanding of their field."
---
Students can enrol and complete an internship programme anywhere in Europe
---
Professor Don Bredin, Associate Dean of the College of Business at UCD, said: "The new partnership reflects ADU and UCD's considerable emphasis on global engagement, as part of their innovative business programmes. The new collaborative programme emphasises UCD's reputation as Ireland's Global University and I very much look forward to welcoming students from Abu Dhabi University Business School to the UCD Quinn School in September."
In addition, Professor Bredin added: "Both Colleges of Business at ADU and UCD are among a small group of international business schools holding accreditations from both AACSB and EQUIS. This new partnership, with a leading university in the MENA region, is a welcome addition to our growing portfolio of international collaborations particularly focusing on our undergraduate business programmes."