NEW SCHOOL OPENING September 22 for FS1 – Year 6
An exciting and innovative new school is set to welcome its first students in September … and it is much more than just 'another' educational institution.
At Citizens School, they believe that it's important to reset education and learning to meet 21st-century needs, preparing students for jobs that haven't yet been created and teaching them to become entrepreneurs.
As Sir Ken Robinson said, "The educational system today is archaic, it is cohort based and emerged in the time of the Victorian Industrial Revolution and was designed to cater for that time in history not today's social reality." That is why Citizens School has been designed with a fresh and unique perspective; one that is suited to the individual needs of each child, giving them the freedom to explore themes, widen their interests, and choose the paths that will allow them to attain their full potential.
A visionary school at the heart of a new education hub that encompasses a teacher training foundation, wellbeing centre and a EYFS to Key Stage 5 school, all conceived, designed and developed in the UAE by Al Zarooni Emirates Investments, Citizens School is set to do things a little differently. This means getting away from 'an educational system built on the idea that everybody's mind works in a similar way and the objective is to retain information and use it.
There are, for instance, no 'teachers,' only 'mentors.' The reasoning is straightforward: a teacher's job, traditionally, is to impart knowledge through teaching and explanation in formal subject classes. However, at Citizens, they realise that the days of learning from a single source are long gone. Nowadays, children have instant access to knowledge. Therefore, Citizens School teachers will be fittingly referred to as 'mentors,' because, in addition to providing instruction and sharing knowledge, they focus on putting that knowledge into practice, nurturing creativity, and fostering personal development to motivate students to improve their abilities.
In the same way, students are to be referred to as 'learners'. This approach gives learners significantly more options in the classroom, affording them greater flexibility and autonomy and, as a result, more engaged learning. Citizens School understands, too, that to be genuinely effective, choice must be embedded in the curriculum from the start. Giving children choices from an early age can help them develop a sense of belonging, independence, and ownership over their education – the classroom becomes their domain.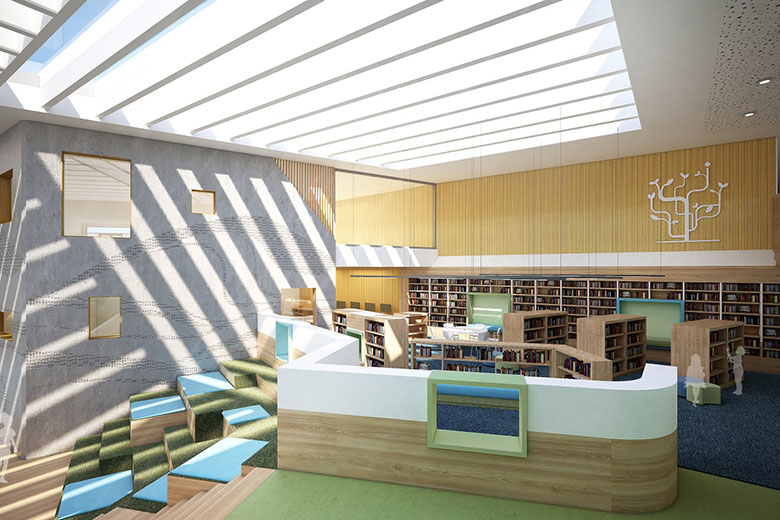 ---
Around 60% of future jobs haven't been developed yet. 40% of nursery-age children in schools today will need to be self-employed to have any form of income (Source: WEF Future of Jobs Report)
---
The Power of Choice
Citizens School will re-structure and re-imagine the standard approach to education, with students being encouraged to explore their passions, interests and curiosities, in an environment of teamwork, inclusivity and mutual respect. The school believes in the power of choice, innovative thinking, and cutting-edge research, and is dedicated to providing a fuller and more gratifying experience for the younger generation. It will be a wide-ranging sort of education that caters to learners with various learning styles and interests. Citizens School's main goal is to provide a more participatory, modern, and interesting learning experience for young people.
Equipping children with a rich, connected bank of knowledge and skills relevant to the 21st-century, Citizens School has partnered with Blenheim Schools, part of the Chatsworth Schools group – one of the leading school groups in the UK – to provide an experience-based, inclusive curriculum bespoke to each child's strengths and approach to learning. The curriculum, called the Citizens' Tapestry, will be unique to Citizens School pupils.
Using the UK National Curriculum as its standard, the Citizens' Tapestry is a first-of-its-kind, custom-built curriculum that builds upon the blueprint with six key threads – Mindset; Entrepreneur; Health & Wellbeing; Sustainable Leadership; Global; and Digital Literacy – forming the pattern of its comprehensive, holistic, inclusive, and fun education system. The engaging and demanding curriculum will successfully educate and create aspirational, confident, resilient young people who will give back to their community and make major contributions to the future success of the world at large.
The curriculum has been co-developed and influenced by some of the world's leading researchers on education, motivation and mindsets, as well as cognitive scientists, including Dr Carol Dweck, Matthew Syed, John Hattie, Guy Claxton, and Graham Powell.
An Outstanding Track Record
Having an extraordinary school leadership team is important because education in the 21st -century is a new frontier, and its learners are a new breed. That is why Citizens School has sought to attract the very best people; something it has achieved with considerable aplomb. Dr Adil Alzarooni, Hisham Hodroge, Ciaran Cunningham-Watson, and Kephren Sherry are all visionaries with vast experience, and approach their work with curiosity, persistence, resilience, flexibility and determination, helping to create a culture that encourages learners to do the same.
Dr Adil Alzarooni, Founder of Citizens School, explained: "At Citizens School, we are striving to empower our students to craft their own futures by celebrating and nurturing what makes them unique and providing them with choices alongside the right set of life skills to thrive in the communities of tomorrow. We believe in learning rather than educating because learning is a lifelong pursuit that creates limitless possibilities. As a school born out of Dubai and based in the heart of the city, we share its innate spirit, energy, and optimism for what is possible today and tomorrow, as we play our part in positioning Dubai as a global hub of learning excellence in a diversified knowledge economy."
Hisham Hodroge, CEO of Citizens School, added: "Dubai is a catalyst for innovation and from Dubai, we aim to disrupt the way education is provided in the region by capitalising on a unique offering that centres on the child. Through engagement with our partners, regulators and key stakeholders, we aim to achieve an ambitious school for the benefit of our future generations."
"Blenheim Schools is delighted to be partnering with Al Zarooni Emirates Investments to support the launch of the groundbreaking Citizens Education Hub project. The Blenheim Schools team has a proven track record of outstanding educational leadership with real integrity, a passion for schools as learning communities and a commitment to excellence. Citizens School will nurture and promote the learning and welfare of all students and enable outstanding futures for the children of today and tomorrow," Anita Gleave, Founder and CEO of Blenheim Schools, concluded.
Unrivalled Facilities
The Citizens' 43,000m2 school campus, programme and approach have been thoughtfully curated to re-shape learning, enabling students to thrive as citizens of the future, by focusing on wellbeing, imagination and enabling outstanding outcomes for everyone. The groundbreaking Citizens School site is double the size of other schools in the same catchment area, with a capacity for 2,600 children between ages 3-18; a 2,900m2 open playing and recreation area; ample parking; a 1,250m2 multi-purpose performing arts and activity hall; six-lane semi-enclosed swimming pool and learning pool, football and rugby pitches adhering to FIFA and World Rugby standards; as well as a dedicated dining area for primary school students.
Paying with Cryptocurrency
Underlining its visionary nature, Citizens School has announced that it will accept cryptocurrency as a mode of payment, making it the first of its kind in the Middle East to let parents pay tuition fees using digital currency. It will accept payments from the two major cryptocurrencies, Bitcoin (BTC) and Ethereum (ETH), providing parents with flexible payment options. This is in addition to traditional forms of payments and interest-free monthly payment options that Citizens School will offer. Payments using cryptocurrencies are accepted through a tie-up with a digital currency platform that processes cryptocurrency payments and automatically converts them to dirhams.
Hisham Hodroge commented: "Introducing the ability to pay tuition fees through cryptocurrencies goes beyond just providing another payment option. It is aimed at creating an interest in growing trends and breakthrough technologies that will have a profound effect on the lives of young generations. It is also a means to further drive interest in the applications of blockchain – a technology that Citizens School intends to deploy, in time, across several aspects of its academic and administrative operations." 
---
Only 55% of students attending school feel prepared to enter the real world (Source: AACU)
---
8billionideas
Citizens School has also announced that it will be joining forces with leading global education platform 8billionideas to build a unique programme centred around developing the entrepreneurial skillset for children, providing them with the opportunity to create and develop new ideas.
Students will get to work on an invention every week, have access to an entrepreneurial mentor, experience world-class lessons and experiences in the field, as well as take advantage of a Citizens Ventures funding programme. Children will be able to share their learning among a close-knit community, giving them real-time insight on future ways of working and equipping them with the necessary skill sets to emerge successful in their adult lives.
Having announced the launch of cryptocurrency as an accepted payment option at Citizens School, this latest development is an example of how Citizens School is committed to reimagining education and helping to position Dubai as a global hub of learning excellence in a diversified knowledge economy.
---
Underlining its visionary nature, Citizens School has announced that it will accept cryptocurrency as a mode of payment
---
There are four events planned with 8billionideas over the next few months, each with three sessions (11.00 am to 12.30 pm, 1.00 pm to 2.30 pm, and 3.00 pm to 4.30 pm):
Public Speaking Demystified (21 May), where participants can learn the fundamentals of communication, pitching and public speaking. Learners will sink their teeth into an hour and an hour workshop in which they will practice their public speaking skills and learn the importance of sharing ideas.
Lightbulb Moments: Coming Up with Business Ideas (18 June), allowing learners to understand the power of coming up with amazing business ideas. In this session, learners will create a variety of business ideas across many industries.
Brand a City (2 July), during which students will put their thinking caps on and try to innovate on Dubai's tourism industry sustainably.
Your Future Dream Job (20 August), where learners get to understand their personality power and how combining their skills and passion can help them to come up with not just a single future dream job, but a variety of dream jobs they might want to pursue in the future.
Citizens School will continue to develop unique partnerships, accreditations and collaborations with sector leading organisations to position Dubai as a global hub of learning excellence.
This is a school whose time has come, and it will revolutionise the lives of all of the learners that are lucky enough to call it 'home'.
Admissions Open for September 2022 from FS1 to Year 6.
Email:

[email protected]

to arrange a school visit.