Celebrate the magical winter season at 'IMG Worlds of Adventure' – WinterFest. The 1.5 million square feet of the fully air-conditioned park with six epic zones is all set to welcome visitors to a world of sparkling lights, amusements, and spirited entertainment, perfect for families this festive season! IMG Worlds of Adventure – Dubai's largest mega-themed indoor entertainment destination, will keep the mood festive throughout its six weeks of celebrations commencing on 26 November 2022 and ending on 15 January 2023; the whole theme park will transform into a winter wonderland with festive decor, dazzling entertainment, and activities for not just adults but keeping family and kids in mind.
WinterFest is specially crafted to offer a variety of winter-themed attractions and activities that instill Christmas and New Year's spirit. A highlight of this season is the extravagant festive decoration, the Winter Wonderland, Fro-Zone, Santa's Grotto, the Elves Workshop, and the Bauble Giants. The winter entertainment will also include Rudolf's Christmas Wish, a Holly Day dance performance by Jolly Jamboree, The Holly Day Ho Ho Ho, a character show where guests can swing their partner round and round and learn the latest Christmas choreography.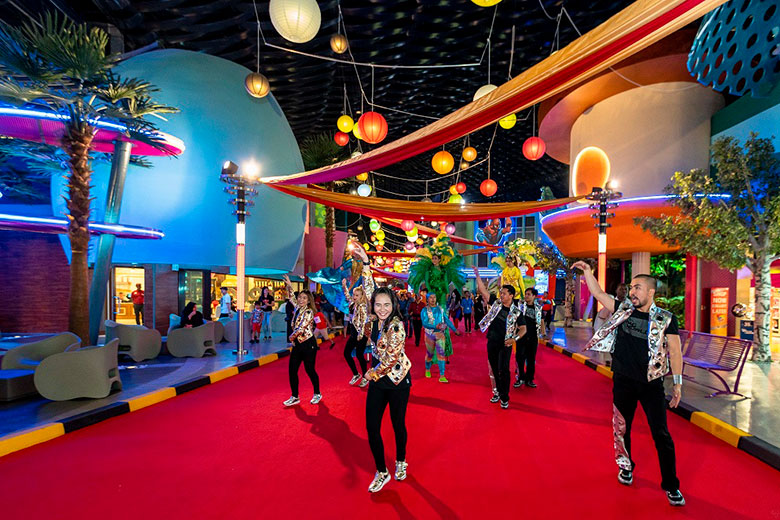 ---
IMG Worlds of Adventure to host a grand celebration to mark WinterFest and the Winter Dance Party
---
Another unique experience at the WinterFest will be The Santa Express, featuring an elf driver. The Christmas Parade will feature the full cast of characters and also include WinterFest specials, the Ice King and Queen, Toy Soldiers, and Snowflake Dancers will be another delightful watch! That's not all, kids will have a chance to try some hands-on crafts with gingerbread making, face painting, character appearances, and meet and greets with all of the Marvel and Cartoon Network characters.
---
Experience the magic of winter and the festive season with lots of entertainment, specialty Shows and unique attractions
---
This year, the globally acclaimed theme park has announced a Christmas Tree Lighting Ceremony, Festive Shuffle by Junior DJs, and the Winter Dance Party, The Glitter Ball 2022.
The park's 25 retail outlets will be dressed in colour and lights, just perfect to spread the festive cheer.
So, if you're looking for a vibrant space to celebrate winter and the holidays, burn some energy and have some fun, head to IMG Worlds of Adventure to experience the magic!