Operating as a not-for-profit school governed by the Al Futtaim Education Foundation, Universal American School (UAS) is a wonderful place to grow and learn, with a diverse and inclusive community of caring and curious individuals who are inspired to challenge themselves within a rich academic, artistic, and athletic educational programme. Education UAE caught up with the school's Director, Kevin Loft, first asking him about the importance of diversity at UAS.
"We're around 1090 students at the moment; pretty evenly balanced between elementary and high school. American passport holders account for around 14% of students, but we have 78 different nationalities in all, so diversity is built into the school," Kevin begins. "And when I talk about diversity, I don't just mean nationality; it's about inclusion and how the school operates, and the culture we build around that.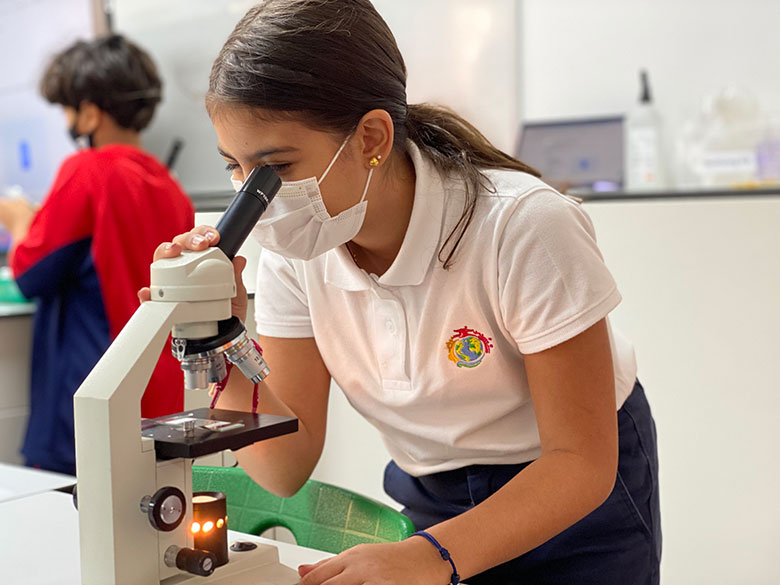 "Our staff is very diverse too. Again, not just in terms of nationality, but with regard to background and age. Many schools in Dubai have a lot of young staff, but we are very diverse age-wise, which I think is quite rare here.
"That sets a really nice tone for the school community, and if you speak to the parents they say the community is the key thing about the school – that's what they love about the school, that's why they keep coming back. All those little things that we've set up in developing the school, being true to what we say rather than just saying it and not showing it, makes it a nice place to be.
"I've worked in several different schools in the UAE over the past 13 years, and this is the most diverse school that I have worked in."
A School Culture based on Authenticity
UAS runs quite a bespoke model of the American curriculum, rooted in New York State standards and taught through the framework of the International Baccalaureate (IB), on a campus that incorporates a wide array of facilities, including expansive science and ICT labs; fully equipped athletic field and track; natural grass football pitch; multi-sport gymnasium; extensive indoor and outdoor covered play areas; multi-purpose hall; two large fully equipped art studios; language specialist rooms; separate elementary and secondary libraries; medical clinic; recording studio; and ceramics studio.
There is a misconception amongst some people, though, that the American curriculum is easier than, say, the British curriculum, which is predominant in Dubai. "I'm always disappointed when I hear parents say that," Kevin responds. "We run AP exams alongside our IB exams, and they are tough, there's no doubt about that! Moreover, there are other pathways offered that the British curriculum doesn't. I like the model of having multiple pathways – we can build a programme for every student in our school, not just the academically strong ones. All of our kids are able to have something built around them to ensure that they get a good education.
"I've taught five different curricula in my career, and the one thing I've discovered is that 2 + 2 always equals 4.
Ultimately, it's about the teachers and the culture, with the American curriculum being as strong, if not stronger, than those from other countries."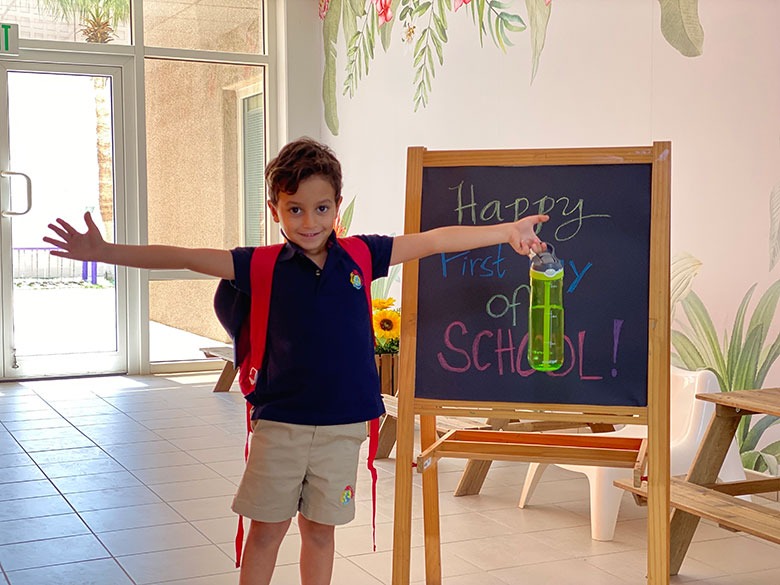 ---
"If you speak to the parents they say the community is the key thing about the school – that's what they love about the school"
---
School culture is something that is regularly discussed by the school leadership team, and Kevin says that there is one word that comes up in conversation more than others: authenticity. "It's the authentic nature of the students, as well as the staff and the parents, and I really do value the fact that there is an authentic level of conversation. It's not pretentious, it's about parents saying, "this is what I want for my kids" and then deliberating on how we get there.
"Everyone is involved in that conversation without judgement or putting too much pressure on the school – parents tell us honestly what they want us to do and we listen honestly to the conversation, which allows us to continually move forward. So I think it's a really good culture here of listening, taking things on board, and then acting upon them. I feel we have a nice dialogue going on with our parents and it's the kids who win in the end."
Of course, we have lived through interesting times over the past couple of years and the many challenges that have cropped up have often been steep learning curves. Countless lessons have been learned though, one of the most pertinent being the importance of face-to-face conversation.
"One of the first things we did when things opened up again was to launch a community café – the 'Comm-UNITY' café' to be more exact," Kevin explains. "What I said to parents was, after two years of telling you not to come into the building, we want to significantly change the structure of how we welcome you into our school. And I think the parents appreciated that. We have done something specifically for them – we do things for kids all the time, that's our job, but this was expressly aimed at parents to let them know that they are all valued here. We do want to hear them and we do want to have conversations with them.
"The staff are in the café all of the time too, it's not just the parents, and our seniors are going to start accessing it next term. Any time of the day, there will be different parents in there at different times, allowing us to have that ongoing dialogue. I think on the back of Covid, it's given us a safe place to do that."
---
"I like the model of having multiple pathways – we are able to build a programme for every student in our school, not just the ones that are academically strong"
---
Balancing Technology with Meaningful Relationships
Technology is an increasingly important aspect of education, but we wanted to ask Kevin if there was a danger of losing the human touch as we pursue ever-growing digital integration.
"Yes, I think there is a danger, and for me, technology is always a tool. Once upon a time, a pen was the latest technology and now it's a computer. Our students come in with their own computers and their own devices, but it's important that we make them tools and not the only things in the classroom. We still need to read, and we still need to write, but technology is a tool to help us – whether it's inquiry or discussion or delivering a product – it's a vehicle to get there.
"With Covid, there was immediate talk about going virtual, and then when we went in that direction we all said, you know what, that's not the answer because at the end of the day there is a human at the end of that computer and that's who we need to engage with. Relationships are key at UAS and you can't develop those from behind the screen. The key part of our classrooms is the relationship, the dialogue, and the ongoing negotiation between staff and students. Technology is in everything we do, we can't get away from it, but we have to make sure we don't get lost in it.
---
We've got trips coming up to four destinations around the world, specialist arts organisations coming into the school, plus Umrah in Saudi Arabia
---
Creative Arts for Everyone
The installation of a recording studio underlines UAS's commitment to giving its students a well-rounded education that includes the creative arts, which for so long have been looked upon as second-class subjects in many schools.
"Yes, that's true," Kevin says, "and one of the focuses for me, when I came to the school, was the creative arts, not just music, painting and drama, but also things like ceramics. We now have a dedicated space with a kiln and pottery wheels; it's nice to have something tactile for the kids to be involved in.
"For music, as I said, we have installed a recording studio and a podcast studio, as well as a sound room that controls both of those spaces, so the students learn about the mixing desks and everything.
"We also have a dance studio and our drama provision has always been strong here. We're looking to expand that even more too, by creating additional breakout spaces so that students can express themselves in different ways.
"When we introduced art in my previous school it was about the elite kids, but what I have been clear about here is that I want to find that one kid who doesn't know that they have a passion or an ability.
We can then get up on stage, and it might be to do a speech, but whatever it is, they can discover something about themselves that they didn't previously realise. To me, that's what the arts deliver.
"The arts are both a confidence builder and a commercial skill. They are about being able to project, to deliver a message, and in business that is a valued skill. There is a skill base that's more than just books and tests, there's another element to bring into what we learn, and the arts are a vital aspect of that."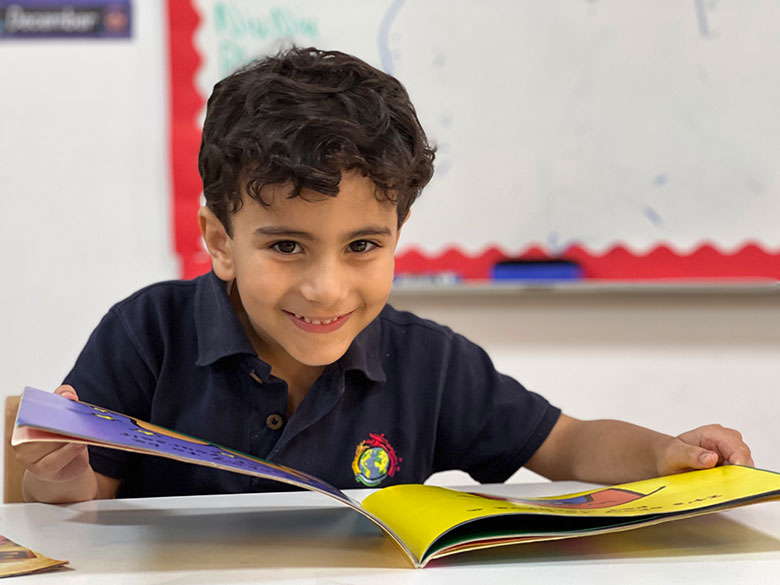 ---
The installation of a recording studio underlines UAS's commitment to giving its students a well-rounded education that includes the creative arts
---
Taking Risks and Getting Things Wrong
In January 2023, UAS will welcome a new member of the team – a School Community Events Manager, who will help boost extra-curricular opportunities and reach out even more into the community. "It's about ramping everything up," Kevin explains. "We are committed to ensuring that our students have every opportunity to learn and grow. We've got trips coming up, for instance, to four destinations around the world, specialist arts organisations coming into the school, plus Umrah in Saudi Arabia. So there are cultural elements and community involvement, and it's all evolving.
"As well as sports and other extra-curricular activities, this year we've asked our staff to try and express their own passions and share them with our students. So it's not just chess clubs and sports teams. I'm trying to get one or two new things on the table, giving the kids the opportunity to have a crack at completely new things."
Whether it is in the classroom, in the recording studio, or out on the sports field, the first thing that UAS insists upon is that students feel safe, feel that they can take risks, that they can get things wrong, and that the teachers are there to support them.
"When I hear the parents say that the relationships are really strong here, then I know we're getting that right."
Mutual Respect
Naturally, kids can be kids, so there has to be a degree of discipline in place too, but it's discipline that revolves around mutual respect and, as Kevin says, expectations. "I'm a big fan of expectations. You can go up to youngsters and say, this is how it's done, why didn't you do it like that? But if you haven't told them beforehand what the expectation is, it's all rather self-defeating. You've got to lay the tracks before you can run the train, and it's the same with behaviour, getting in at the beginning and stopping anything unacceptable.
"It's a broad brush too, such as how we walk into a room, and how we greet someone when they walk into the room. All those little things add up to what behaviour is in school, including being proud of our uniform, being on time, and understanding what a difference this makes to everyone else in the classroom. So we have those conversations with the students – it's not a heavy-handed approach, but it is a constant approach, and it makes the kids feel part of something special.
"It's the same with our teachers. We bring in staff from all around the world and having the clarity there when they walk in helps enormously – what's expected of them, providing them with that safe environment, because they have to feel safe before they can make the students feel safe. It's continual evolution. You can't get everything right all at once, but we want to make sure we're all on the bus going in the same direction."
Universal American School
+971 4 524 0444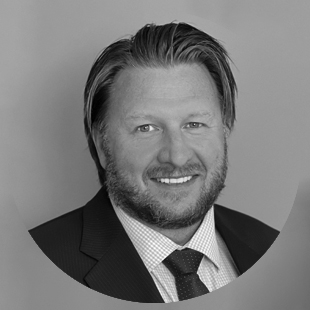 Kevin Loft, Director at Universal American School, has worked across education as a teacher, leader, principal, CEO, and consultant, and has led outstanding private and public schools in New Zealand, the UK, and the UAE.