In celebration of the nation's 51st UAE National Day on 2 December 2022, a LIVE ART competition – The Painting Wizard – took place at the Metropolitan Hotel, Sheikh Zayed Road, Dubai, and Education UAE was in attendance to witness it.
Students from all seven emirates were invited to participate in the Painting Wizard UAE 2022 competition, which was open for all students from grades 1 to 10. The competition's theme was ABCD – Anybody Can Draw – and the finale had the top 10 finalists from four categories: Grades 1-3, 4-6, 7-8, and 9-10.
---
This year, the competition's theme was ABCD – "Anybody Can Draw", and the finale on December 2nd had the top 10 finalists from 4 categories
---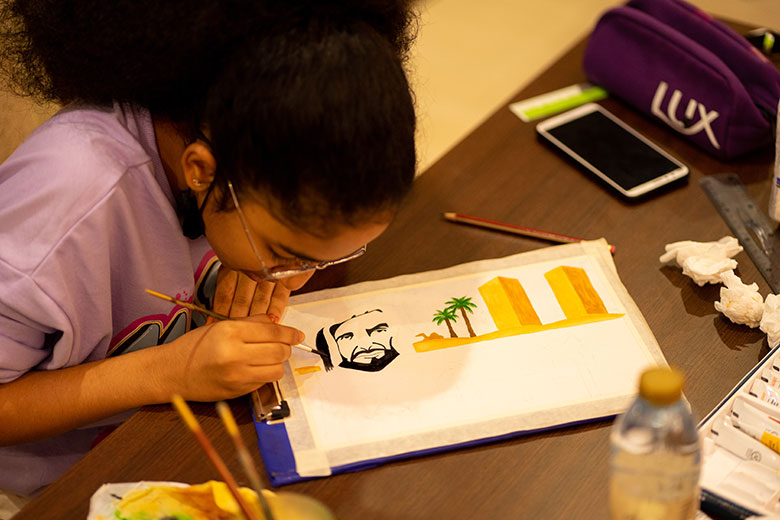 Each category's winners received certificates, trophies, and several other prizes as part of the awards ceremony. The LIVE ART competition's finale theme was 'Teslam UAE – 51st UAE National Day', which started at 3.00 pm and continued until 5.00 pm, with the finalists showing great creativity and art skills.
The competition captured the pivotal moments of painting and artwork. After the competition, the award ceremony and gala dinner took place. The award ceremony was attended by several prominent business leaders, parents, principals, and others. This edition of the Painting Wizard Competition was a huge success. MICE Experts – the organiser of the event was joined by The Paintbrush Art Community as Knowledge Partner. The event was powered by Byjus, Platinum Partner SIVVI, Gold Partners – Zywa, Thumbay University Hospital, Thumbay Dental Hospital, and BrightChamps.
Education UAE Magazine, Khaleej Times, Young Times, NABD & Kidzapp were the media partners. And the people who had a huge hand in the event's success were Mrs Sonal Purohit, CEO of The Paintbrush Art Community, for handling the juries for the event and Ms Vaishali and Mr Rakesh Nair, co-founders of MICE Experts, who handled the entire event with their organising team.
Education UAE is now eagerly anticipating the next edition of the competition, for which dates will be announced soon.