Students from Canadian University Dubai (CUD) are responding to the call to build coding talent in the UAE, inspired by the recent UAE Codes Day. Computer Science majors Ali Hussein and Helia Haghighi told how they have been spurred on to develop their passion into a career, following the largest community movement to promote coding in the UAE.
Second-year student Ali says he has been fascinated by computing from a very young age but was initially deterred from pursuing science because of his dread of maths: "I was inspired by my father, who was studying at university himself at the time. I would spend hours in front of a computer screen and began to notice patterns in how games were broken down. When I got my first PlayStation, I could compare the console and the PC to recognise the strengths and weaknesses of differing computer hardware.
"My passion for coding originated as a hobby as I started to experiment with my own ideas. As my interest grew, I knew this was a field I wanted to pursue, but in order to go into STEM at university I needed a good foundation in maths, and I was a math-phobic in high school."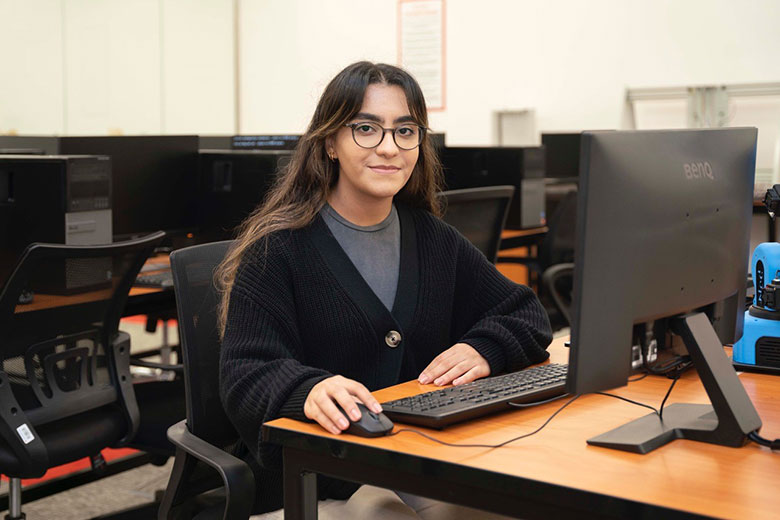 ---
"I truly believe that everyone has the capacity to apply maths and logic to a high level"
---
Based on his own experience, Ali believes that it's important to expose people to STEM at an early age. He says: "I truly believe that everyone has the capacity to apply maths and logic to a high level. I overcame my fear of maths myself, but with initiatives like UAE Codes Day, along with high-quality education, more young people will be inspired to explore and build a passion for science. It has bolstered my own ambition to pursue a career in the field, to help create new solutions that will impact our way of life."
Fellow second-year computer science student, Helia, says her interest in coding originated from her passion to solve complex problems. She reveals: "I transferred my studies to CUD from Iran and when I came to the UAE, I found lots of opportunities to learn new things around the subject, including different programming languages and their diverse applications.
---
"The UAE Codes Day has shown me that the country is dedicated to supporting this field and is open to different ideas that will help us to innovate"
---
"My interest is in using coding to solve hacking challenges or playing around with different solutions to build complex systems that are resilient to hacking threats. With this, I'm exploring the idea of a career in cybersecurity, to contribute to building a safer digital environment. The UAE Codes Day has shown me that the country is dedicated to supporting this field and is open to different ideas that will help us to innovate, and I'm excited to be here and hopefully be a part of it."
Reflecting on the national initiative, the Dean of the Faculty of Engineering, Applied Science and Technology at CUD, Dr Sherif Moussa, said: "As educators in the field, we are delighted to see how the UAE Government is promoting this important scientific discipline. UAE Codes Day is one of many ways this country is setting itself apart as a leader in technological advancement and we are dedicated to playing our part in building local capacity through higher education, research, and entrepreneurship."