With over 800 miles of glistening coastline, the UAE is bursting with opportunities to take to the water to have fun, pick up a hobby or learn a new sport. There are so many family and kid friendly options out on the waves, so we've put together a list of some of our favourites.
RIDE THE WAVES AT SURF HOUSE
The whole family can sign up for surf or paddleboard lessons at Surf House Dubai. You can relax, knowing that your kids are in the safest hands, as all instructors are qualified lifeguards, have surf coaching accreditations, first aid certificates and are experts at riding the waves. Get in touch to check up coming group classes, or to book a private session for you and your team.
Surf House Dubai, Villa 12a 3 A St, Umm Suqeim, Jumeirah 3, Dubai, +971 50 5043020
FULLY EMBRACE THE WATER WITH PIRATES SURF RESCUE
Located in Dubai and Abu Dhabi, Pirates Surf Rescue's mission is to re-introduce discipline, respect, morals and compassion within the community, whilst also inspiring a sense of childlike playfulness in everything they do. For students aged 5-20, the programmes at Pirates Surf Rescue offers the chance for kids to explore a diverse range of activities, including jet skiing, kayaking, surfing, swimming, beach sprints, surf rescue, volleyball and more.
Pirates Surf Rescue UAE, Kite Beach, Dubai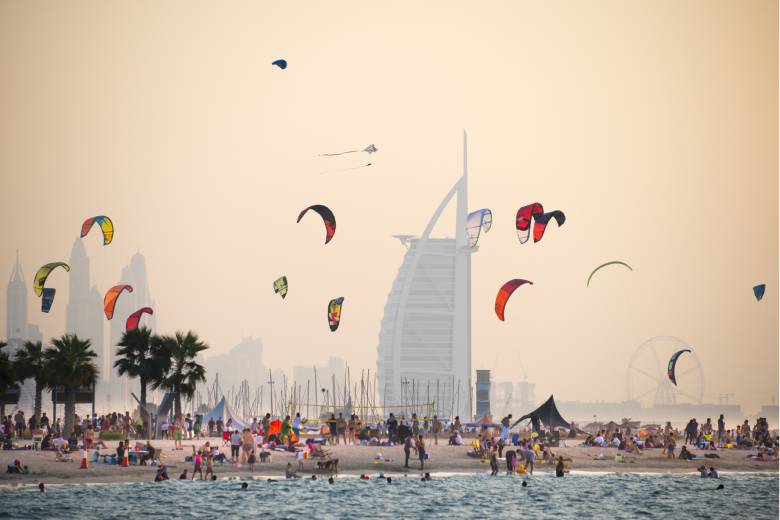 DIVING TO THE DEPTHS WITH FREESTYLE DIVERS
Freestyle Divers, based in Fujairah, offer diving lessons for children from the age of eight, and marine conservation courses for children from the age of six. As the biggest diving centre in the UAE, and with both indoor and outdoor diving opportunities, Freestyle Divers offers high-quality scuba diving lessons to suit your child's current abilities. The courses are all universally accredited so you can rest assured that your child is learning, and having fun, in the safest environment.
Freestyle Divers, Radisson Blu Resort, Dibba, Fujairah, +971 50 891 8207
SEEK SOME THRILLS AT WILD WADI WATERPARK
One of Dubai's favourite waterparks, Wild Wadi offers a stunning location within sight of the Burj Al Arab, and an adventure guided by the folklore character, Juha. While the park is fun for the entire family, Juha's Dhow and Lagoon is particularly appealing to little adventurers, with a giant tipping bucket, slides and more gentle thrills on offer. When you're all worn out from slipping and sliding, grab a ring and float along Juha's Journey through the whole park on a long, lazy journey.
Wild Wadi Waterpark, next to Jumeirah Beach Hotel, Dubai, +971 4 348 4444
BECOME A CAPTAIN WITH NEMO WATERSPORTS
As one of the few centres in Dubai certified by the Royal Yachting Association (RYA), Nemo WaterSports Dubai offers the chance for little captains, aged 12 and over, to get their boating license. During the two-day course, their experienced team will teach you how to drive a boat and follow navigational rules at sea.
Nemo WaterSports, Umm Suqeim Fishing Harbour, Umm Suqueim 2, Dubai, +971 50 471 7002
THROW A PARTY ON THE BEACH WITH IGNITE WATER SPORTS
If you want to throw a birthday experience that your kid will remember, look no further than IGNITE Water Sports. With the best beach themed party space in Dubai, they organise everything so all you need to do is turn up and have fun. There are lots of options, from group paddle board lessons to fun water-based challenges for the guests!
IGNITE Sport Services, Office 120, Deyaar Building, Al Barsha 1, Dubai, +971 4 456 2482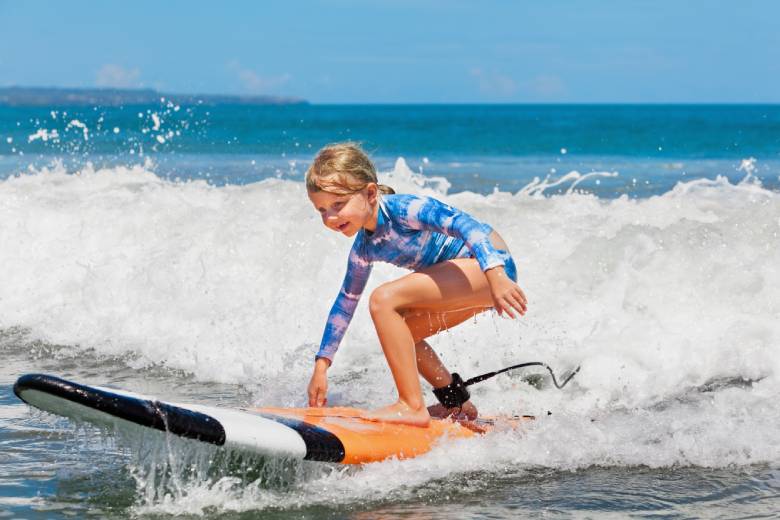 CATCH A BREEZE WITH KITEN'SURF
Fancy flying a giant kite while you surf the waves? KiteN'Surf have you covered when it comes to this heart-pounding sport that can't be missed. They offer kiteboarding courses for all skills and levels, and you can choose to go as a family or individually. Lessons for kids start from age 13, and KiteN'Surf are located on Kite Beach, so you can learn to kiteboard with the Burj Al Arab and the beautiful Dubai skyline on the horizon.
KiteN'Surf, Kite Beach, Dubai, +971 55 800 6363
KICK THINGS UP A NOTCH WITH EYWOA MARINE SPORTS
Yas Marina offers one of the best spots to learn wakeboarding and wakesurfing, as the water is flat 99% of the time, so Eywoa Marine Sports are the perfect place for you and your kids to grab a board and jump in. Eywoa offer lessons for adults, and for kids aged five and up, and their qualified and certified coaches have all the necessary experience to launch you on an unforgettable adventure.
Eywoa Marine Sports, Abu Dhabi Yas Marina Berth #1, +971 55 413 6273