The annual 'What Kids Are Reading Report' from learning and assessment provider Renaissance Learning has revealed new reading trends among students in the UAE, Egypt and Qatar.
The 2023 report results were based on more comprehensive data since more schools were involved compared to the prior year, the number of pupils involved was greater, and they read distinctly more books.
United Arab Emirates
In the UAE, data was available on 25,564 pupils, 19% more than last year. The average book difficulty (ATOS) was 5.2, a little lower than last year but much higher than in the UK, and the average percent correct (APC) was 0.74, similar to last year and much the same as in the UK. Pupils in the UAE, in line with last year, showed similar choices to pupils in the UK. Top authors included Jeff Kinney, with nine books among the most-read this year, including Diary of a Wimpy Kid, which was the top book. J. K. Rowling was also popular, with five of her books on the list: Harry Potter and the Philosopher's Stone, Harry Potter and the Chamber of Secrets, Harry Potter and the Prisoner of Azkaban, Harry Potter and the Deathly Hallows, and Harry Potter and the Goblet of Fire.
---
Major study from Renaissance Learning reveals the most popular authors among students in the region
---
Jack Morris, Head Librarian at Cranleigh School Abu Dhabi said: "As an international school, we don't always have English-first-language students. Therefore, it is instrumental to track how English-additional-language students comprehend English. The great thing about both edtech such as Accelerated Reader and Star Reading is that it shows tangible data to the people asking for it and it's able to say, 'Look, it works, our students are getting better'. Now we have the data to say whether students can access a specific part of the curriculum. This allows the teacher to offer appropriate intervention, which is so beneficial for maintaining development."
Egypt
In Egypt, data was available on 3,604 pupils, a 14% increase on last year. Egypt's most-read list featured a large number of graphic novels by authors such as Shelley Swanson Sateren, who was also the author of the most-read book, and Michael Dahl, but book difficulty rose nonetheless. As last year, Egypt showed much more variation in difficulty than in the UK, from a book at ATOS 0.5 through to high readability books by Roald Dahl. Sateren was the most popular author with three highly-read books – Max and Zoe Celebrate Mother's Day, Max and Zoe: The Science Fair, and Max and Zoe: The Very Best Art Project.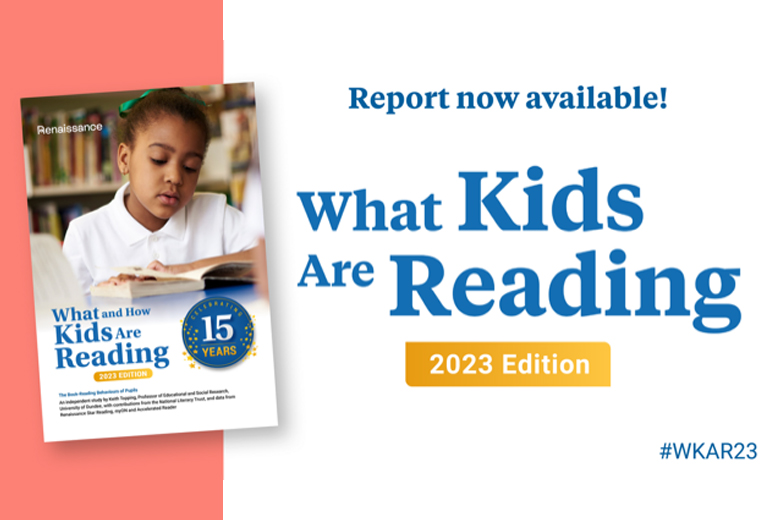 Qatar
In Qatar, data was available on 4,343 pupils, a 99% increase on last year, replacing a pandemic slump. The graphic novels of Michael Dahl and others featured prominently. Dahl had four books – including Sugar Hero, The Marshmallow Mermaid, The Evil Echo; and Adria F. Klein had two – Max Stays Overnight and Max Goes to the Zoo.
---
The UAE sustained its position as the most successful country for average book difficulty and average percent correct
---
According to a recent study by Dr Carol Johnson, Education Officer International at Renaissance Learning, students' reading time averaged 42 minutes per week over eight weeks, for a total of 5.6 hours. In that short amount of time, students achieved one year of reading gains. This demonstrates the critical importance of providing English as a foreign language (EFL) students the opportunity to read books that interest them.
Joan Mill, Group Managing Director – International, Renaissance said: "This year marks the 15th edition of What Kids Are Reading, which is our most comprehensive report to date on the books read and enjoyed by thousands of students of all ages from across the Middle East. I would encourage schools to read this report and reflect on their reading culture. It is a solid starting point to ensure that every child experiences a reading culture which allows them to reap all the benefits of reading for pleasure and maximise their long-term outcomes, whether they visit local libraries and bookstores or access books on myON or Accelerated Reader."
A copy of the full report can be found by clicking below.