Colmers Farm Primary School has used Wall Art to raise environmental awareness, educating pupils about the world around them and why it's important to protect it. It is then hoped that they want to take action and make the necessary changes to reduce their negative impact on the environment.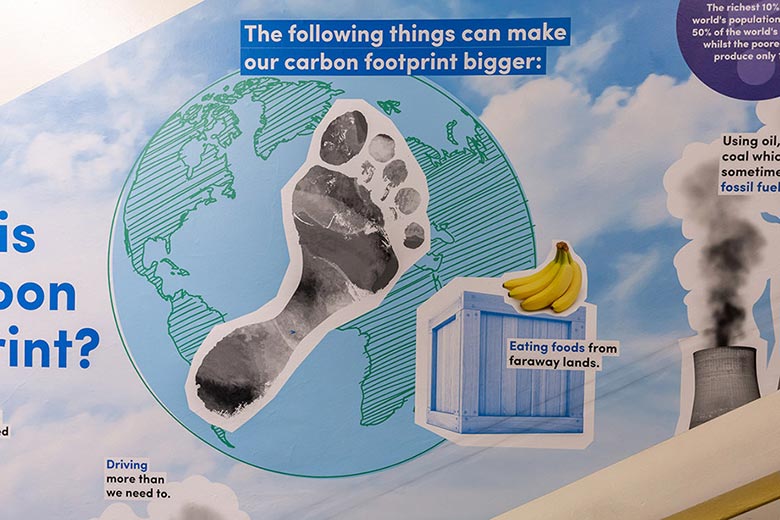 Environmental Awareness
As we continue to see the impact of Climate Change on our beautiful planet, we need to take action. In fact, every small change we each make in our lives can make a big collective difference.
So if pupils understand why it's important to protect our planet, and how to make changes, we're more likely to see an impact. That's why this inspiring Wall Art design was such a pleasure to do for Colmers Farm Primary School.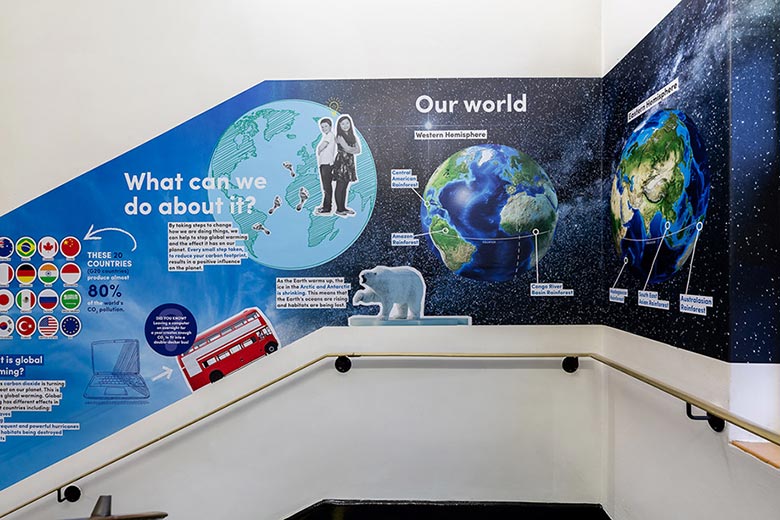 Bespoke Design
All Wall Art for schools is designed in-house, completely bespoke to each school's requirements. This means the design can be tailored to the school's unique preferences, branding, colours and tone of voice.
At Colmers Farm Primary School, the school's blue and white colour palette was applied to the designs. This means that the Wall Art has a unified look and feel and is aligned to other printed materials from around the school.
The designs traverse the school's corridors and stairwells, so all available space has been maximised!
Our World
Designing Wall Art always begins by discussing the school's objectives. The designs can help a school achieve their ambitions for learning, wellbeing, motivation, action or something else.
A child's education is a wonderful gift and can provide the tools and skills they'll need in life beyond their school years. So, it is always a delight when schools look to design Wall Art for their learning environment. And it guaranteed that all designs will be engaging and inspiring to all who see them.
Want to Know More?
Get in touch to arrange a free, Covid-safe site visit to your school. A member of the team will visit you to discuss your goals and suggest ways of maximising your space and budget.
From there, you'll be guided every step of the way through the design process. With over 20 years' experience in education and design, you're in good hands!
Finally, the tadaa moment – the design will be printed and installed and you will have beautiful Wall Art. Check out the case studies to see more of this stunning work