Powerful, portable laptops that have long-lasting battery life are in greater demand, as consumers now expect more from their devices, opting to invest in laptops once every few years. Students, in particular, want flexibility when looking at devices to support their requirements for school.
A well-priced, multi-purpose laptop is key – and a model equipped with RTX 30 series GPUs is ideal for studying, content-creation, gaming, as well as supportingIDIA complex projects and programs.
Investing in an RTX laptop from the get-go means students don't need to invest in multiple platforms for different purposes, as it will cater to all their computing needs over the upcoming academic year and beyond.
Students may find it tedious to manage various assignments, projects, and coursework across their subjects. However, with AI, regardless of how challenging or difficult their projects may be, students will be able to manage and finish them sooner.
How? NVIDIA AI Accelerated STEM applications support every student in completing their projects faster! The NVIDIA Broadcast APP enables students to attend online classes or collaborate with their classmates on projects more efficiently, and resourcefully. The platform is ideal for students who study remotely, as it can create a 'studio' anywhere, by removing background noise and echoes, improved camera and voice quality, access to a free green-screen feature, and much more.
Moreover, a student in art, design, or any other creative field can benefit from an enhanced workflow with 75+ AI-accelerated creative apps including the number one app for photography, video editing, rendering and broadcasting. With NVIDIA Studio Drivers, the best performance and reliability is guaranteed when working on and across creative applications. Additionally, access to NVIDIA Exclusive free apps such as Omniverse for 3D artists allows them to connect and create virtual worlds, while NVIDIA Canvas turns simple brushstrokes into realistic landscape images with AI. With the ability to quickly work on original concepts with NVIDIA, students now have more time to visualize and create new ideas.
Today, a lot of students are also gamers, who game to unwind after a long day at school or university. Laptops with RTX30 GPUs guarantee the ultimate gaming experience, offering the fastest frame rates per second (FPS) and unmatched image quality with NVIDIA DLSS. Moreover, NVIDIA Reflex provides the lowest latency, and gamers can enjoy cinematic and stellar visuals with Raytracing, ensuring the smoothest and most stable gaming experience with NVIDIA GameReady drivers. Additionally, students looking to switch from a console to a laptop can use their favorite controller too! RTX GPUs are not only the fastest, but they also stand out as the most advanced GPUs in the world. This level of performance cannot be found on any other platform. Students will also save money because PC or laptop games are far more affordable than console games.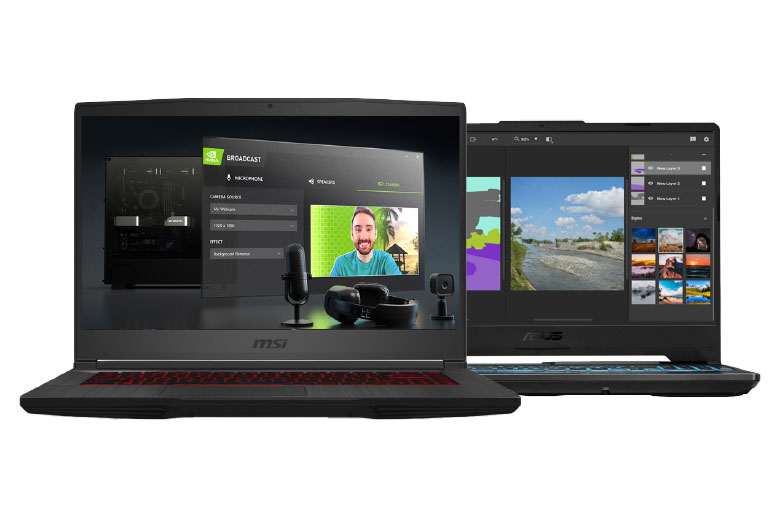 Students interested in pursuing careers as 3D artists, designers, photographers, picture and video editors, or even streamers, will find NVIDIA Studio laptops to be the perfect choice because they are built for creators, designed for performance, and ready to uplift the newest and most cutting-edge creative programs.
What's more, with the NVIDIA Max-Q technology, students can enjoy quieter, cooler laptops, and longer battery life. GeForce laptops are also the world's thinnest high-performance machines – several designs are less than 20mm thick and weigh less than 1.8kg, perfect and convenient for students on the go.
NVIDIA RTX laptops such as ASUS RTX 3050, MSI RTX 3060, Dell RTX 3060, ASUS RTX 3060 are increasingly versatile, and these highly developed machines feature the newest, fastest GPUs with AI, which are only found in laptops with RTX graphics cards. With state-of-the-art features and technological enhancements, RTX laptops are the perfect platform for students!
These advanced and future-proof RTX features are now available on RTX laptops starting at AED 2899.