Padel Tennis is one of the fastest-growing sports in the world. One of more than 30 racket sports played at clubs and courts from Dubai to Detroit, it is threatening to catch up in popularity with established favourites such as tennis and badminton.
Conceived in 1969 by Enrique Corcuera, padel tennis shares a lot of similarities with the traditional game. The people of Acapulco, Mexico, were the first to play the sport, and then it swiftly caught on throughout the rest of Latin America. Today, it is a global phenomenon, and nowhere more so than in the UAE.
How do you Play Padel Tennis?
Padel is tactical, thrilling, demanding, and extremely addictive. It's a low-impact, high-intensity cardio workout that both singles and doubles can benefit from. Tennis and padel have rules that are fairly similar and are simple to master. However, the distinctions are instantly apparent once you start playing.
The court is the first thing to mention; it is half the size of a typical tennis court. The enclosure is the next component and is framed by either wire or perspex. This framing is then employed, as in squash, to strike the ball against the rear or sides of the court, in attack or while returning. Then there are the padels themselves. They resemble enormous table tennis bats and are made of plastic and foam. They can deliver tremendous force. There are no limits on how you strike the ball, but only underarm serves are permitted. The balls have been modified too, to lessen the pressure. In actuality, it is not unusual for players to use regular tennis balls that have been depressurized with the aid of a needle.
Padel is a faster game to play than tennis for several reasons, including the smaller playing area and, like squash, the fact that back and side walls can be used as part of the game. Imagine a squash court that is three-quarters the size of a tennis court, enclosed within a four-wall box. Then, imagine adding a large stringless bat, and you start to get the idea.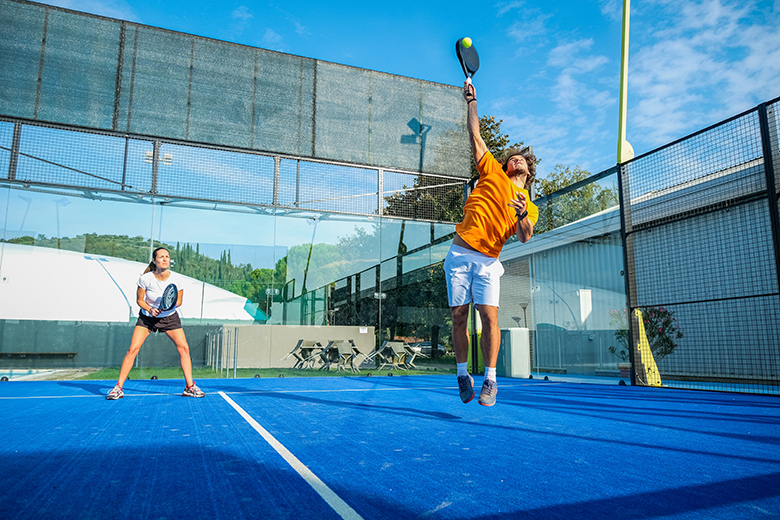 ---
The speed, energy, and excitement padel offers makes it a great game for everyone, no what matter your age!
---
Where to Play?
The speed, energy, and excitement padel offers makes it a great game for everyone, no what matter your age! So it's no surprise that padel facilities are springing up all over the place, with some of the best being in the UAE.
Dubai
Central Padel Dubai
Seven courts are available for players to get active on at Central Paddle, with two of the world's best players Juan Lebrón and Agustín Tapia the first to test them out at the launch. There is coaching for all ages and abilities, as well as sessions for ladies, children and beginners. There is also a club shop to allow you to acquire essential kit.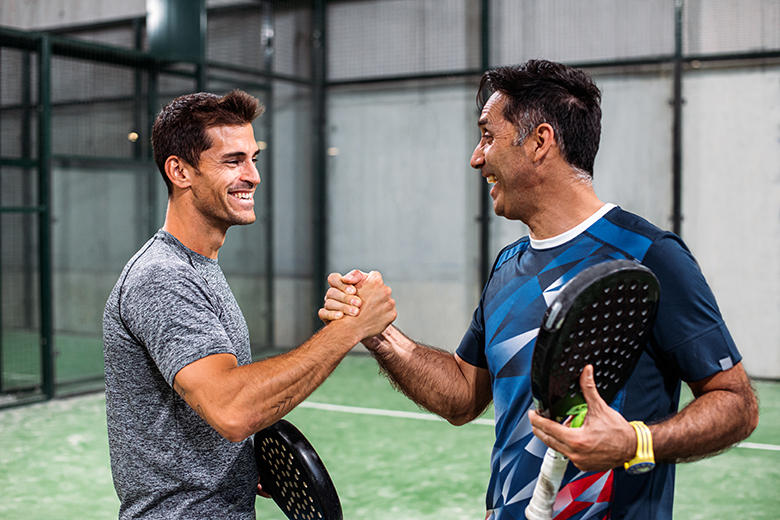 ---
Padel is tactical, thrilling, demanding, and extremely addictive
---
Dubai Golf
Emirates Golf Club, Dubai Creek Golf Club, Jumeirah Golf Estates, and the Dusit Thani Dubai all have courts that are managed by Dubai Golf. For members, a tournament schedule is maintained, and visitors can play for a fee.

Just Padel
The largest provider in the Middle East with 34 courts spread out around the city. A number of them are in schools, while others are at places such as Kite Beach and Ripe Market. All courts at Just Padel are bookable.
Abu Dhabi
Al Forsan International Sports Resort
Al Forsan is one of the biggest and best sports complexes in Abu Dhabi and ideal if you want to play padel. The ride out to Khalifa City might be a little bit of a drive, but the exceptional facilities and artificial lake make it worth the trip.
Let's Padel Academy
Let's Padel Academy is located out in Mussafah and is an impressive indoor padel facility that includes four courts. Qualified training is available for all ages and levels.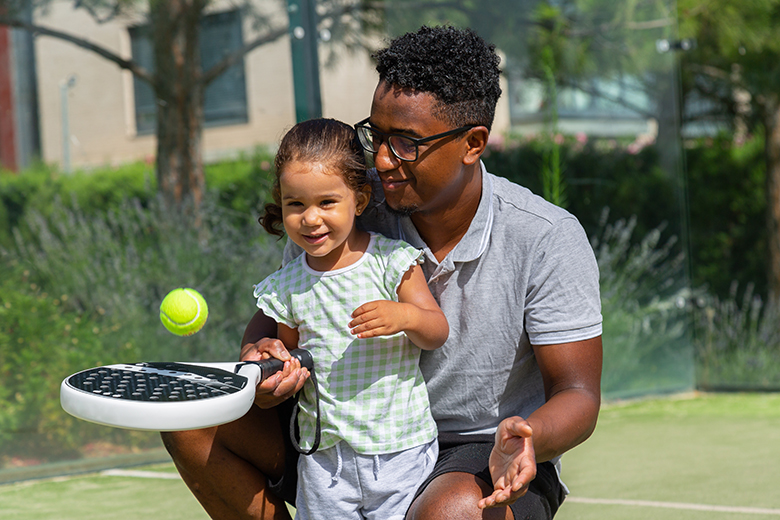 Marina Padel
If you're looking to play padel in Abu Dhabi on Yas Island, look no further than Marina Padel at Yas Marina. And if you're if not a 'pro' padel player, there is access to professional coaches. There are also events and competitions.
Other facilities in Abu Dhabi include Beach Club at Beach Rotana, Yas Acres Golf and Country Club and Zayed Sports City.
Sharjah
Sharjah Beach Club
Sharjah Beach Club has everything you need to play padel tennis, including rackets, balls, refreshments, and of course some of the finest courts in the emirate.
The Basic Rules
The rules of the game are fairly straightforward. Unlike in tennis, the ball remains playable if, after being hit on the ground, it then hits the walls. The scoring is the same as in tennis.
When serving, the ball must bounce once on the floor. Players can reach over the net with an arm or racket when hitting a ball but if the racket hits the net (or if the ball hits the wall or fencing before it hits the floor) it is a foul. Once the ball hits the ground, it may strike the wall or fencing before it is returned. Out-of-court plays are allowed, leading to some thrilling rallies.
Padel tennis is fast and furious, great fun and exercises almost every muscle you know of … and quite a few that you don't! So, get involved today; one of the world's fastest-growing sports is on your doorstep.