Samadhi, a new wellness concept with a mission to provide a sacred space for the community to flow and replenish life balance, is now open in 491b Jumeirah 3. The destination offers yoga classes, a sauna, an ice bath, a private pool, retail, hair therapy treatments, café, state-of-the-art amenities, and a wide variety of experiences from the heart of the Samadhi team. 
Samadhi was created to be an authentic destination where everyone feels special, welcomed, and cherished. It is that middle space between work and home for visitors to truly connect, flow, replenish life balance, manage stress, and avoid burnout. With a personal approach to every visitor that is treated like family, the wellness concept has a deep passion for guiding individuals on transformative journeys of self-discovery, fostering self-love, and striving to make the world a better place one person at a time. 
Located in the heart of Jumeirah, the integrated experiential space has several facets that cover various aspects of a wellness experience. Samadhi interiors feature natural textures, representing the four elements of nature: fire, earth, water, and air. Every detail is thought out and carries a story, creating an ambience of peace and tranquility unlike any other. 
---
The space offers personal and corporate wellness programmes, yoga classes, retail, and a café, as well as an array of self-care and nourishment experiences
---
The yoga studios are split into two types. Reflect, which features infrared heaters and Connect, which extends into the garden in the cooler months. With the purchase of a yoga class package, guests receive complimentary access to the sauna, cold bath, and pool, to further enhance muscle relaxation, recovery, and stress management. At the cafe, guests can enjoy a delicious wholesome menu made of nourishing ingredients. There is also a dedicated room for hair treatments, using all Aveda organic products. Several lounging facilities indoors and outdoors, alongside a stunning pool allow for time to stop and be enjoyed in serenity. Visitors can also explore various wellness-related products on offer, with brands like Lululemon, Aveda and others.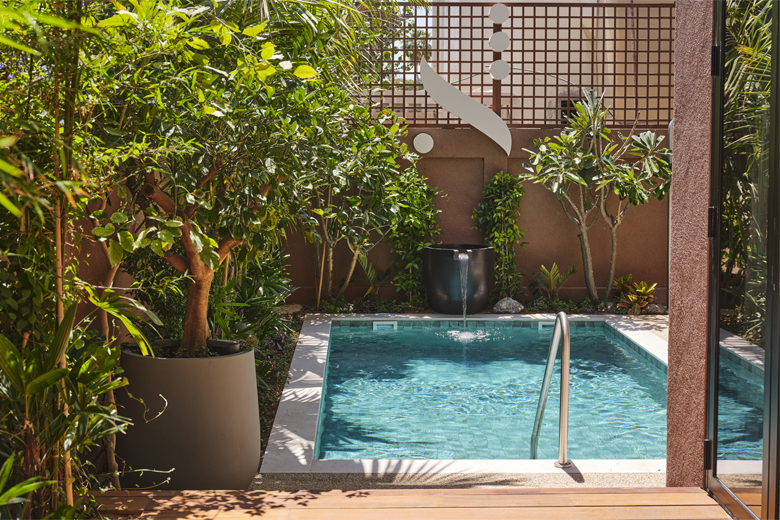 With a tagline "enter within and discover you", Samadhi is a caregiver concept, and a brainchild of Samar Al Salem, a successful Kuwaiti architect, who went on her own transformative yoga journey that altered her life. Now she's on a mission to help other people to live a better and more fulfilled life through Samadhi.
"My journey to self-discovery has completely altered my life, and my hope is that Samadhi will be the guiding light for people to experience the transformative powers of replenishing energy and creating a balance in their lifestyles. We welcome everyone on this journey at Samadhi," said Samar.
Samadhi is open daily seven days a week from 7am to 9.45pm.
For more information follow on socials @samadhimywellness, download the app "Samadhi" on Apple or Android or click below to visit the website.