The Ministry of Education has announced a new 10-point 'Code of Conduct' on social media for all professionals in the education sector. The 10 criteria mainly emphasise and affirm commitment to UAE social norms and respect for Islam and Emirati culture. The code also urges support for tolerance and acceptance of differences in race, religion, and culture, as well as committing to safeguarding against bullying, neglect, invasion of privacy and violence.
According to a tweet from the UAE's Minister of Education, Dr Ahmad Belhoul Al Falasi, the paper is intended to serve as a roadmap for establishing an institutional culture based on the highest ethical standards in the country's educational system. "We are proud of our educational professions and we are keen to consolidate the values of the UAE society according to the directives of the wise leadership," he stated.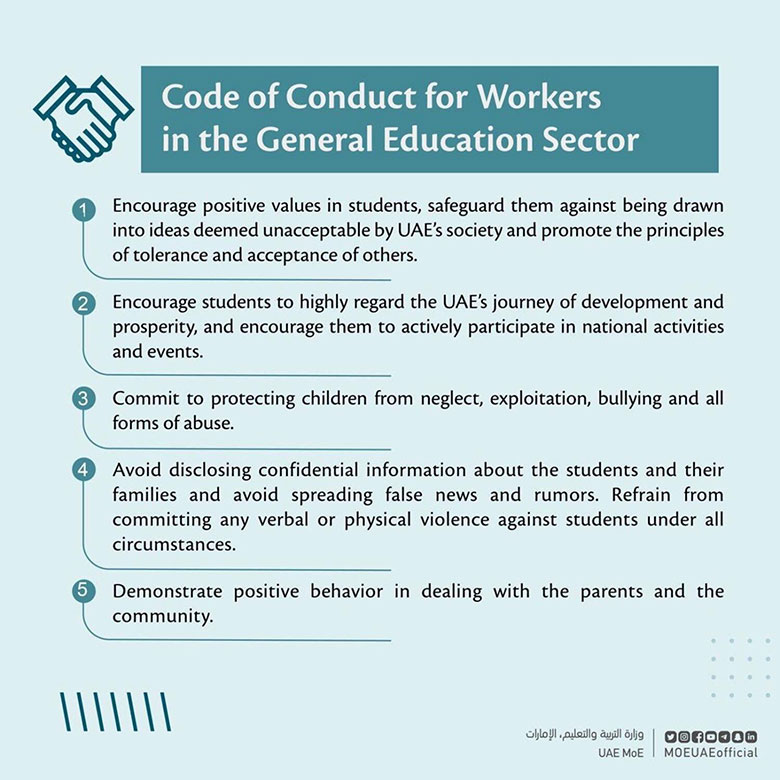 The code intends to inspire students to value the UAE's path to prosperity and growth and to actively engage in national events and activities. In addition, it includes avoiding the spread of false news and rumours and refraining from committing any verbal or physical violence against students under all circumstances.
One of the most important principles of the Code of Conduct is to demonstrate positive behaviour in dealing with the parents and the community.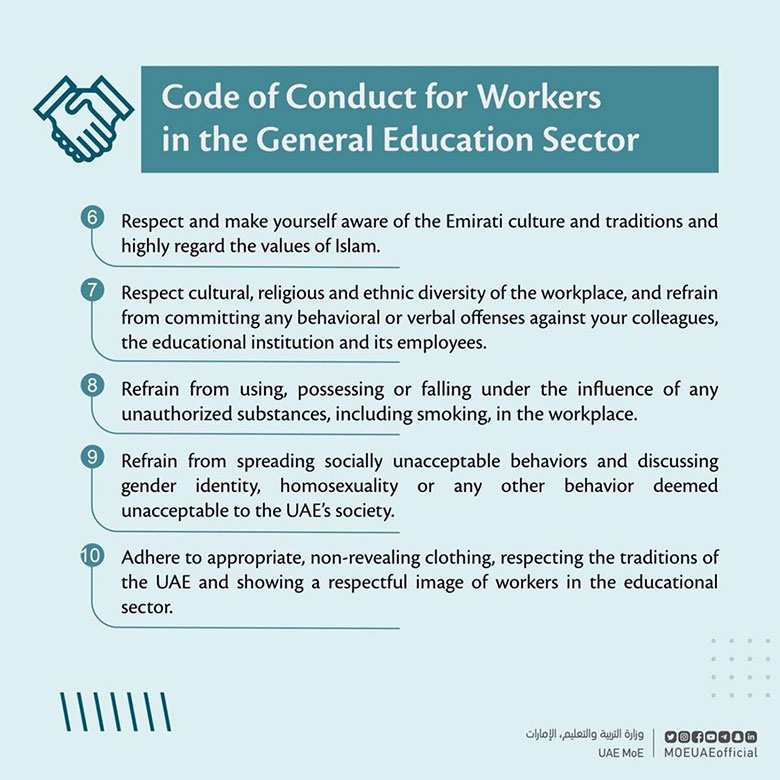 Employees in the general education sector are forbidden from verbal or physical misconduct toward their co-workers, the educational institution, or any of its staff members. Moreover, employees are prohibited from using, having, or being under the influence of any unauthorised substances, including tobacco, in the workplace.
In addition to refraining from spreading socially unacceptable behaviours and discussing gender identity, homosexuality or any other behaviour deemed unacceptable to the UAE's society is banned.
The code also mandates that all employees in the industry wear acceptable, non-revealing apparel while honouring UAE customs and projecting a respectful image of employees in the educational sector.