From 20-29 January, LEGOLAND® Dubai celebrates the Chinese New Year event 'Year of the Rabbit', where families with children aged 2-12 years are invited to take part in a long list of exciting and fun-filled activities. Here, youngsters will explore our LEGO® Dragon Hunt, decorate Rabbit cookies and take part in the Chinese New Year Wishing Wall and Chinese New Year LEGO® Mosaic activities at MINILAND. Furthermore, they can join the daily Characters Parade and take awesome selfies at the instragrammable Chinese surroundings with hundreds of Chinese lanterns spread along FACTORY Street.
Foodies will enjoy limited-time Chinese New Year snacks and treats at Market Restaurant and The Café, whereas parents aiming to amaze their youngsters during 'Year of the Rabbit' celebrations should look no further than LEGOLAND® Hotel with its ultimate LEGO® sleepover and its exclusive Chinese New Year themed activities featuring a Scavenger Hunt, LEGO Rabbit Build creative workshop in addition to access to the theme park with all* Chinese New Year activities.
---
Chinese New Year celebrations from 20-29 January at LEGOLAND® Dubai
---
Whether living in the UAE or visiting this amazing city, all families are welcome to choose their preferred day from 20-29 January to spend a fun and exciting Chinese New Year celebration at LEGOLAND Dubai's MINILAND & FACTORY Street every day of the week. At MINILAND, the mission of the young detectives as part of their LEGO Dragon Hunt is to solve the quiz by identifying the names of 8 buildings among MINILAND's 15,000 LEGO models, LEGO, the LEGO logo, the Brick and Knob configurations, and LEGOLAND are trademarks of the LEGO Group. ©2022 The LEGO Group. LEGOLAND is a Merlin Entertainments brand. where LEGO Chinese Dragon have landed, while flying in MINILAND. More amazing games and fun-filled activities can be explored at FACTORY Street Fun Zone, from help in building the huge Chinese New Year LEGO Mosaic to visiting the Chinese New Year Wishing Wall, where kids can complete their wish list and hang it – hoping to come true. As the Chinese New Year will not be complete without a special parade, many LEGOLAND Dubai Characters, including 'Ollie the Dragon' and 'Olivia the Dragon', will celebrate this special occasion, dressed in their Chinese New Year red outfits, with a daily FACTORY Street Parade, inviting everyone to join this joyful occasion.
---
LEGO® Dragon Hunt in MINILAND
---
To re-fuel the appetite of the young foodies between the Chinese New Year activities, families can explore a delicious range of Chinese New Year specials at the Market Restaurant with its set menu offering Asian dishes including Vegetable Katsu Curry, Kung Pao Chicken, Stirfry Noodles with Mongolian Beef or Chicken, Mutter Paneer with Rice as well as salads and kids' options. Furthermore, a selection of delicious sandwiches, including hoisin chicken sandwich and mandarin orange chicken quesadillas together with a variety of iced tea options can be explored at The Café.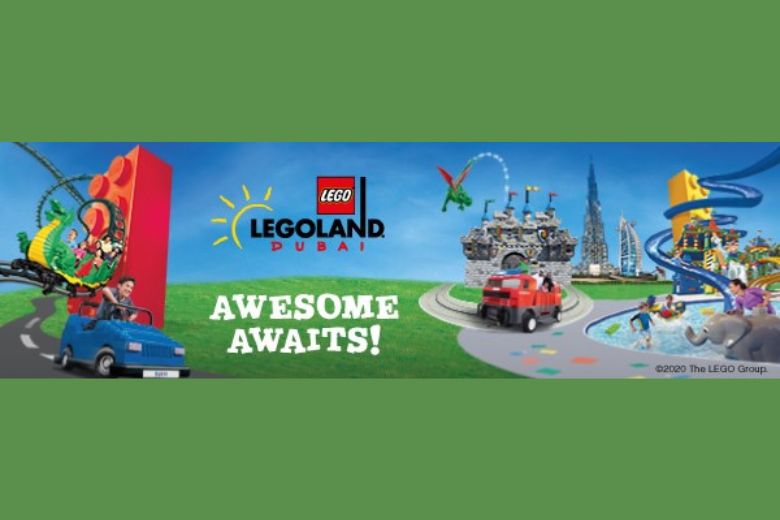 ---
Chinese Wishing Wall and Chinese New Year Mosaic Build – at FACTORY Street Fun Zone
---
When celebrating 'The year of The Rabbit' at LEGOLAND Dubai theme park, families should not miss checking out The BIG shop, where they can receive an exclusive limited-edition LEGO® Iconic 'Year of the Rabbit' box set with purchases* starting 20 January until stocks last. The BIG Shop is the largest LEGO® store in the Middle East, featuring the biggest and most diverse selection of LEGO® boxes and novelty items, LEGOLAND souvenirs and personalised LEGO gifts.
---
Daily Factory Street Parade
---
Families can take the Chinese New Year to another level with the Chinese New Year Sleepover at LEGOLAND Hotel, where they can book one of the five family room themes, whether Adventure, Kingdom, Pirate, LEGO® Friends or LEGO® Ninjago – each with a different treasure hunt experience in addition to access to the Chinese New Year event at LEGOLAND Dubai theme park. Furthermore, young hotel guests will enjoy exclusive activities to celebrate 'The Year of The Rabbit' including 'LEGO Rabbit Build' creative workshop, Chinese New Year Scavenger Hunt and Chinese New Year arts and crafts. That is not all, as hotel guests and non-hotel guests can explore the limited-time Chinese New Year-inspired buffet* from 20-29 January 2023 at Bricks Family Restaurant where kids eat for free* on Saturdays & Sundays throughout the celebration. Here, a feast of Asian flavours is waiting to be discovered, whether with delicious appetizers, mouth-watering main courses, or with some irresistible desserts.
---
Rabbit Cookie Decorating
---
LEGOLAND Hotel culinary team has prepared a unique flavour experience featuring assorted dim sums, smoked tuna, Asian crab crostini, prawn canapes and Yakko tofu bites. For salad lovers, a wide range of salads awaits them, including Laohu cai Tiger salad, crispy noodle salad, Napa Cabbie salad, Teriyaki glazed chicken salad, crispy tofu sesame salad, and dragon salad. All this is topped with a selection of Asian house-made vegetarian and non-vegetarian delicacies carefully prepared by LEGOLAND Hotel's culinary team, including vegetarian Manchurian and stir-fry, chow mein, Kung pao chicken, Peking duck, soya glazed salmon and more. For those with a sweet tooth, an exceptional selection of desserts is the perfect finish to an unforgettable meal – featuring layered lemon grape, sago pudding, Ambrosia salad, tofu pudding, chocolate roll, and more.
130 baby steps is the distance between LEGOLAND Hotel and LEGOLAND Dubai theme park making LEGOLAND Dubai Resort the perfect family destination with non-stop fun and activities throughout the Chinese New Year celebrations this year, whether for a one-day visit to LEGOLAND Dubai theme park or for an awesome PLAYCATION with a LEGO sleepover adventure at LEGOLAND Hotel including LEGOLAND park access*.
---
Chinese New Year Sleepover at LEGOLAND® Hotel with exclusive themed activities including LEGO® Rabbit Build creative workshop, arts and crafts, and Scavenger Hunt
---
Book the ultimate LEGO Sleepover at www.LEGOLAND.ae and get discounts on your day ticket when booking online at www.LEGOLAND.ae
*Chinese New Year celebration at LEGOLAND Dubai theme park from 20-29 January 2023 and is complimentary for guests with a valid entry ticket, as well as Annual Pass Members holding a pass with validity to enter on these dates. LEGOLAND Dubai full-day ticket price is AED 330 to be purchased at the gate or AED 295 when booking online in advance. One day ticket includes unlimited access to all rides, shows and attractions at LEGOLAND Dubai theme park only. Complimentary entry for children under three years – ID is required. LEGOLAND Dubai is open seven days a week. Opening hours: from 10am–6pm (Monday to Friday) and from 10am–7pm (Saturday to Sunday). 'Market Restaurant' offers a set menu priced at AED 69 per adult and at AED 49 per child (below 12 years old) with a choice of one starter, a choice of one main course and a choice of one selected beverage. A la Carte menu is available at Market Restaurant. Rabbit Decorating Kit is priced at AED 10 per child at 'Market Restaurant'. Complimentary limited-edition LEGO Iconic 'Year of the Rabbit' box set when spending AED399 starting 20. January until stocks last at The BIG Shop. For additional information, visit https://www.legoland.com/dubai/explore/legoland-dubai/events/chinese-new-year/
*Chinese New Year Sleepover is applicable for a minimum of one night stay at LEGOLAND Hotel in themed rooms, fully themed rooms and fully themed suites. Every hotel stay includes buffet breakfast, creative workshops, Chinese New Year themed activities, outdoor family pool and access to a minimum of one LEGOLAND parks (LEGOLAND Dubai theme park and/or LEGOLAND Water Park)– tickets are applicable for one park per day. Chinese New Year-inspired dinner buffet at LEGOLAND Hotel is available for hotel guests and non-hotel guests at Bricks Family Restaurant from 20-29 January 2023 from 6.30pm to 10.00pm. Monday to Friday: standard buffet at AED 125 per adult and AED 79 per child (below 12 years old); Saturday & Sunday: enhanced buffet at AED 165 per adult and AED 95 per child (below 12 years old). 'Kids Eat Free' offer is applicable on Saturday and Sunday only on one child with each paying adult from 6.30pm to 7.55pm – offer is not to be used in conjunction with any other offer. No booking required, first come-first serve basis. For additional information, visit https://www.legoland.com/dubai/legoland-hotel/hotel-overview/