Ladybird Nursery, prioritising early learner wellbeing and development with sustainability at its core, will open the MENA region's largest and world's fourth-largest purpose-built campus for a post-pandemic climate at the start of the 2022-2023 academic year.
Considering the safety and social distancing requirements as a result of Covid-19, and the recent spike in cases, Ladybird Nursery Al Barsha will welcome a maximum of 220 students across the 64,000ft2 campus.  This provides a floor space area of 300ft2 per child, which ensures a safe learning environment and positively impacts the physical development and emotional wellbeing of its early learners.
---
The Al Barsha 3 campus is set to be the MENA region's largest and world's fourth-largest nursery, with an area of 300ft2 per child 
---
Located near Saudi German Hospital, Ladybird Nursery Al Barsha is also the world's largest LEED Gold Certified independent campus and uses innovative technologies to ensure its students can thrive in a nourishing, healthy and nurturing learning environment. Ladybird Nursery has partnered with Sanuvox, the leader in UVC air purification systems, to install ultraviolet (UV) bulbs within the air-conditioning system. The bulbs emit powerful but safe UV rays that will naturally kill germs and bacteria across the campus, and eliminate 99.99% of airborne germs, making transmission of airborne viruses such as Covid-19 unfeasible.
The state-of-the-art campus also circulates fresh air daily into the facilities, which will result in lower carbon dioxide levels, impacting early learners' physical and mental development. Exposing children to fresh air daily is found to eliminate lethargy and exhaustion while improving concentration levels and life skills that include self-discipline, behavioural development, and creative and critical thinking. Children are less likely to develop chronic illnesses, resulting in healthier hearts, flexible joints and stronger lungs.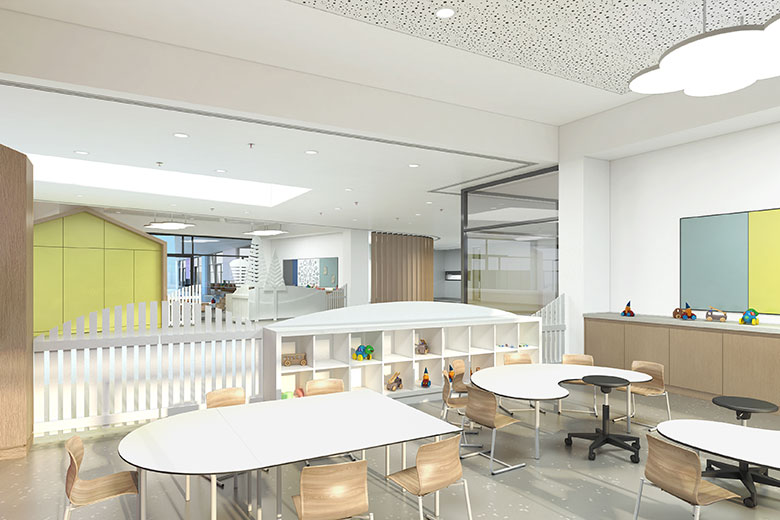 ---
It utilises UV bulbs in the air-conditioning to eliminate 99.99% of airborne germs, making air-to-air transmission of viruses virtually impossible 
---
Monica Valrani, Montessori Directress and CEO of Ladybird Nursery, says: "Early learners require a substantial amount of guidance and care that supports the physical, mental and emotional development in a child as they transition from nursery to school. Young children during the pandemic have shown decreased levels of social and emotional development due to their limited social interactions with their friends and teachers. At Ladybird Nursery, we are focused on developing the whole child, catering to the needs of each individual. Our curriculum encourages children to be independent self-learners who are ready for the next chapter of their lives. The Al Barsha campus has been innovatively designed to supplement this vision and our curriculum is embedded into the facility, ensuring that we can optimise early learners' development."
Studies indicate that children growing up in a post-pandemic world inhabit signs of a lack of social and emotional skills due to remote learning and minimal contact with their peers. To further enhance children's social and emotional development, the purpose-built campus offers parents and early learners the MENA region's largest post-pandemic space per child, complete with a customised bike track, mud kitchen, indoor reading garden area, indoor music room, a French and Arabic language room, an organic garden, an outdoor sandpit, a Splash Pad, and more.
---
The nursery will circulate fresh air throughout the vents daily and operates at 93% capacity from solar power
---
The Early Years Foundation Stage (EYFS) nursery has embedded sustainability within the curriculum and executed the use of solar power, operating at approximately 93% capacity through the use of renewable energy. Award-winning architects Godwin Austen Johnson designed the Al Barsha 3 campus to build the ultra-modern nursery with purposeful large spaces, attaining the LEED Gold Certification by the US Breen Business Council as the world's largest stand-alone campus.
The Al Barsha campus marks Ladybird Nursery's third campus in Dubai and follows in the steps of its sister nurseries as a single-storey campus, aimed at further ensuring children's safety. Set to open in August 2022, Ladybird Nursery Al Barsha will welcome students aged six months to four years from the start of the 2022 – 2023 academic year.
"At Ladybird Nursery, we have incorporated the Montessori approach into the curriculum that follows an individualised teaching methodology that innovatively combines hands-on and real-world learning outcomes in a classroom setting. Our latest campus encapsulates our vision to create an inclusive early childhood experience that is sustainable, safe, and tailored to the needs of each child," concludes Valrani.
For registrations, parents can address inquiries to:

[email protected]