The newly-opened Ladybird Nursery Al Barsha addresses mental wellbeing in early learners from as young as six months, as children continue to adapt to the new normal in a post-pandemic era. The Early Years Foundation Stage (EYFS) Montessori-driven nursery has incorporated an array of mental wellbeing initiatives within its curriculum to support early learners both mentally and emotionally. 
Early childhood experiences structure the architecture of the developing brain and lay the foundations of a healthy mind in early learners. Creating a positive and safe environment to grow and learn is vital, ensuring children are mentally equipped to deal with the pressures of the outside world. Ladybird Nursery Al Barsha is committed to supporting children's learning requirements and highlights the importance of creating an open line of communication with honest dialogue and building trust.
Louisa McCormack, Principal of Ladybird Nursery Al Barsha says: "At Ladybird Nursery Al Barsha, we prioritise mental wellbeing and curate teaching methodologies to nurture young minds. Through our Montessori approach, we empower our children to be curious to learn with engaging activities that foster positive mental wellbeing, while developing independent and confident learners."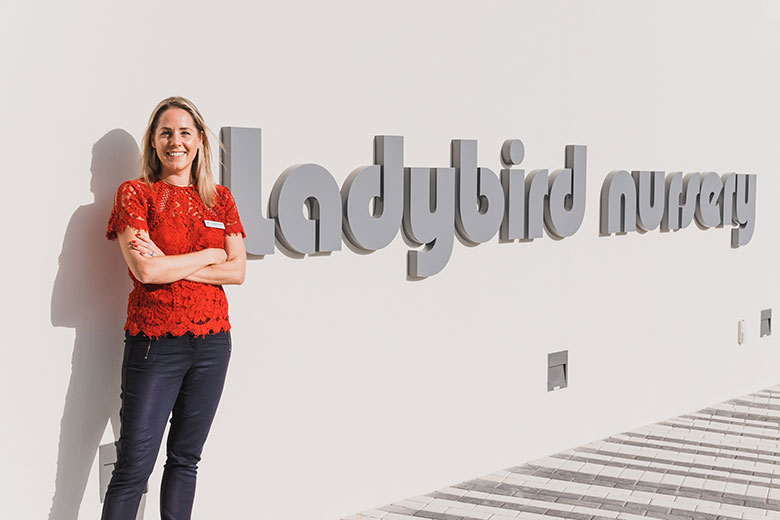 ---
Incorporates the Montessori approach to foster positive wellbeing, open communication, and building trust from as early as six months
---
Preparation is key and parents should speak to their children before entering a new environment. Informing the child about what is going to happen and what to expect ensures they are mentally prepared, and less scared of the unknown. The purpose-built Al Barsha campus incorporates a gentle settling-in policy, encompassing two weeks of getting to know the early learners and their families. Children are asked about their feelings, classrooms are decorated with pictures of their parents, and a host of daily morning activities encourage them to share their feelings.
Parents and teachers must empower children with the opportunity to express their feelings, which will give them a better understanding if a child is happy or not. This method offers the convenience to tailor teaching methodologies based on early learners' interests and enables a faster learning outcome, as children are positively motivated to learn and be curious.  With one of the lowest student-to-teacher ratios and a floor space of 300ft2 per child, Ladybird Bird Nursery Al Barsha ensures each child's frustration is addressed instantly.
---
"At Ladybird Nursery Al Barsha, we prioritise mental wellbeing and curate teaching methodologies to nurture young minds"
---
This process is made possible by using age-appropriate language. Ladybird Nursery Al Barsha shares weekly updates with parents on the topics that will be covered in the week ahead. This enables parents to discuss this with their children in advance, in the comfort of their own homes at a convenient time, ensuring they are not scared or surprised when receiving the information in a classroom setting.
Children often experience anxiety whilst in transition, be it from home to nursery or even moving from one area to another. Parents can use visual cues to ensure there are no uncertainties that may frustrate early learners. The Montessori–driven nursery incorporates visual timetables so that children can see where they are headed and reaffirm they will be back.
Curating activities according to children's interests will give them a better understanding of the subject matter. Parents and teachers must listen to early learners' wants and interests. By understanding their interest, learning outcomes can be tailored to their strengths and excite the little ones, while at the same time fostering the value of independence.