Buckle up and prepare for a heart-pounding adventure! Get ready to be swept away by an electrifying month-long extravaganza that will send shivers down your spine and set your heart racing with excitement! Welcome to the ultimate Halloween celebration of 2023 at IMG Worlds of Adventure, where the thrills are larger than life in the 1.5 million square feet of pure adrenaline-pumping fun! Dubai's largest indoor theme park is pulling out all the stops to bring you a Halloween experience like never before. So, grab your costumes, summon your courage, and join us as we unveil a spine-tingling spectacle that will leave you breathless!
Month Long Halloween Celebration at IMG Worlds of Adventure
Mark your calendars from 1 to 31 October, because IMG is calling all thrill-seekers and lovers of the dark to embark on an unforgettable journey. This year, IMG will be unleashing a zombie apocalypse theme, electrifying events, and a chillingly eerie decor that promises to catapult Halloween at IMG into an epic adventure like never before!
---
Month Long Halloween Celebration from 1 to 31 October
---
A haunted tree stands tall at the gates and as you step inside, coffins and menacing jack o' lanterns lurk in the shadows, casting an eerie glow that adds to the overall chilling mood. As you venture deeper into this realm of frights, you'll encounter chilling portraits and paintings that seem to come to life, transporting you to a world where the supernatural reigns supreme. But the thrill doesn't stop there! Hanging bats and eerie zodiac signs surround you at each junction of the park. To add to the chill, you get a chance to uncover the secrets of the Book of the Dead and the ominous Grim Throne, both waiting to challenge your courage. While you're there, be sure to also capture a memory you won't soon forget at the one-of-a-kind coffin photo booth, nestled in the heart of the Cartoon Network Zone. Throughout the event, a haunting atmosphere with low fog and eerie lighting is sure to giving you the feeling of being in a sinister swamp.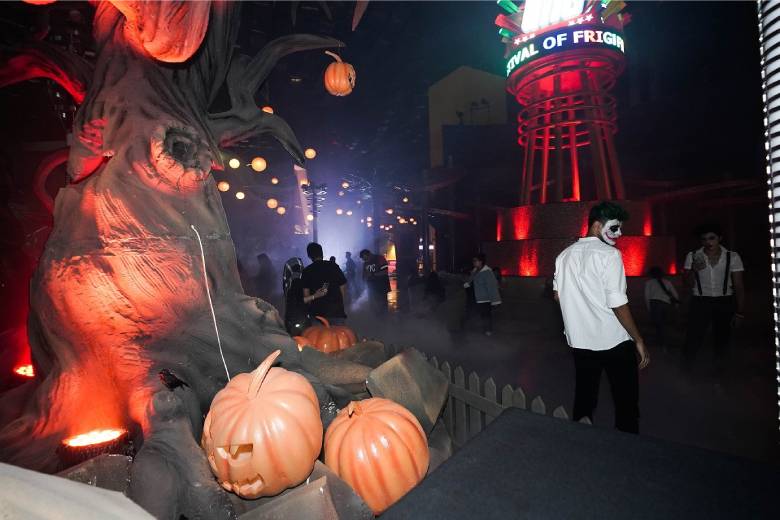 Prepare to be mesmerised as the performance unfolds, casting an enchanting spell over the entire event. Air dancers will soar and twirl, creating an ethereal display that mesmerises and captivates. Meanwhile, phantoms on bikes will glide through the venue, weaving ghostly spectacles. The main lobby morphs into a nightmarish landscape, where menacing pumpkins and eerie zombies encircle the looming dinosaurs. But that's not all; keep your senses alert for a live roaming zombie, that adds a layer of dread and intrigue, elevating the overall mood to an unprecedented level of spine-tingling excitement!
---
The key highlight will be the Festival of Fright, with DJ Bliss and DJ Bader
---
Families and kids are in for a spellbinding adventure at IMG Halloween! From thrilling rides to spooky-themed attractions, there's something for everyone. Little ones can embark on a pumpkin hunt, enjoy kid-friendly shows, and meet friendly monsters. Parents can relish the eerie ambiance while kids will enjoy the Halloween "Trick or Treat Town," which offers games, activities, and treats. Decorated in the style of a neighborhood with Halloween props and decorations. Children can get candy at trick-or-treating stations. Kids can enjoy their pumpkin world with fun activities and a great ambience. There will be a Fun Halloween-themed photo booth area with props and backdrops for kids.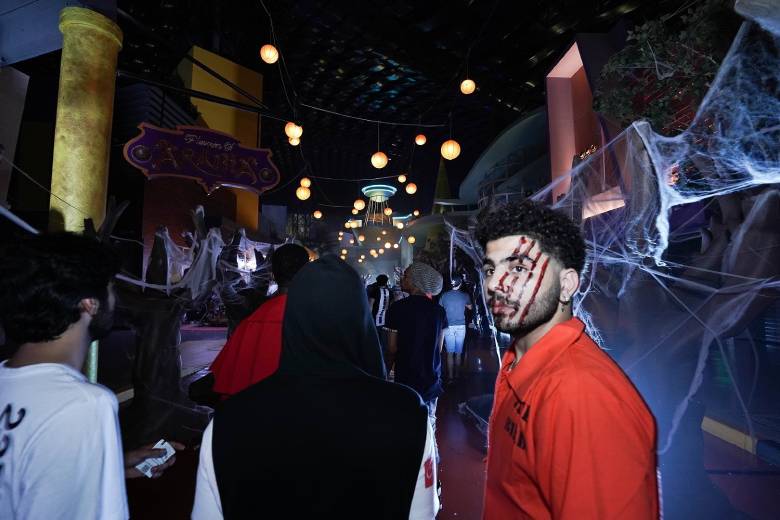 Overall, Halloween is a chance to experience a spine-tingling Zombie Outbreak. Furthermore, the Zombie Takeover Dance will add a whole new dimension to the event. Moreover, the Spooky Dance Party will let your inner ghoul loose, while the African Drumming Show will immerse you in rhythms. Witness the eerie Freak Show Parade, a travelling zombie circus, and be mystified by the "Wizard Magic Show."
---
A new addition this year is the Haunted Cafe, a restaurant drenched in horror themes Spookiest special activities
---
That's not all, transform with Spooky Face Painting and dance to Bhangra, but in a different spirit this year! So, get ready for a night of ghoulish delight at this unforgettable Halloween extravaganza!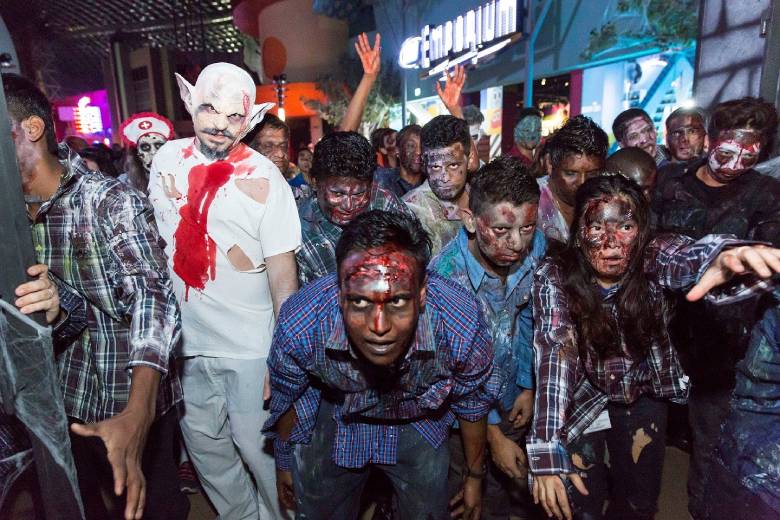 Unveiling of the Haunted Café During Halloween
A new addition this year is the Haunted Cafe, a restaurant drenched in horror themes, offering the eeriest menu in the city. Delight in chilling dishes that will tantalise your palate and send goosebumps down your spine. The staff, dressed in spooky attire, will add to the spine-tingling atmosphere. This café is a must-visit for paranormal enthusiasts and those seeking a unique dining adventure.
Groove and Spook at IMG's Signature Festival of Fright: Halloween Bash 2023!
Festival of Fright, IMG's signature and well-known annual Halloween Bash, is back! Join us on October 28 at 8 PM and ring in the witching hour with DJ Badir and DJ Bliss. Don your most daring dancing gear because we have an electrifying costume contest that could make you the night's champion. Dance to the haunting tunes of the netherworld and immerse yourself in this hair-raising event. For only AED179, this spine-tingling event promises an unforgettable night of music and chills. Don't miss out on this legendary and spine-chilling extravaganza!
Halloween at IMG promises thrills and chills at every turn. Whether you're a fan of zombies, ghouls, or just want to soak in the spooky atmosphere, this event has something for everyone.
For ticket information, event schedules, and more details, visit the link below