The 16th edition of GESS (Global Educational Supplies and Solutions) Dubai, a CPD accredited conference is poised to welcome over 6,000 education experts from all over the world. This event, taking place at the Dubai World Trade Centre, Za'abeel Halls 4 to 6 from Monday October 30 to Wednesday November 1, 2023, will also host more than 350 prominent education brands from over 40 countries around the globe. Joining this year's edition as a Strategic Partner is Emirates Schools Establishment (ESE). Registration for this free-to-attend event remains open at www.gessdubai.com. Do not miss out on this exceptional opportunity to join the global education community.
Featured Speakers
The region's premier education conference and exhibition is thrilled to announce three remarkable keynote speakers who will grace the event in 2023. Renowned for its commitment to fostering innovation and excellence in education, GESS Dubai is set to deliver another exceptional experience for educators, administrators, and stakeholders from around the world.
Peter Milne
The Founder/Director of Target4Green, brings over 25 years of expertise to the GESS Dubai stage. With a rich background as a teacher, Environment Coordinator, Workshop Leader, and Educational Consultant, Peter's journey in education has been truly remarkable. His legacy includes achieving the first Eco-Schools Green Flag in 2012 during his seven-year tenure as a teacher and Environmental Education Coordinator in Dubai.
---
The event will also host more than 350 prominent education brands from over 40 countries around the globe
---
Upon returning to the UK in 2015, Peter founded Target4Green Educational Consultancy and Training Ltd. Since then, he has been passionately working with schools worldwide on global citizenship, climate change, and sustainability education. His contributions extend to organising and facilitating the internationally acclaimed Beyond COP21 Symposium series, which has graced 34 events across 18 countries since its inception in Dubai in January 2016.
Peter Milne will engage GESS Dubai attendees with thought-provoking discussions on topics such as Consuming Habits and Responsibility, Supporting the Sustainable Development Goals from a Local to Global Perspective, and Teaching students about Climate change and their environment towards a sustainable future, among others.
Ewan McIntosh
Managing Director of NoTosh, is a true visionary in the field of education. With a background as a high school teacher of French and German, Ewan's journey into education innovation began as he sought new ways to engage his students. Embracing technology, he pioneered podcasting and blogging in the classroom, paving the way for digital learning.
His career then led him to serve as the National Advisor on Learning and Technology Futures for the Scottish Government before becoming Channel 4's Digital Commissioner. Today, as the driving force behind NoTosh, Ewan leads global projects and advocates for design thinking in education.
Ewan's engaging presentations and dynamic approach make him a sought-after keynote speaker. He will share insights on topics like The Power of a Promise and participate in panel discussions, including "Schools of the Future."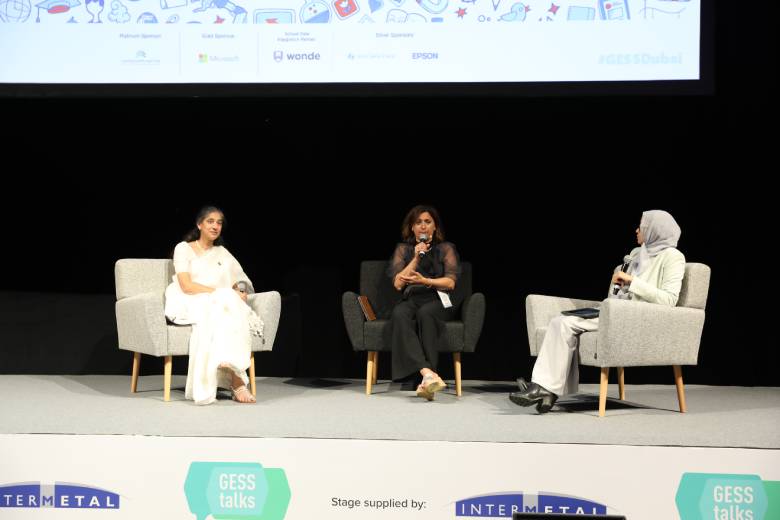 ---
The conference's most eagerly awaited segments feature a wide range of seminars, live case studies, workshops, and panel discussions
---
Darren Coxon
Darren Coxon, the founder of coxon.ai, an advisory specialising in the effective and sustainable integration of AI into educational institutions, joins the impressive lineup of speakers at GESS Dubai 2023. With a rich background spanning 25 years in education, Darren's experience is marked by his dedicated service as an educator, including a decade overseeing the academic operations of school groups, notably Brighton College's international schools. He has been at the forefront of educational technology, with a notable achievement being the leadership of the first state 6th form in the UK to transition to a groundbreaking iPad 1:1 model back in 2011. Darren is currently collaborating with organisations like COBIS, HMC, and the National College on their AI training programmes.
Notably, at the recent Cottesmore AI Festival, Darren showcased how working with AI can expedite the creation of an entirely new school concept from scratch in less than 90 minutes. As a co-host of the disruptEd conference in London on October 12th, he further demonstrates his commitment to advancing education through innovation. Darren passionately advocates for the responsible use of AI in schools and is an active participant in the Education 3.0 and Future Foundation Groups, which work together to drive much-needed change in our education system. He also hosts the EducAIte Podcast and has a book planned for release later this year. Darren Coxon's insights on AI in education promise to be a highlight of GESS Dubai this year.
Conference
The conference's most eagerly awaited segments consist of three days packed with inspiring and innovative content, featuring a wide range of seminars, live case studies, workshops, and panel discussions. These sessions are meticulously crafted to empower educators in achieving excellence in their classrooms.
GESS Talks (Live Stage) – This new inclusion at GESS Dubai 2023 introduces an exciting element, offering a carefully selected roster of speakers and guests from GESS podcasts and webinars. Attendees will enjoy an exclusive chance to interact with industry thought leaders in live sessions, enabling in-depth conversations and providing valuable insights after each presentation.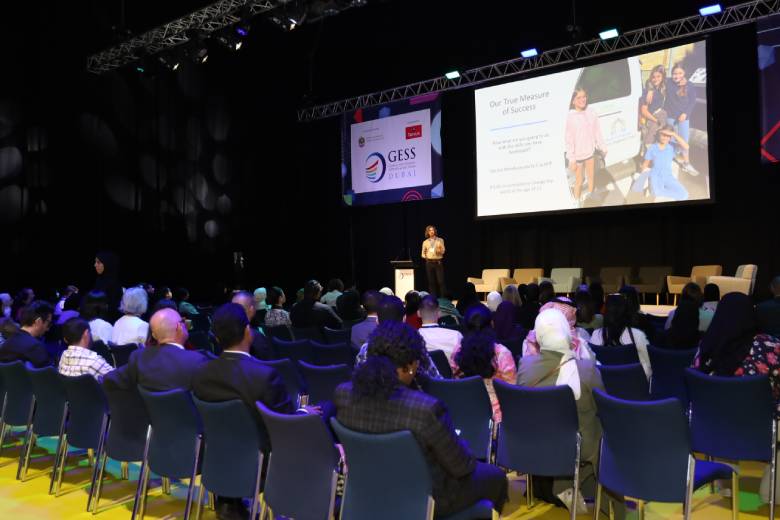 Some panels to look forward to are:
Panel discussion: "Knowledge vs skills: what students should really learn" with Dr Gilda Scarfe, Ambika Gulati, Jenin Al Shalabi, and Soha Halfawi
Panel discussion: "Exploring contemporary visions of Early Years Education" with Dr. Sarah Rogers, Jacqueline Harmer, May Zalat, Erin Herndobler
"Education for the Heart: How to Thrive in a Noisy World" by Prem Rawat, Founder of The Prem Rawat Foundation
Panel Discussion: "Education for the future, are we there yet?" moderated by Olly Lewis, and Al Kingsley
Panel Discussion: "How sustainable is your early years and school setting" moderated by Frances Powell
Leaders in Education Conference – This exclusive conference is designed for principals and esteemed individuals within the Leaders in Education community. It explores the complex challenges faced by school leaders, emphasising the vital skills and qualities required for successful leadership and achievement in senior positions. Some talks to look forward to are:
Fireside discussion: "Essentials for Life: The journey of continuous learning" moderated by Katia Al-Kaisi
Panel Discussion: "It's all about the How: Practical Approaches and Lessons" moderated by Jaakko Skantsi, Programme Director at Education Finland / EDUFI
"Great Leaders Build Great Teams: how do they do it?" by Dr Helen Wright, Director at Global Thought Leadership
"Empowering Tomorrow's Contributors: Arabic Wikimedia in Education" by Serine Ben Brahim, Project Manager at Emirates Literature Foundation
"Raising the Bar: Enhancing Music Education and Building a Musical Culture in Schools" by Martin Barraclough, Director of Music at Cranleigh Abu Dhabi
"The Power of a Promise" by Ewan McIntosh, Managing Director of NoTosh
Wellbeing Space – This dedicated panel has been designed to offers attendees the opportunity to discover global research findings and delve into innovative approaches for fostering overall well-being within educators and their educational communities. Educators can attend talks on topics such as:
"Interventions for Supporting Able & Gifted Learners" by Taruna Khattar, Head of Inclusion & Wellbeing at Ambassador School, Dubai, and Manjula Balakrishnan, Special Educator and AGT Coordinator at Ambassador School
"Understanding and Responding to Behaviours that Challenge" by Paul Bray, Training Lead at SEND International
"How Mantra Vibrations impact the Three levels of the Brain and the Four levels of the Mind" by Seema Nambiar, Director at Skanda Well-being & Skanda Yoga Centre
"Developing STEM Skills in Early Childhood: Secrets of Success" by Hanan Assaf, Early Childhood Specialist at Queen Rania Teacher Academy
"'Being me'. How to promote agency and empower children through entrepreneurship education"
"Consuming Habits and Responsibility" by Peter Milne, Founder & Director of Target4Green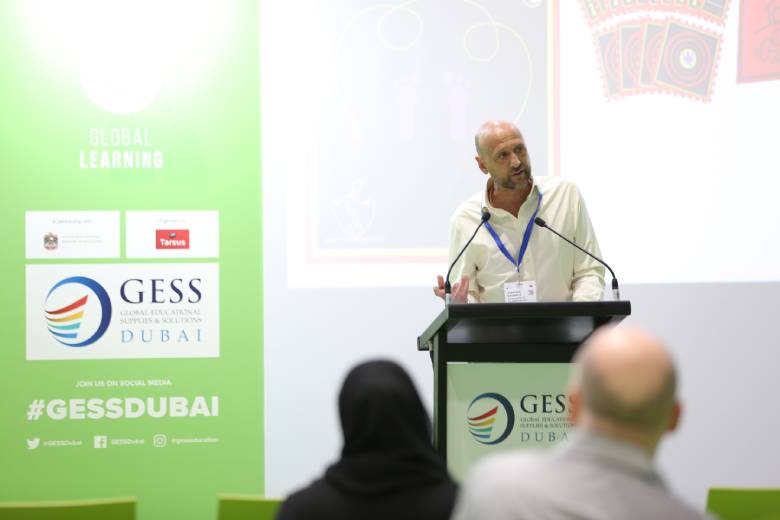 Skills Development – Through immersive workshop-style sessions and in-depth discussions, participants are encouraged to actively participate in comprehensive conversations and demonstrations designed to offer practical, hands-on opportunities for leadership teams to acquire fresh skills and techniques. Participate and take part in certified and in-depth workshops designed for educators looking to skill up their toolset.
---
The dedicated panel has been designed to offers attendees the opportunity to discover global research findings and delve into innovative approaches for fostering overall well-being within educators and their educational communities
---
"From Phonics to Fluency: Building Strong Literacy Foundations" by Ibrahim Alomari, Training Specialist at ESE
"Rethinking Arabic Language Teaching and Learning" by Hanada Taha Thomure, Endowed Professor of Arabic Language at Zayed University
"Empowering Young Voices of Arabia" by Shama Noman, Voices of Future Generations and Education Initiatives Manager at Emirates Literature Foundation Dubai
"Sustainability Integration: Practical Approaches to Embedding Environmental Education in Curriculum" by Hannah Mainds, Head of Global Awareness Studies & Service Learning / Secondary Ecoliteracy Teacher at The Arbor School, Dubai
"Voices of Future Generations and Education Initiatives Manager" by Hagop Dertavitian, Arabic Voices of Future Generation & Educational Project Manager at Emirates Literature Foundation
Education Innovations – Attendees can delve into the smooth fusion of emerging technologies and transformative trends that are poised to define the future of education, unlocking the myriad possibilities they offer. These include:
"Augmented and Virtual Reality in Classroom" by Sara Dara, CEO of Programmers Zone
"AI in Education" by Krishnan Gopi, Group Chief Disruption Officer at GEMS Education
"Podcast as a communication channel that supports girls in future STEM careers" by Natalija Budinski, Headteacher/Teacher of Mathematics at Petro Kuzmjak School
"Sustainable storytelling and social media in schools" by Hannah Hall, Head of Marketing and Communications at Hannah Hall
"AI: The Unexpected Human Opportunity – Tools to Future-Proof Your Students" by Skyler Carr, Co-Founder & Chief Handraiser at Infini-D Learning
"Accelerate Your Impact With AI: How AI Can Help You Do More For Less" by Darren Coxon, Founder of Coxon A.I
Mark your calendars and join us this year at GESS Dubai 2023 to be part of the leading education exhibition in the Middle East region:
October 30 – November 1, 2023
Monday and Tuesday 10am – 6pm
Wednesday 10am – 5pm
Dubai World Trade Centre, Za'abeel Halls 4-6
Do not miss this opportunity to network, learn, and celebrate the remarkable strides in education at GESS Dubai 2023. Visit the official website for more information and to register to attend for free.