Former US Secretary of State Hillary Clinton has paid a visit to NYU Abu Dhabi (NYUAD). During her tour, Clinton met with NYUAD Vice Chancellor Mariët Westermann and some of the University's faculty and students.
"It is a great honor for NYU Abu Dhabi to welcome Hillary Rodham Clinton, the former US Secretary of State, to our campus. She is an inspiring politician, a deft diplomat, and a ground-breaking advocate for women and girls around the world," Westermann said. "Her visit reminds our students, professors, and entire community that solving today's global challenges requires them not just to do well but to do good. Through her many years of public service and her tireless work, Secretary Clinton has set a magnificent example of leading for a more humane and equitable world."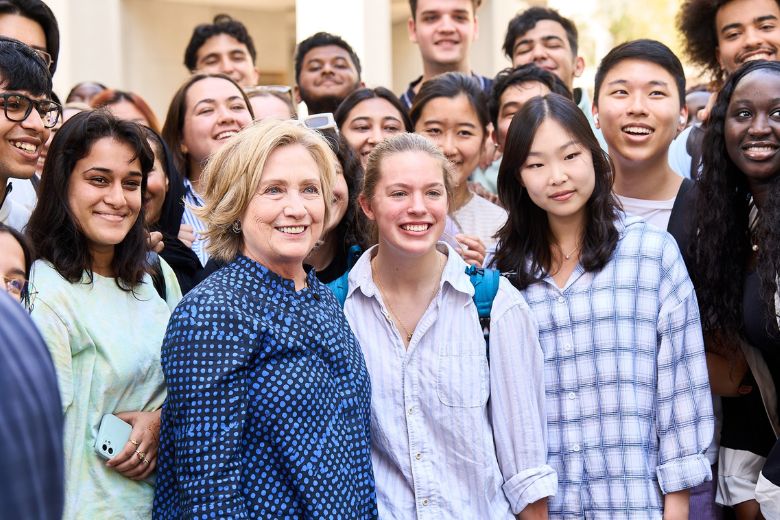 ---
NYUAD has strong ties with the Clinton family
---
NYUAD has strong ties with the Clinton family. Chelsea Clinton was an inspiring help to NYUAD in recruiting the University's initial classes when it launched in 2010. Eight years ago, former United States President Bill Clinton honored NYUAD as a keynote speaker at the inaugural Commencement ceremony in 2014. Many of the University's students have also participated in the Clinton Global Initiative University, a program that is aligned very closely with NYUAD's mission to engage and inspire the next generation of global leaders. NYUAD '20 and CGIU alumna Sara Pan Algarra is also a 2021 Hillary Rodham Clinton Global Challenges Scholar.
For more articles about NYU Abu Dhabi (NYUAD) click here.