The Abu Dhabi Department of Education and Knowledge (ADEK) has celebrated the first edition of the ADEK Sports Cup with the qualifiers stage taking place at Abu Dhabi Cricket. Close to 1,000 students took to the field to showcase their football skills and sportsmanship, as well as to secure a place in the finals on 20 March.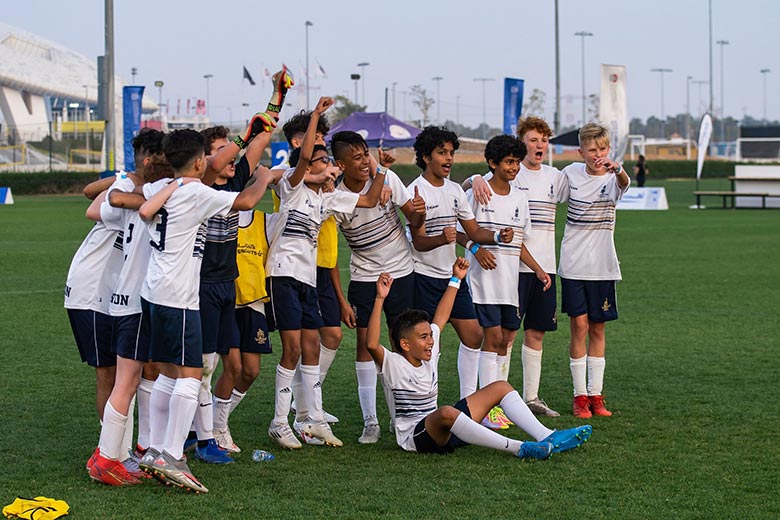 ADEK Sports Cup Qualifiers, Four Teams Eye the Cup
Following two days of action and more than 100matches, the girls' final will feature British School al Khubairat against Brighton College Abu Dhabi, while the boys' final will see Repton Abu Dhabi meet the International School of Choueifat – Abu Dhabi. Both finals provide the young players with a once-in-a-lifetime opportunity to play like the professionals at the Mohammed Bin Zayed Stadium, home of the much-loved Al Jazira Club.
This weekend's qualifiers featured a host of family entertainment and fun activities, including football activations, live entertainment, shows, health clinics, food trucks and more.
---
BSAK and Brighton College will contest the girls' football final, while Repton and Choueifat will face off in the boys' showpiece
---
---
Both finals are set to be played on 20 March at the Mohammed Bin Zayed Stadium
---
Another Round of Action Awaits on 20 March
Spectators can expect another action-packed day at the finals on Sunday 20 March as the winning finalists will put their best talents and efforts to win the championship title at the Mohammed Bin Zayed Stadium.
The ADEK Sports Cup is a sports initiative aimed at motivating students to practise various types of sports and raise their level of activity and overall physical health within the school community. The first year of the cup features talented football teams, with future editions set to expand to additional sports to empower students to compete in their favourite sports, and instil positive values among students, including sportsmanship, collaboration, resilience, and teamwork, in addition to empowering them with practical and leadership skills.
For more information, visit adek.gov.ae or follow ADEK on social media:
Instagram: @adek_insta
Twitter: ADEK_tweet
Facebook: Department of Education and Knowledge
YouTube: ADEK Abu Dhabi