More than 160 students from 21 high schools across the UAE made a huge splash at Emirates Aviation University's (EAU) sixth annual Water Rocket Competition, held in collaboration with Boeing.
Emirates Aviation University warmly welcomed the 35 teams, who collaborated and constructed water rockets at the university's workshop. What's more, the teams then launched these rockets at an angle of 45 degrees to the greatest distance possible.
Students built the rockets with materials like plastic bottles, foot pumps, clay blocks, electrical wiring tape, grocery bags and plastic sheets – which also brought home the message on repurposing and recycling everyday items. Teams could only power the rockets using water and air pressure propulsion and were encouraged to design and experiment with creative nose cones and fins.
---
Teams of future scientists and engineers faced off with their DIY water rockets
---
Working in groups of four or five, the students were given two hours to design, construct, and create optimal aerodynamic conditions. Every team was given two attempts to launch their rockets to the longest distance possible.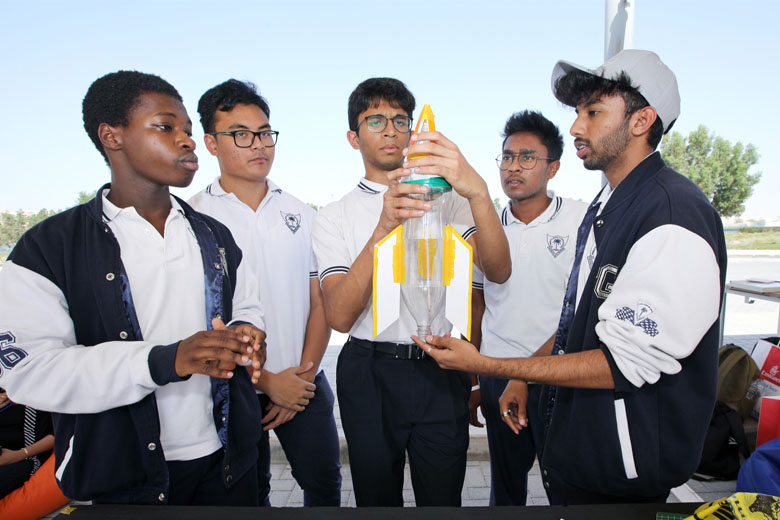 While there were some spectacular successes and some dismal failures, there was a whole lot of learning and fun for everyone. The judging panel from EAU and Boeing had their work cut out for them to deliberate and calibrate the day's proceedings. The Lance team from St Mary's Catholic High School won top honours for launching the rocket to a distance of 103 metres. The Eagle 2 team from Islamiya English School came in as first runners up for reaching 96 metres, and the Icarus team from Merryland International School were second runners up for touching 84 metres.
Dr Ahmad Al Ali, Vice Chancellor of Emirates Aviation University, said: "As a premier educational institution, we take our responsibility to promote science, technology, engineering and maths (STEM) skills seriously, and we feel that's best done in a fun, engaging way. This is the sixth edition of the competition, and watching students brainstorm, collaborate, conceive and construct these rockets is an eye-opening experience every year. Congratulations to the winners and everyone who participated – they are among the best and brightest future scientists and engineers. A big thank you to Boeing for their continued support and for making this challenge meaningful and successful yet again."
---
Three teams blazed a trail to win exciting prizes
---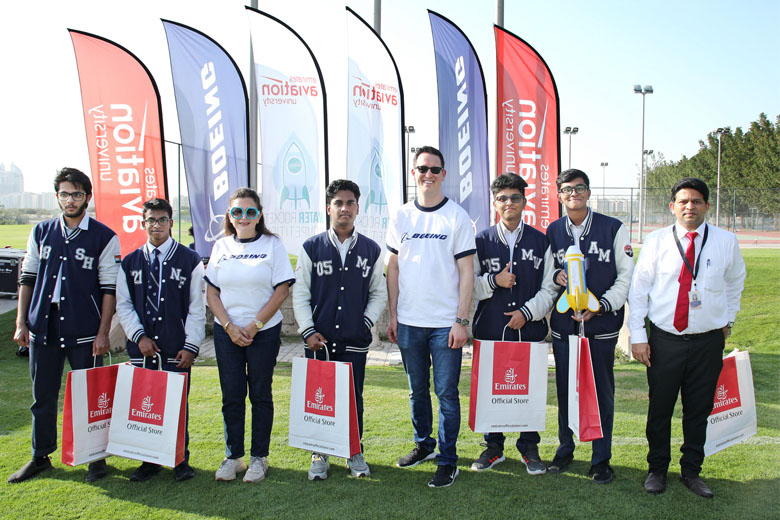 Kuljit Ghata-Aura, Boeing President Middle East, Türkiye and Africa, commented: "I am continually inspired by the dedication and innovation of Boeing engineers, and the hope is that more young people decide to embark upon careers in this exciting industry with its significant opportunities. At Boeing we are strong advocates of aligning STEM education with sustainability, and the Emirates Aviation University Water Rocket Competition is a perfect example of that. While learning new technical skills from Boeing engineers during the competition, the students also learned how to reduce, reuse and recycle."
The main aim of the Water Rocket Competition is to prepare prospective aviation engineers who are looking to enrol in Emirates Aviation University's engineering and aviation related programmes.