EM Normandie's international students from its global campuses undertake a period of study in Dubai
Renowned French business schools, EM Normandie, is bringing its prestigious triple accredited degree programmes to the UAE, enabling students in the region to earn a globally recognised qualification from one of the oldest and most respected institutions in France. Students enrolling in the School's nationally and internationally accredited degrees will also have the opportunity to study in other cities across the institution's global network of campuses.
Inaugurated earlier this year, EM Normandie Business School in the UAE has established its campus in the strategic education hub, Dubai Knowledge Park. Initially welcoming international students from its global campuses to undertake a period of study in Dubai, the institution has now opened its doors for new applicants to start their programme in the UAE. As the second oldest School of Management in France, EM Normandie holds the distinguished triple accreditation from AACSB, EQUIS, and AMBA. Recognised among the top 1% of business schools worldwide, it has also been ranked in the Financial Times' top 65 business schools listing for 2023.
---
Institution provides international study options for students taking prestigious programmes
---
The first programme to be launched in Dubai is the Bachelor in International Management (BIM) programme, which features industry-relevant specialisations including Digital Business, Service Industries, and Logistics. Building on this foundation, EM Normandie plans to introduce two of its flagship graduate programmes to the Dubai campus in January 2024. The Master in International Marketing and Business Development, and the Master in International Logistics and Port Management will initially be offered to corporate learners, with the latter standing as the sole programme of its kind specialising in port management in the UAE.
Speaking about the move to Dubai, Prof. Khaireddine Mouakhar, President of EM Normandie Business School in the UAE, said, "Our mission is to educate students and executives to provide them with the very best professional opportunities. The School's triple crown accreditation gives our graduates a competitive advantage and the international experience we provide helps prepare them to operate in the global business environment, while also offering the opportunity to earn a degree with dual recognition. Our blended pedagogy, which draws on professors from France and across the region, as well as expertise from our corporate partners, will provide students with a unique learning experience here in Dubai."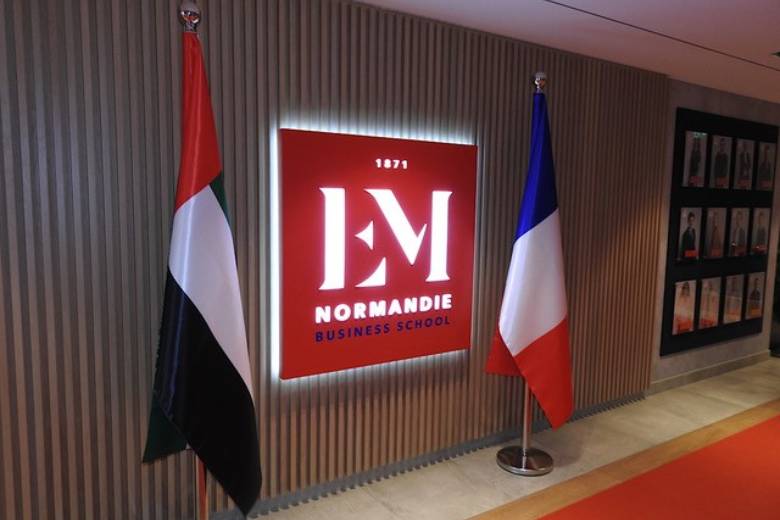 With a thriving international community of over 7,000 students, EM Normandie's presence already spans six campuses, strategically located in Le Havre, Caen, Paris, Oxford, Dublin, and now Dubai. The institution also plans to establish two new branch campuses in the United States in 2024 and in Vietnam in 2025, providing more opportunities for students enrolling in Dubai to explore global perspectives in their business education.
---
"Our mission is to educate students and executives to provide them with the very best professional opportunities."
---
Among those opting for a period of study at the Dubai campus is EM Normandie student, Mark Moussalli, who said, "Dubai is a truly international city and a land of opportunity. It has been very interesting to experience life here and I've been made to feel very welcome. The courses on offer reflect those of any international campus and provide an introduction to management and operations in many industries. I would recommend studying in Dubai to any student looking to experience something new."
The establishment of EM Normandie Business School in the UAE builds upon the foundations laid by the joint declaration on higher education between France and the UAE, issued in July 2022. Signed during the state visit to France by His Highness Sheikh Mohamed bin Zayed Al Nahyan, President of the United Arab Emirates and Ruler of Abu Dhabi, the declaration aims to enhance bilateral cooperation in the field of higher education.
For more information from EM Normandie Business School