Al Ain Academy is rooted in a shared commitment to excellence, achievement and a strong sense of values, with students learning to blend confidence with humility and competitiveness with teamwork.
The school closely follows the National Curriculum for England, with secondary students studying for IGCSE and A-levels. "We take great pride in the fact that children from the UK, as well as our local Emirati students, would be able to transition to a UK school if necessary due to the design of our curriculum," explains Principal Ian Pugh, "although we recognise that some units of work (on rivers, for example) need to be replaced with units on the geography of our local area, such as Jebel Hafeet mountain."
Developing academically excellent, creative and confident young adults with the skills and passion to contribute to a better society is the objective of the school. "Ultimately, our philosophy would be that children are safe and, through tailored and quality teaching, achieve the very best they can. To allow them to do this, we ensure that Al Ain Academy is a vibrant, engaging and happy place to create the best days of our pupils' lives."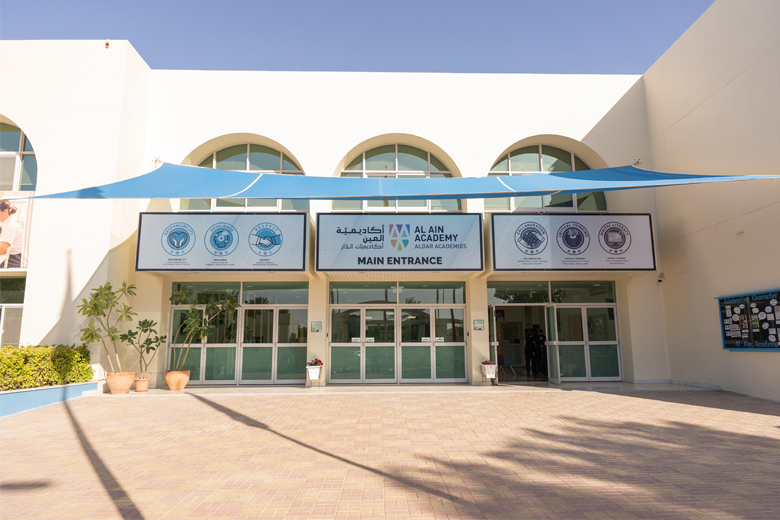 Having a Good Time!
Situated in the 'Garden City' of Al Ain, the school was acquired by Aldar in 2011 and includes two indoor swimming pools, a large Astroturf sports field, and a library with 20,000 books. Furthermore, there is a planned extension for summer 2023 to create an E-gaming suite for pupils; just one of several new facilities being developed, including an additional computer science laboratory.
---
The school closely follows the National Curriculum for England, with secondary students studying for IGCSE and A-levels
---
Technology is, of course, a constantly moving target and Al Ain Academy continues to evolve as the digital world develops. "At present, pupils in secondary operate with a 'bring your own device' policy, ensuring technology / ICT is not a 'bolt-on or stand-alone subject," Ian explains. "Instead, it is immersed in all lessons, with pupils always having an internet search and augmented reality available. In the coming months, the expansion will provide a new block on-site, which will allow us to further develop the opportunities and possibilities."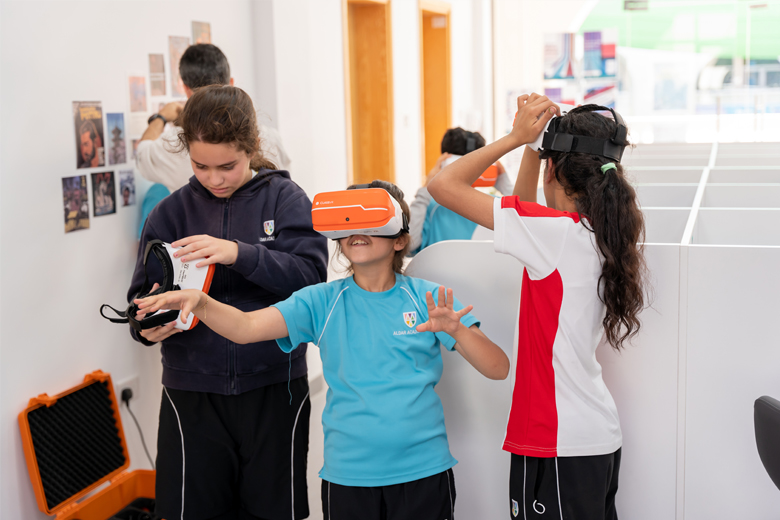 Digitalisation is a vital aspect of modern education but, as Ian points out, so are the arts and having a good time! "Children from the age of four up to 18 have music lessons, including the ability to immerse themselves in 1:1 peripatetic music lessons if they wish. The school hosts termly concerts, including a Mother's Day Concert, Winter Concert, and 'Jack and the Beanstalk' drama performance in the last few months alone. Concerts are also given in the community with singing and band performances in Al Ain Mall. Moreover, every Tuesday morning, the school entrance hosts a 'Tuneful Tuesday' which showcases music, arts and drama performances to inspire the younger students as they enter school."
Graded as'Outstanding'
Al Ain Academy students become much more than lifelong learners. They are encouraged to identify and appreciate the real value of knowledge as they begin a lifetime of turning what they know into meaningful, constructive influences and outcomes. And it is this kind of enlightened approach that has helped the school, in the last academic year alone, be graded as the highest-rated BSO (British Schools Overseas) school in Al Ain, with most standards (including curriculum) graded as 'Outstanding'.
Furthermore, it has become the first Abu Dhabi Emirate school to be accredited with the Character Education Kitemark Award, recognising the behaviour and moral values of its pupils and staff. "This is just as important as any exam results!" Ian notes.
---
There is a planned extension for summer 2023 to create an E-gaming suite for pupils; just one of several new facilities being developed, including an additional computer science laboratory
---
Speaking of results, both A-level and GCSE results remain outstandingly high year after year, including a pupil scoring the highest A-level result in the world for A-level History, as well as the highest score in the Middle East for A-level English and Geography. Two Al Ain Academy primary pupils have also recently been awarded a Guinness World Record each for being the youngest publishers of selling novels in the world.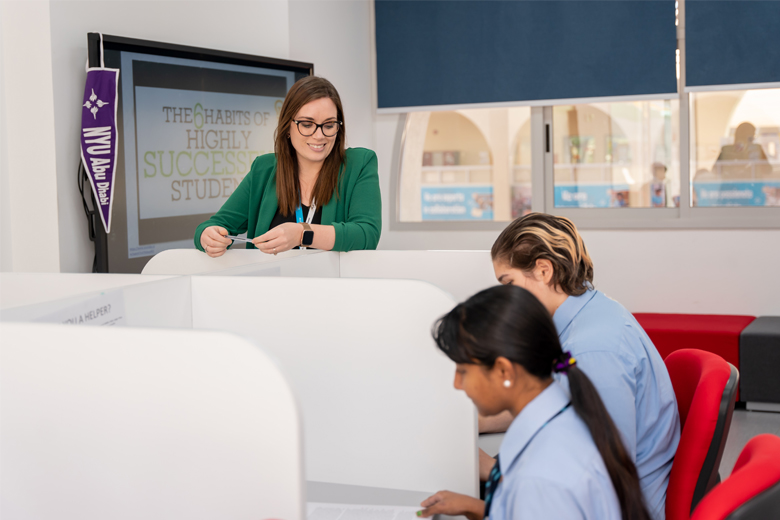 Unsurprisingly, pupil numbers continue to rise and the school still reports that its greatest achievement is that pupils are happy, safe and making incredible progress in a school where a community and family ethos shines through.
Around 90 Extra-Curricular Activities
Al Ain Academy motivates students to master the skills of learning, communicating and evaluating choices, encouraging them to grow intellectually, socially, ethically and physically to their maximum individual potential. This includes providing a broad array of extra-curricular activities, allowing pupils to create memorable learning experiences and try new things.
There is an eclectic mix of extra-curricular activities on offer to provide children with exciting opportunities beyond the curriculum. In total, around 90 extra-curricular activities have been offered this academic year, including all sports, swimming, choir, a Lego league, robotics, Arabic calligraphy, and much more besides.
Everyone loves a bit of competition too, and Al Ain Academy has enjoyed success in a number of competitions, such as robotics, football, basketball and benchball, with many of its pupils and teams moving on to regional competitions, representing both Al Ain and Abu Dhabi.
Continual Teacher Development
Naturally, as in every school, there are pupils with a wide range of abilities, and at Al Ain Academy there is a highly trained inclusion co-ordinator who leads her department in delivering interventions to support pupils with varying needs.
---
Both A-level and GCSE results remain outstandingly high year after year
---
"The school prides itself on being inclusive and, with 1,000 students, the needs of pupils are very diverse," Ian says. "Ultimately, quality-first teaching from classroom teachers and carefully designed intervention programmes ensure pupils of all abilities make above-expected progress. Each year, the school receives hundreds of applications from prospective teachers and the school leaders ensure a robust interview process is implemented so that only the very best teachers are employed."
Once they walk through the doors at Al Ain Academy, teachers are fully supported in their quest to continually develop their careers, as Ian explains: "The 74 teachers at the school undertake weekly Career Professional Development (CPD) sessions. Usually, this is focussed on curriculum and teaching pedagogy in the respective areas of the school, but is also sometimes whole school staff CPD when appropriate."
Al Ain Academy utilises its position as an Aldar Education school to access the further training provided by Aldar Training Academy (ATA), which sees many staff currently undertaking the leadership NPQ qualifications, as well as much more high-quality CPD on offer.
Parents are Part of the Team
Parental involvement in school activities and events can benefit a pupil's academic and social achievement, thus establishing the well-being and success of the child. That's why, at Al Ain Academy, parents are very much a part of the 'team', with the school communicating with them on a weekly basis through a variety of channels.
The school sends a weekly newsletter to its whole community via email, updating them on key events and successes, as well as the usual social channels such as Instagram and Facebook. Additionally, a monthly 'Al Ain Academy in the Community' meeting is held in school for parents to attend for an informal coffee, hear updates and engage in key conversations regarding learning, road safety, anti-bullying, and much more.
---
Parents are very much a part of the 'team', with the school communicating with them on weekly basis through a variety of channels
---
Termly reports and parent-teacher conferences keep parents updated with their child's academic success. A School Governance Group of parents hold the school to account on decisions and a 'Friends of Al Ain Academy' group of parents supports the school in social celebrations such as National and International Day.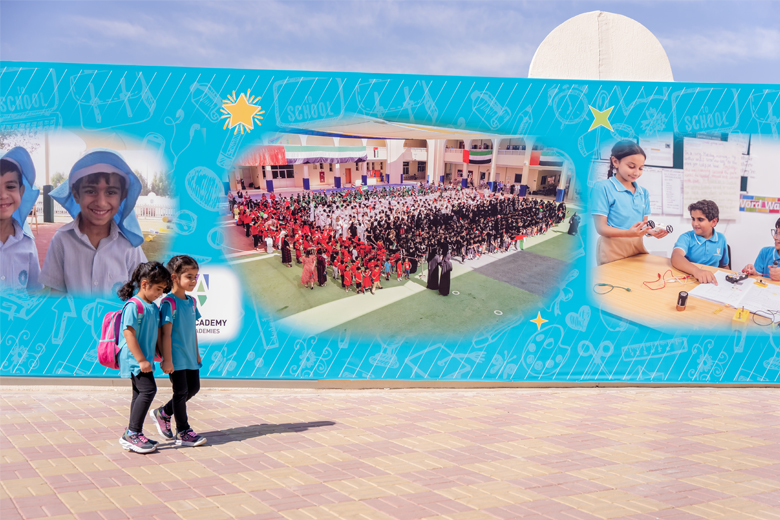 A Sustainable Approach to Education
Al Ain Academy is very much a school of the 21st century, and this means not just technology and the latest educational advancements, but sustainability and the environment too. "Aldar has provided the school with a significant sustainability budget this academic year, fuelling the implementation of recycling units, a new garden, a sustainability council, and hydroponic gardens for growing its own food, which is used in the school canteen. As expansion plans are formulated, sustainability is at the heart of all decision-making, including ensuring that building supplies are sourced from sustainable products and are balanced out by planting trees in a newly established Aldar Forest," Ian concludes.
To sum up, Al Ain Academy is recognised for its excellence in developing the whole child by providing meticulous academic programmes and creative learning opportunities in order to meet the challenges of today's competitive, global society.
To read more from Al Ain Academy