Education UAE visited Frances Powell, Head of Secondary School at The Arbor School to hear about her own journey and commitment to being a purpose driven leader for a purpose-driven school. The Arbor School, an ecological school based in Dubai that equips future generations with the knowledge and passion to protect our planet, is a haven of sustainability and environmental stewardship. Students cultivate a deep connection with the world around us through their specialist eco-literacy lessons which encourage students to challenge and analyse ecological, social, cultural and economic systems, and the complex ways human activities shape and are shaped by these interacting systems.
Alongside their British Curriculum expectations student develop a deeper insight into ethical and justice driven concepts ensuring they keep sight of the school's vision of 'enough for all, forever'. Ecoliteracy is a way of thinking about the world in terms of its interdependent.
EdUAE: Can you provide an overview of your educational philosophy and leadership style?
Frances Powell: My educational philosophy is very much linked to how I lead – I truly believe that a leader must be authentic and act with integrity, and a school should be developing students of integrity and people who act for others, and the world around them. You can only be a true leader and have genuine respect from others if you are acting in line with your values. So, with integrity embedded in my leadership style, it also ties in with how I view education, and our role as educators. I ensure that at Arbor School we deliver a values based education balancing academic expectations with a deeper purpose, and a passion for learning.
We all, of course, in all our schools, want students to succeed; we want them to get those academic levels that give them the freedom to choose their pathways. That is important for every single student: but education needs to go beyond that. Purpose and passion are key drivers in our educational programme – providing students with opportunities to find what they are passionate about, but always coming back to that deeper meaning – what is the impact on others? Are we making the world a better place? This ethical focus sits at the centre of our ethos and vision. In terms of leadership style, I don't believe you can be a true leader if you are not following that philosophy. If I expect this level of commitment from my students, I need to act the same; I need to be that role model. I need to be that caring and compassionate person who understands how people feel, who listens to people, but who also acts with integrity in terms of what and who we are as a school.. And I think that that vision tied in with my leadership style is really, really important in leading the school and also bringing the team with me.
---
I don't believe that you can be a true leader and have genuine respect from others unless you're acting in line with your values
---
EdUAE: What inspired you to become an educator and eventually the Head of Secondary at Arbor, and how have you enjoyed your first 18 months or so at the school?
FP: My inspiration is fairly simple: it is all about these young people in our care. I truly believe your teenage years are the greatest time to be inspired, to be engaged. The amount of energy and drive our students have, and their love for learning is incredible. Every day is something different and our students never cease to make me smile -that's why I came into education. We talk a lot here at Arbor about eudemonic happiness and I feel I get that from my work. Our aim is to help our students find that as they transition through the challenges and excitement of their adolescent lives. I came into education because I truly believe that you can really empower teenagers to become ethical global leaders of the future. I enjoy being around teenagers – their energy for life is contagious and they make me laugh every single day. The idea of being able to actually impact their lives is incredibly inspirational.
Transitioning the school into a Secondary School is no mean feat, but it was certainly made easier by the fantastic team of teachers we have in the school, and by our leadership team. We are complex – we make no apologies for that – we balance the traditional academic rigour of a British curriculum alongside our Arbor ethos – inquiry driven, ecoliteracy focus and real life situations. I believe that this blend is setting up our students for success in the future. Knowing you are infusing our deeper ethical ethos with international curricula in order to develop students of the future is incredibly empowering, and gives me daily motivation to always push for more. You must have a true belief in what you are doing. If I am talking to parents, or if I am talking to the community or the students, I must believe in what I'm saying.
Here at Arbor, we do. We're so passionate about ensuring that we're looking beyond the everyday classroom walls. We live and breathe our vision and our mission, which is really about an ethical education, about looking at social justice, looking at environmental ethics, all of those aspects. So being able to lead a school with a mission like that is incredibly powerful. We talk a lot in our school about blending positive education and positive psychology and finding where your genuine happiness comes from. Not just that kind of hedonistic happiness that we get from maybe going shopping, but real, eudemonic happiness. That is what I get from being here at Arbor. I get a deeper sense of purpose. I think about my students and the work we're doing all the time. So, for me…I wouldn't want to be anywhere else.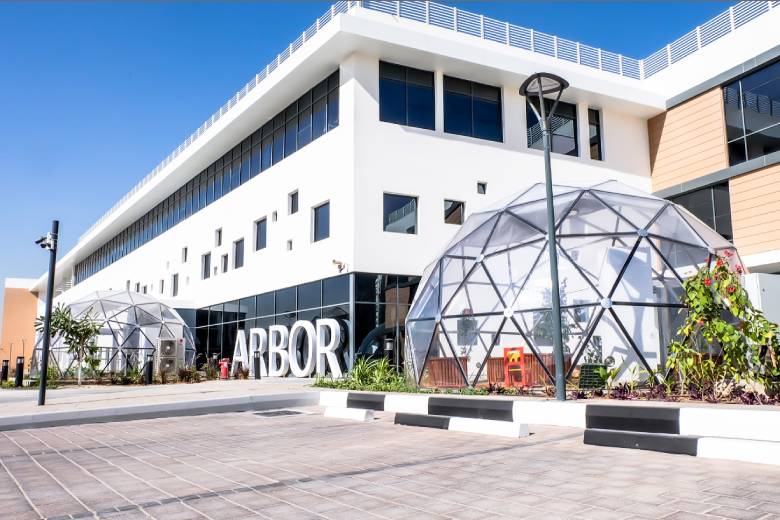 EdUAE: How do you foster a positive school culture and environment among students and staff?
FP: I think it's a sense of belonging. I do what I call "Hey, how's it going" chats with our new staff – just conversations to see how they're feeling. Many say, "I feel like I'm home, like I belong." When they're saying that and it's authentic, you know that you're doing something right! A genuine positive culture is important. Supporting our team and seeing them as humans not just as a teacher or a student but as a real person is important. Ensuring honesty and openness in my conversations using emotional intelligence by understanding that sometimes people just need to be heard, and other times action is needed.
Our students are given a voice in multiple aspects of school life whether that is discussion of curriculum, feedback on breaktime activities or proposals for events I encourage them to come forward and share their views…and I listen to them ensuring they feel they belong and have a say in our school culture. Of course sometimes you have broach those tougher conversations with staff, families and/or children. But ultimately, the reason you're having those tough conversations is to help that person and to support them going forward. It comes from a place of caring concern and it is much more important to have those open and honest conversations then to ignore concerns.
My character strengths are zest, honesty and kindness which bode well for these discussions I think that when you are developing that positive culture, people know if you are genuine. In particular teenagers! If you're not acting truthfully, you're quickly caught out. I know all of our students and all the staff in the school, not just by name but their personality, their character. This sense of being known, of being seen ensures we have a strong sense of belonging here in the school.
---
One of the reasons I wanted to be part of the Arbor School is the launch of the sixth form
---
EdUAE: Tell me about the launch of the sixth form at Arbor – this is an entirely new but exciting challenge for the school?
FP: This is my favourite subject! My background has always been in 'through schools' where education goes all the way from early years to sixth form. I feel it's important to see that journey, and the students can also see where they've come from and what they can turn into. One of the reasons I joined the Arbor School was to launch of the sixth form, being really able to showcase our identity on a different level and help students choose personalised pathways. We are able to accommodate every single student we have through any pathway they want because we're building the sixth form for them. So our journey into Sixth Form is an exciting moment for us all.
Using the wealth of knowledge and experience the team has we have created a programme which focuses on personalised pathways and purpose driven learning. Students are able to choose between three pathways of A Levels, BTECs or blended. Alongside this students need to undertake their Global Impact Certificate which focuses on their understanding and application of global and eco – competencies and undertaking active work on a passion, work with a purpose and work to change a perspective. Through that real personalised pathway of choice, we get to speak to every single student and provide a caring, systematic approach to their options choices. Our futures counsellor works closely with every student, we have careers and University fairs as well as internships, mentorships and work experience for our older students.
We will always be a smaller secondary and sixth-form school, so we're able to cater on an individual level. Students have been able to have one-to-one mentoring programmes and enjoy very small tutor groups. That pastoral care is incredibly important and the nurturing feel of our tutor groups allows students to be independent, but fully supported. All of our teachers and our leadership team have taught or led in the secondary and sixth form before, so every single teacher has had experience with GCSEs, with BTech, or with the A-level programme. We have purposefully ensured we have hired people who have that experience and can bring that knowledge into curriculum planning, and teaching and learning, and our sixth form students will reap the benefits. Our classrooms are ready, brand new and sparkling with a sixth form common room as well as specialised labs and study areas. Our flexible spaces allow students to work independently or in groups whether that be in our biodomes, our zen zone, our working hubs, ideas lab – the list is endless!
EdUAE: Can you describe your approach to supporting and developing teachers and staff members?
FP: Once again, it's the feeling of belonging. I would never ever want a staff member or a student to feel that they didn't have the space or the time to come and have a conversation or that they weren't being heard. Sometimes someone just needs to talk through something. We live in a transient international community, and people are away from family and friends, which is the traditional support network. You have to recognise and understand that in school. We call ourselves the Arbor family, and focus on developing Arborists – people who care for the world and others. Sometimes people just need to come and talk through something and not feel judged or feel that it's going to come back and bite them later.
On the more traditional level of professional development, we're actually incredibly lucky because we have our educator lead, who is an environmental educator, so we have a whole programme set up through our 'Centre for Abundance' to help staff flourish in the school. These programmes cover aspects such as positive education, teaching sustainability and inquiry learning, alongside our work with examination bodies on curriculum, and teaching and learning knowledge. Our staff are constantly learning – we can't expect our students to love learning if they don't!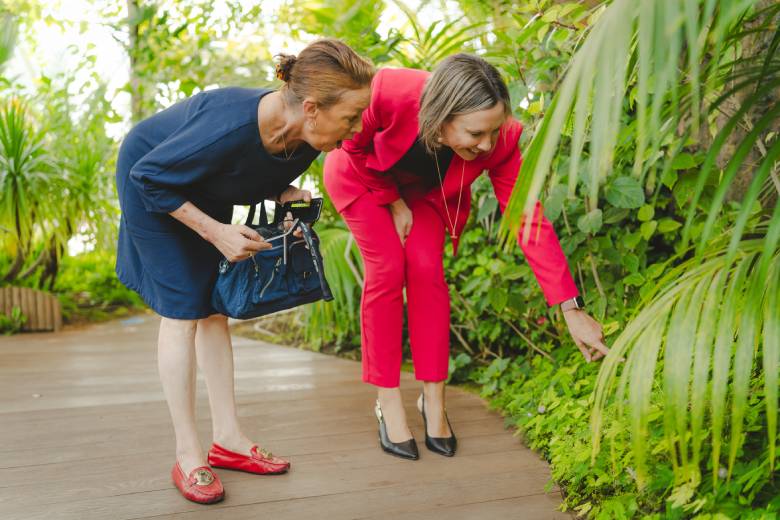 ---
At Arbor, we believe in a mission that sets us apart, guiding us toward a future where every individual may thrive
---
EdUAE: How do you engage with the local community and encourage community involvement in the school?
FP: I would say our community involvement is an integral part of our school values. I am so proud of our community – we are incredibly connected within the school. We have a farmhouse café, (which is emulated in the Secondary School and Sixth Form for students) where our food is a farm-to-fork concept as we have our own farm here in the school. Parent sessions are held in the café and local entrepreneurs are invited in as well as the added bonus that the food is healthy and delicious! We host parent information session every half term on current trends such as social media, support for their child or learning more about the curriculum alongside our parent teacher communities. Parents are even invited to our community runs on a Wednesday morning before school and yoga sessions in school.
Our Friends of Arbor group run a number of events such as the upcoming Trunk and Treat event, as well as Ramadan bazaar and iftar, and supporting student leadership group awareness events such as Pink Day or 30×30 events. We also work very, very closely with the local community, developing a relationship with charities such as Al Jalila Foundation. Our students, through their Global Awareness Council or through their Service Council or Student Council, will run events where they might encourage the community to come in and give a talk on something and fundraise, and then that money goes back out to an area of need here in Dubai.
EdUAE: What steps have you taken to address diversity, equity, and inclusion within the school?
FP: We have over 85 nationalities here at the school so we're a very diverse community, which means that we must ensure that students are aware that everyone's life experiences are different. However, there is always a similarity between us, and we are able to see that in what they are studying and how they are bonding in their social lives and their kindness towards each other. One of the things we do, as I mentioned before, is that we have our student leadership groups, so our Global Awareness Council, for example, will oversee different awareness events in the school. For instance they will lead sessions on Diwali understanding the concepts behind it.
We consistently look into our UAE values of tolerance and respect through cultural days of significance such as National Day and Prophet Muhammad's birthday where we celebrate this wonderful place we call home. Our older students will also lead discussions for our younger ones. A recent lunchtime talk saw some of our older children speak on the wearing of the hijab and the different concepts behind the choice to wear it; but the discrimination which can be associated with it. I think it's really important in school that you create a safe environment where students can explore their feelings or can explore stereotypes. We also have a Well-being Council who focus on ensuring everyone is included in different events such as Mental Health Awareness Day. Moreover they make sure all voices are heard, as opposed to just the school leaders, right the way across the demographic of the school.
---
We have over 85 nationalities here at the school so we're a very diverse community
---
EdUAE: Can you share examples of successful partnerships or collaborations your school has with other institutions or organisations?
FP: Yes, there are so many I could go into, but to narrow it down, I'll mention two very, very special ones. We work really closely with the Jebel Ali Mangrove reserve, which is a beach area situated between a power plant and a tourist development, but it's actually a natural habitat and a place of conservation. We know how much of an impact mangroves have on our environment, so we have linked very closely with them, and all our students go at least twice a year. They go to explore the area to look at marine life, but they also undertake their science field experiments for GCSE there. I think this is really, really special – being able to learn subjects on-site as opposed to just being in the classroom. It gives the students a real-life connection to their curriculum.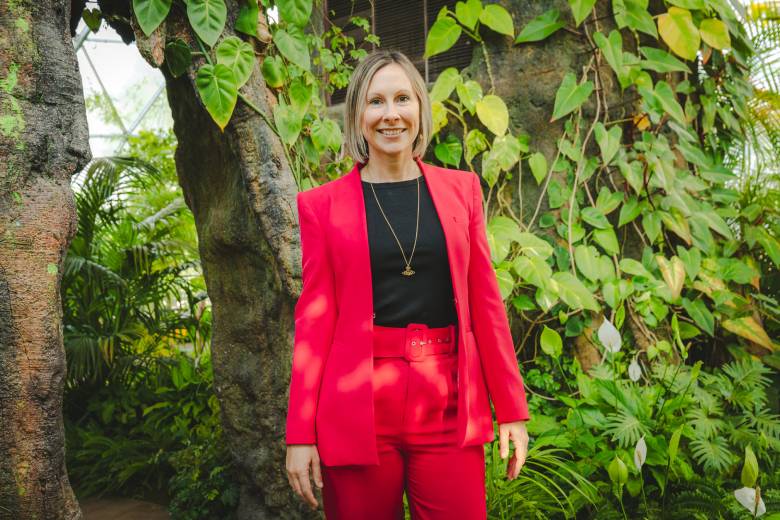 Another really strong partnership we have is with our school uniform provider, which offers us a much more sustainable solution than would be normal in terms of how the uniforms are made with recycled materials and coconut shell buttons. more, when we buy a uniform, another uniform goes to a child in Nairobi, Kenya. Students are only able to attend school with a uniform in Kenya, so the students who receive the uniforms are able to access education through us purchasing uniforms for our own children. In order to develop a close relationship with the school and this area of the world we visited Kenya last year to undertake conservation work and look at the various social entrepreneurship programmes.
We also went on safari and visited and worked closely with the school that we help in the Kenyan capital. Our students met the students in the school and spent time with them even exchanging emails so they are able to communicate in a modern pen pal way! We're going back this year too; the relationship and connection there are absolutely wonderful.
EdUAE: How do you stay up-to-date with the latest developments in education and incorporate them into your school's curriculum and practices?
FP: Every head teacher has this challenge because life changes all the time. We don't fully know what that future looks like, but, of course, there are key character skills that never change. So, we make sure we stay focused on those. Nevertheless, we ensure, through our up-to-date professional development, our studies, our educational research, and the Centre for Abundance, that we stay on top of all of the latest trends and developments. We also need to learn and work out the different areas of responsibility people might have. So, for example, our digital safety lead will do a session with us on the latest in AI, and the latest in technology, and the positives of using AI. We don't see everything through rose-tinted glasses though; we look at the drawbacks too, so then we are prepared when we have conversations about technology with students.
The digital side of things is a big focus for us, making sure that we're able to allow students the freedom to explore online, because it's a fantastic resource, but also to be able to do that safely. We don't just want to jump on the latest bandwagon; we need to know what is going to benefit our students in terms of progress and character. If a new way of working is going to be of benefit we can adapt to use it, but only if we can see a positive outcome which remains cognizant of our values and ethos.
EdUAE: Can you provide insights into your vision for the future of the school and your goals for its continued improvement and growth?
FP: I feel that we are currently within this fantastic moment of opportunity. We want to continue to go beyond conventional education, blending the rigour of a British Curriculum with our unique environmental ethos. At Arbor, we believe in a mission that sets us apart, guiding us toward a future where every individual may thrive – our focus is on continuing to develop this and retain our sense of community and belonging. We want students to consistently aspire to greatness for themselves, others and the world around them – through our programmes and relationships I believe we can do that. I see that when our students go to conferences and workshops or do projects, they are able to articulate clearly how they feel about something. And they are able to delve into it so much more deeply than I've previously seen elsewhere.
There is an undeniable passion at this school from everyone! I feel our vision just keeps on growing and developing. We talk about our Arborists and how we really want them to do three things: 1. think deeply; 2. act consciously; and 3. ensure they embody kindness. I want them to be kind people who think intensely and analytically about the world around us. You can be anything in this world. But if you can be kind, then you're going to go far. So, if we can get those three things from our students, I can't ask for anything more.
Frances Powell has over 14 years of international experience with a strong focus on values-based education, balancing high academic expectations alongside well-being. She believes that a school leader must lead with integrity and should develop relationships across the school community, based on trust and mutual respect. Her educational philosophy is that a school should nurture compassionate, principled, and globally-minded citizens. Based on her experience in South Korea, the United Kingdom, Singapore, and Hong Kong, Ms Powell has expertise in developing programmes and structures that enable students to flourish socially and emotionally, alongside her drive to ensure high academic attainment for all, and her strategic insight into preparing students to make their mark on the world confidently and successfully.
To read more from The Arbor School