'A unique school' is one of the most popular phrases on the web with more than 176,000 results! It's an overused phrase, but when talking about Dubai Heights Academy, it is hard to steer away from it, with the school treating each student as an individual with individual needs, resulting in a culture where students are allowed to flourish in a creative and nurturing environment. Education UAE spoke to the school's Principal, Alison Lamb, first asking how she would describe Dubai Heights Academy to a parent who has just arrived in the UAE.
Alison: Moving to a new country can be a complicated and stressful process and choosing the right school for your child in a brand new environment is probably going to be one of the biggest challenges parents can face. While there are hundreds of schools in the UAE, you are going to want to look for one where you know your child is going to be in great hands; where they feel safe and secure, where they love the environment they learn in, where every day is an exciting new adventure and where everyone is welcome and accepted.
Dubai Heights Academy (DHA) is exactly that. We may only be a small school but that does mean that we have greater capacity to tailor learning to each child, everyone knows everyone, and we look after each other like a family. Our parents frequently comment that one of the things they love the most about us is how we make time to meet and greet them as they arrive at school every single morning. That can be something that is lost when you go to a big school.
Our vision is a school designed around 'Every Child, Every Mind, Everybody' and we embrace all students in the fullest sense, catering to those from a wide range of academic abilities thanks to our strong team of academic staff, inclusion specialists, and state-of-the-art facilities, the latter including a dedicated Enrichment Zone, where you will see a climbing wall, ball pit, light sensory room, and many other fun, physically engaging learning spaces.
We draw and build on strong family ties, Islamic values, and deep-rooted heritage to build a vibrant well-knit international community. I am proud to say that this year we have 59 nationalities at DHA – an incredible mix of languages and traditions, making our school a fantastic place to teach children an appreciation for the diversity of cultures around the world.
Moreover, we are a school that is focused on developing knowledgeable and innovative students who can undertake the challenges of whatever the future holds. Our unique collaboration with MIT is a reflection of that. We are the only school in the region with a partnership with MIT, bringing AI technology into our classrooms to develop our students' literacy and social-emotional skills for both Primary and Secondary.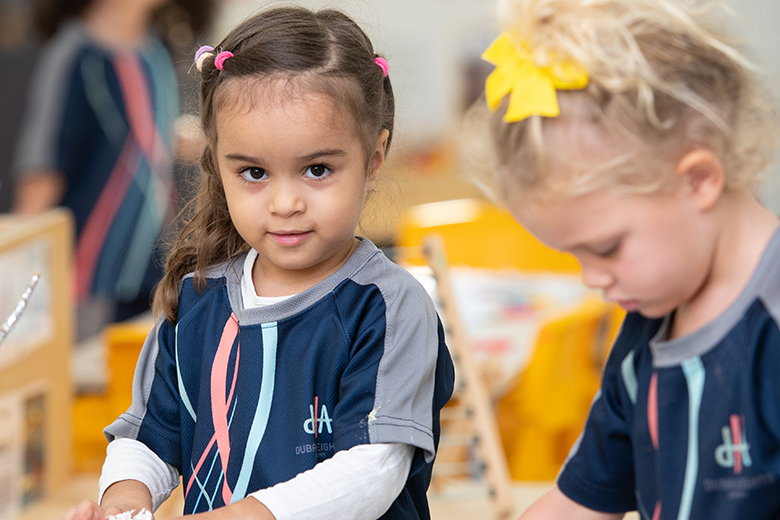 ---
Our vision is a school designed around 'Every Child, Every Mind, Everybody' and we embrace all students in the fullest sense
---
EdUAE: You have now been at Dubai Heights Academy for a little over three years; what changes or changes of direction have you brought to the school in that time?
Alison: We are extremely proud of maintaining and further embedding our original mission and vision. And this remains unchanged despite the growth and development of the school in the last five years. We haven't felt the need to 'change direction' but it is the nature of school life to be continually improving through ongoing self-evaluation and listening and acting on feedback from external inspection services, parents, students, staff, and governors.
Dubai Heights Academy has been recognised in the most recent Dubai Schools Inspection as having very strong parental communications and levels of engagement, something we have been striving to be better at, over the last few years.
The core of any school's success is simple: students must be happy and engaged in their learning and making progress, which is something we now do very well. This was also recognised in our recent inspection. Inspectors said they observed well-behaved and responsible students, who enjoyed excellent relationships with teachers and their peers. Students' personal and social development, care and support, partnerships with parents and the community, management, staffing, facilities and resources were all described as very good features of the school and we are proud of what we have achieved.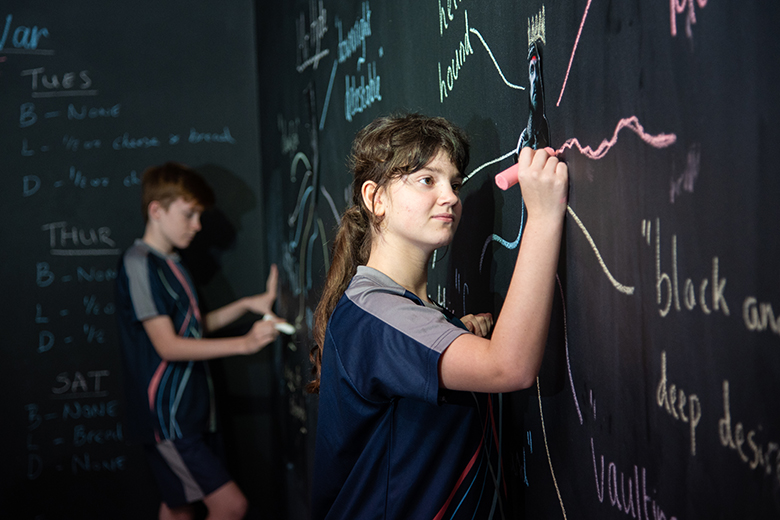 ---
The core of any school's success is simple: students must be happy and engaged in their learning and making progress
---
EdUAE: What do you do to make sure that pupils have high expectations of their work and themselves?
Alison: At DHA, we teach about growth mindsets, and we focus on effort as well as excellence. We communicate our high expectations of learning outcomes to our teaching faculty, which then filters down to the students. Teachers are continually providing formative feedback on students' work so that they know how to improve.
We have meaningful and respectful relationships with our students, which creates a safe environment to learn and where students are willing to take risks. We know all our students' capabilities using our assessment data. We also get to know them on a personal level, their hobbies and interests, and each individual's learning style, so that we can try different motivational strategies. When students face challenges and find things difficult, they are supported and encouraged to try their best. Even if they don't succeed at first, they will learn that 'failure' is an essential element of the learning process.
EdUAE: What kind of pastoral care do you offer at the school?
Alison: Our school is fully inclusive, and our inclusion department is able to support a range of student needs thanks to their extensive combined knowledge and experience. The team includes our Head of Inclusion, Pastoral and Wellbeing, a Deputy Head of Inclusion, and inclusion teachers who all work together to meet the specific needs of our students. Moreover, we are lucky to have our partner, Sensation Station, offering speech, occupational and physical therapy, right here, from within our school facilities during operational hours.

This year we also welcomed a new School Counsellor, who works to support student wellbeing and to help remove any barriers that may exist in relation to academic progress and performance. She works closely with our students to identify their capabilities, capacities, and their interests so that they can continue to develop their social skills, and build self-esteem, confidence and independence with someone they trust and in an environment where they feel safe in.
EdUAE: What values do you bring to the role of Principal? If you overheard colleagues talking about you, what do you think they would say?
Alison: I have spent the last 20 years as a Principal in the Middle East so I bring with me cultural awareness and knowledge of working in an international school. It is important to ensure everyone takes a level of responsibility in establishing and sharing the vision of the school and the importance of this for academic success. To facilitate this, I have given significant focus to developing leadership skills and encouraging collaboration among teachers, staff, students and parents to help build a stronger community.
I am always learning and I feel that I have grown as a Principal over the years. I recognise the benefits of active listening, empowering others, motivating change, and communicating more clearly as these are essential elements of being an effective Principal.
My colleagues are likely to say that I am passionate and dedicated to my work and I am fully committed to the school's vision, direction, and goals.
As there is a heavy emphasis on problem-solving in this role, I do believe colleagues would say I am a good collaborator and will consider all viewpoints to evaluate creative solutions. Sadly, it's rarely possible to please everyone and I think colleagues would say I am decisive and will stand by my decisions.
EdUAE: How important is it to be a risk-tasker as a Principal? Can you give an example?
Alison: Principals are often called upon to make decisions and find effective and innovative solutions to problems and risk-taking is an essential skill a good Principal should possess. At DHA, we work collaboratively to assess and minimise risks both operationally as well as academically. As a Principal, I feel it is important that risk-taking occurs at different levels across the school, and within the classroom as this can lead to inspiring and empowering others, building resilience to failure, and helping students to grow both academically and personally.
EdUAE: What do you do to ensure that your teachers are motivated and happy?
Alison: Being a teacher is an incredible challenge and keeping teachers motivated is an important part of a Principal's role. We recognise that our teachers go above and beyond to ensure our students receive the best possible school experience. I feel it is important to make myself available through an open-door policy and allow the teachers a voice.
At DHA, we recognise the importance of wellbeing and have implemented a number of initiatives to keep our teachers positive. Feeling valued motivates teachers and small actions such as praise, recognition and small gifts have a big impact on teacher morale. Providing opportunities for professional and personal development is important in maintaining positivity along with encouraging collaboration, as this can reduce workload. Recognising key stress times is important and we ensure deadlines are appropriately scheduled throughout the term to avoid work overload.
EdUAE: What role do you feel assessment has in raising achievement in schools?
Alison: Assessments play an essential role in allowing the teachers to track progress, plan next steps, report attainment, and involve students and their parents in the learning journey. Well-designed assessment methods provide valuable information about student learning and inform us of what students have learned, how well they learned it, and where they struggled. Assessment data is analysed to inform teachers in providing more personalised and individualised learning approaches in order to raise achievement.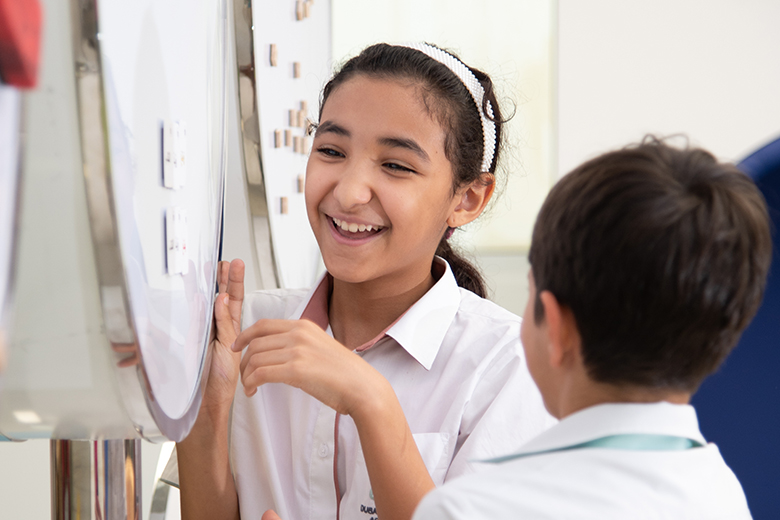 ---
At primary school, I was identified as having a talent for sports and I was often selected to play for teams with members older than I was
---
EdUAE: Did you enjoy going to school? How different do you think your experience was from what the students of Dubai Heights Academy experience today?
Alison: I loved going to school, especially in my upper primary 7-11 years. I enjoyed learning through topic-based projects and preferred activities that were more creative and visual.
I really enjoyed being given extra responsibilities because it helped me develop my self-confidence and leadership skills. At primary school, I was identified as having a talent for sports and I was often selected to play for teams with members older than I was.
My secondary school years were more challenging. I had to work hard to achieve success. Things didn't come so naturally to me, and I didn't seem to be able to find a niche or a subject to excel at except sports and performing arts. Students at DHA are very fortunate to learn in a school where there are specialist teachers, resources, and facilities. I never had the opportunity to learn about the technology of the future with MIT and work with specialist sports coaches, as our students do. Neither did I have access to the amazing online learning platforms that I know would have engaged me and enhanced my learning and skill development. My learning experiences were more passive, where students at DHA get the opportunity to learn through a variety of methods, such as inquiry-based learning, project-based learning, peer-to-peer learning, and e-learning. Put simply, students today are aware of their learning and they learn by doing, rather than being told.
The other major difference I see in school today is the emphasis placed on the care, welfare, and wellbeing of students.
There are so many benefits but first and foremost it is our moral responsibility to nurture those in our care. Overall wellbeing enhances intrinsic motivation, decreases disciplinary issues, increases academic achievement, improves school satisfaction, and leads to the flourishing of individuals and communities. Those who feel better can learn better.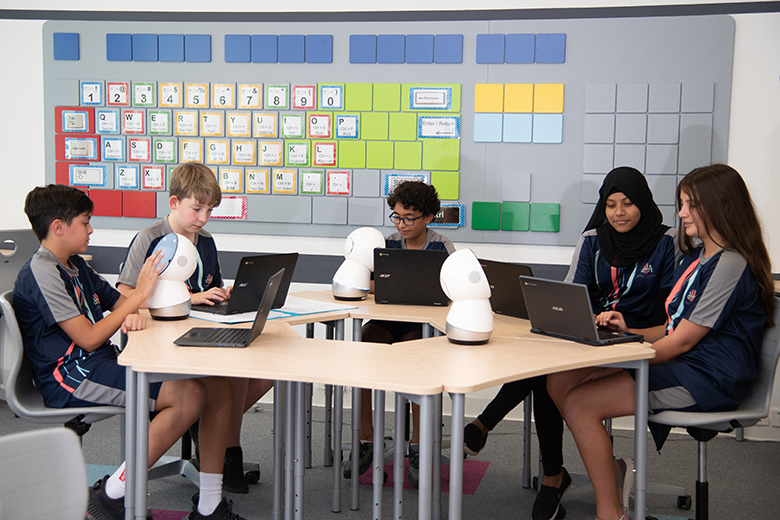 EdUAE: When did you know you wanted to work in the education sector? Who or what has been your biggest motivation?
Alison: I initially wanted to work in the medical field. I was inspired by forensic science after watching TV dramas and following an amazing work experience in a hospital in Newcastle. Sadly, I didn't achieve the qualifications required to enter into this field of work, so when I left school I initially registered to train as a nurse.
My mother knew me well enough to encourage me into teaching. She was my motivator. I then decided to follow in my mother's and grandmother's footsteps to become a teacher and I spent the next four years at Northumbria University studying for a Bachelor's in Education (Hons) Degree. As soon as I started teacher training, I knew it was the right job for me. Teaching came naturally and for the first time, I was excelling in something and being recognised as a talented and engaging teacher.
Dubai Heights Academy
+971 4 356 3333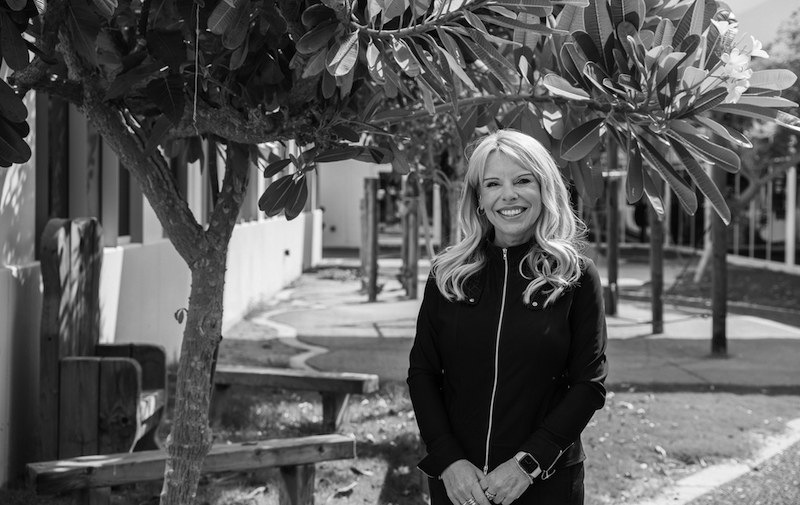 Alison Lamb is a leader with more than 21 years of headship both in the UK and internationally. Her experience of teaching and leadership spans 30 years in early years, primary and secondary and in a wide variety of schools including mainstream and special education; including schools for moderate learning, emotional, behavioural, and medical needs, EAL, private and state, co-educational and single gender.