Sarah Brannon is a visionary educator and distinguished leader who embodies the essence of excellence in her role as the Head of the Preparatory School at Brighton College Dubai. Sarah's unwavering dedication to fostering holistic development, innovative teaching methodologies, and a culture of inclusivity has earned her widespread acclaim, with her profound influence resonating within the school community, driving a commitment to excellence and a shared vision of preparing students for a future filled with limitless possibilities. Education UAE caught up with Sarah during her busy day, first asking how she ensures the school embraces and promotes a culture of innovation and creativity among students and staff.
Sarah Brannon: This is something that we have put quite a bit of focus on the last couple of years. We have been looking at things that we have been talking about with our pupils, trying to make sure that we can extend them. So, what we did first was work together as a whole staff team and work out what our definition of innovation was because there were some people saying, "Oh, it's happening in all my classes, and some other people saying, I don't think I do any at all". We wanted to get that common understanding as a school: what do we think innovation really is and, once we know that, how can we promote it?
We talked a lot about facilitating new, creative, and divergent ways of thinking and developing opportunities for pupils to engage in fresh ideas and experiences. So when you look at it in that context, and being able to evolve things, we're sort of on a transformational path. That was where we saw innovation. After finding out what we thought innovation was, we then made sure that we had more and more opportunities for pupils to engage in that, both in lessons and in the curriculum in our classes. Also, we set up lots of different co-curricular activities. An innovators' lounge was one, almost like Dragon's Den where our young people can have opportunities to be creative and showcase that. But in the classroom, it's really about having a culture where it's really important to be able to try things. You have to have an environment where having a go is encouraged and there is a growth mindset. I'm on a journey with the rest of the school as we figure out how to evolve and best achieve that.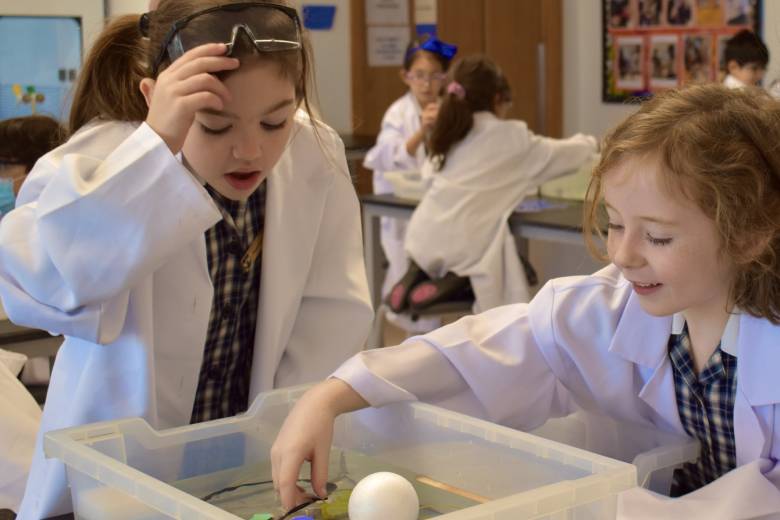 EdUAE: What steps does the school take to ensure that students are prepared for the evolving demands of the 21stcentury workforce?
SB: I think that's what we really have to think about; what is it that they need? In terms of education and what we're providing at Brighton College, what are the real elements that will take them forward? A lot of it is about personality and character. Communication skills are key, but we would put a slant on that and say kindness is so important and ask, even if we are communicating well, are we communicating kindly? That doesn't mean that we shouldn't have opinions and stand up and advocate for what we believe in. But there is a way to do that: getting it in the right context. This is a skill that our pupils will need for the rest of their lives. We also look a lot at critical thinking and problem-solving. It's less now about the content and the knowledge.
---
You have to have an environment where having a go is encouraged and there is a growth mindset
---
It's softer skills that they're going to need, and so attitudes are really important. In all of our lessons, we always have an element where we're looking at their critical thinking opportunities. But what does this look like? How do we problem-solve? How do we not get stuck at the first hurdle? We all know that adaptability is something that you learn as you mature, and we don't know what it's going to be like for young people in the future. But if they've got strategies and ways to be able to work things out, it will help them to be resilient, and I think that's really key. The other two areas that crop up when we think of future-proofing are digital literacy and the environment. With digital literacy, how do youngsters do that safely? What sorts of components are they taking on board to make sure that they are in a safe environment and are using technology to their best advantage?
With the environment, I think we all have to play our part as global citizens. So at Brighton College, we talk about internationalism and what that means. We use the International Primary Curriculum (IPC) for some subjects, which supports the holistic development of children with enjoyable, relevant, and rigorous learning, preparing them to be globally competent, socially conscious, and motivated individuals who contribute to the world they live in. We really emphasise the global components and how making sure that we're contributing positively to the community is crucial. That's the sort of thing that we have to make sure that all these pupils have alongside the academic rigour that will get them to the places they need to be.
EdUAE: In what ways does the school prioritise and support students' mental health and well-being?
SB: First of all, we have to ensure that the school is a place where children feel safe, where they are looked after, and have positive relationships. That is the foundation. So, getting to know the pupils really, really well is so important. We don't have huge class sizes, which is great. We get to know our children intimately and find out what makes them tick. Every child has their own story, and we make sure that we're abreast of that and we understand what's happening in their lives. We look for things that might impact the way they work, what they're doing, how they're feeling, and what's happening in their relationships. But we have to keep building on that, encouraging pupils to talk and understand their feelings. Even from early years, we have 'emotional regulation', where we'll talk about different things the children are coming up against and discovering. We talk about how they can express themselves and who they can talk to, perhaps, for instance, in terms of colour or other sensory mechanisms. We do lots of well-being activities too, such as yoga and mindfulness, and, of course, we have a counsellor, so there's always an opportunity for children to do something or go somewhere if they feel they need a safe space to talk.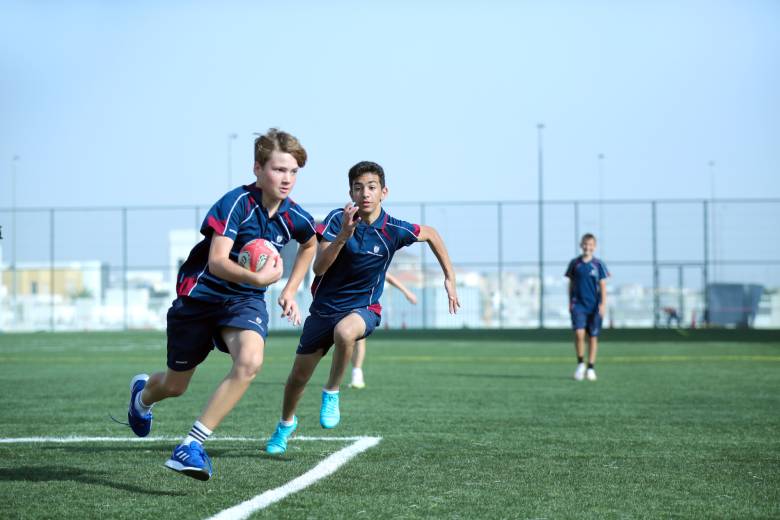 EdUAE: How does the school involve parents and the local community in shaping the educational experience for students?
SB: Our parents are a very important part of the community. We want to see our parents as partners. So that's about a constant dialogue and making sure that we get the communication right – that parents feel involved and want to be a part of the activities we do that revolve around their child's education. We have two very strong parent groups at Brighton College, including the Parent Council. So, for each class, there is a parent member elected to be the representative of the class. Then, when those parents come together to meet with myself and other members of the leadership team, we are able to hear the voice of the parents and listen to their suggestions and concerns. Getting parents' input on different topics is extremely important.
There is also the Friends of Brighton, where parents come together more on a community level. They help with a variety of different activities, such as school events and fundraising. They have arranged movie nights, tabletop sales, bake sales, and an array of other events, including the second-hand uniform stall. We're also doing 'Run for a Reason', supporting one of our parents, Jimmy Wright, to raise funds for the Al Jalila Foundation. In November, Jimmy is looking to set a new Guinness World Record for cycling as he embarks on a journey from Saudi Arabia to Ras Al Khaimah, covering a vast distance of 600km. We'll be 'joining' him in his quest by trying to cover 600km on a stationary cycle we have in the school. We really want to get behind Jimmy, as what he is attempting is fantastic.
EdUAE: What measures are in place to ensure that the school's curriculum remains diverse and inclusive, reflecting the varied backgrounds and perspectives of the student body?
SB: Of course, we are an international school and have 72 nationalities within the college, so we have to be very aware of cultural diversity. Our teaching is very much related to the real context of the world. We don't just do the British curriculum because we don't think all of it is relevant to the children. Not everyone knows why the baker didn't call the fire brigade during the Fire of London, for instance; they just haven't got that context. So, we do lots of things. We look at the movement of people, for example, and what causes that. This is obviously a big thing that we've seen in Dubai: people coming for different political reasons. Some of these topics are difficult, especially with children in the classroom coming from very different backgrounds and perspectives. That's why we need a safe space to talk and to create understanding. It's the best way we can support families and minorities. We ask questions such as, How do we learn more about you? How do we find out about your culture? What does it look like? It's about humanising it also; we've done a lot of that. We want to continue to increase awareness and support, working on how we are representing the world to our young people.
---
We monitor our pupils, counting screen hours to make sure that there's a balance
---
EdUAE: How does the school incorporate technology and digital literacy into the learning process?
SB: Our pupils need to know about technology and the right way to use it. So, for us, that means that the children from year three upwards have to bring their own devices, while the younger ones use iPads within the school. We do have a specialist computer science teacher with the necessary skill set because we're finding that the pupils are getting faster and more knowledgeable, and so teachers need to stay ahead of the curve so that they can deliver something that is really good. We monitor our pupils, counting screen hours to make sure that there's a balance. We don't want it to be too easy to just pick up an iPad, which is a philosophy that's important to our parents too. And the big thing, of course, is online safety. That is so important. We've just done cyber-savvy workshops with the parents to make sure that they're aware and to grasp what their digital footprint is and the impact that it can have.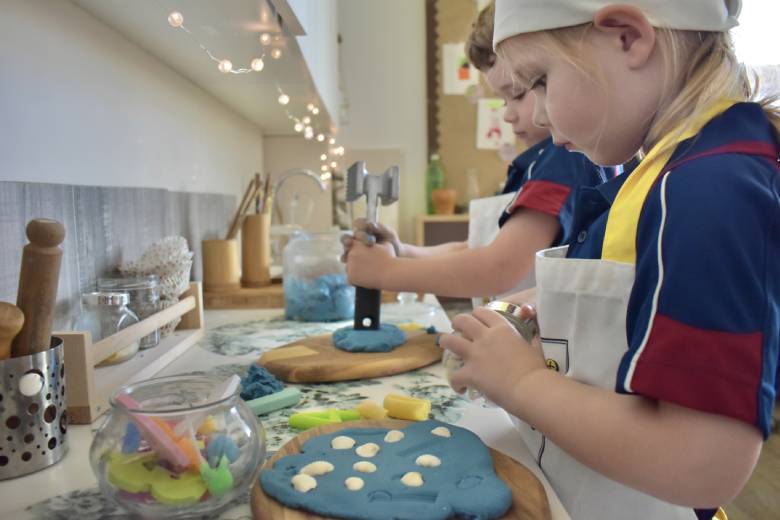 EdUAE: Can you provide insights into the school's strategies for promoting environmental sustainability and responsible citizenship?
SB: We tell our pupils that it's the power of one voice; if one person takes a single action, it is going to start a ripple effect. We are in a place in the world where it's perhaps not as prevalent as in other places. Things like recycling – we have to really work hard to make sure it's going to the right place and be able to see the end product and understand the damage that can be done if we continue to use things such as 'one-use' plastics. It's all about raising awareness and looking at the Sustainable Development Goals, which we teach as we go along. We've got one of the smart plastic bottle bins, a complete recycle bin set, so we know what we're collecting and what we are doing. The next question is, how much more do we need to do? And we're constantly working to put better systems in place.
EdUAE: What support systems are in place to assist students with special needs or learning differences, ensuring an inclusive educational environment?
SB: Any education has to start with quality teaching. It's about getting to know pupils very, very well and getting to know exactly what their different learning strengths and needs are. And we're lucky in a way that there's a lot of data around that. That's something that's very strong in Dubai. It's a lot to do with confidence. Pupils with low self-esteem will progress much slower than those with high self-esteem, who will buy into whatever is being offered to them. So, self-esteem is one thing that we've built on a lot right from the beginning. Then, of course, there are loads of ways to enrich the different learning paths for pupils. This can range from the inclusion team and spending specific time with pupils to interventions in class and special programmes. Put simply, it's personalised learning so that pupils are getting exactly what they need, including the next challenge. Because every child should have the challenge when the time is right. There is teaching assistant (TA) support as well, which is probably one of the biggest resources you have in a class outside of the teacher.
---
There is so much that is powerful about getting pupils engaged and in leadership scenarios
---
EdUAE: How does the school encourage and recognise student leadership and civic engagement?
SB: There is so much that is powerful about getting pupils engaged and in leadership scenarios, giving them opportunities to showcase themselves and to be ambassadors, and they respond so well to it. That's one of the things that has been proven through lots of research: every child likes to be celebrated, and we want to give them as many opportunities as possible. Learning about leadership helps children develop important personal qualities such as self-confidence, self-discipline, and self-awareness. These qualities are valuable not just for leadership but for life in general. So we get pupils involved in the school lunch choices and things like that. We have curriculum leaders for different subjects, and we have UAE ambassadors and well-being ambassadors. There are so many ways that children can be taught about leadership. And we see how well this is working on a daily basis. If, for instance, we asked for volunteers to be involved in tours, hands would go up everywhere, which is lovely and illustrates a level of confidence and self esteem.
EdUAE: What innovative professional development opportunities are available for teachers and staff to stay current with educational trends and best practices?
SB: Continual Professional Development (CPT) is so important at the moment. We are heading, we've been told, into a recruitment crisis at the moment, with so many people leaving teaching in the UK. And being a British curriculum school, we recruit a lot of UK-trained teachers, so it is hugely important to us to keep the teachers happy in their roles. We ensure that there is growth within our school for these teachers, with a lot of training and courses in-house. Lecturers and speakers are brought into the school, allowing teachers to learn together, meaning that everyone is getting the same message at the same time. I am confident that the opendoor coaching style seems to have had the most impact. Working and learning together have been the most important aspects for the teachers. The end result of all of this is that teachers are happy and progressing in their careers, which, in turn, means that when I walk into a classroom, I see children who are enthusiastic and responsive, which is just wonderful!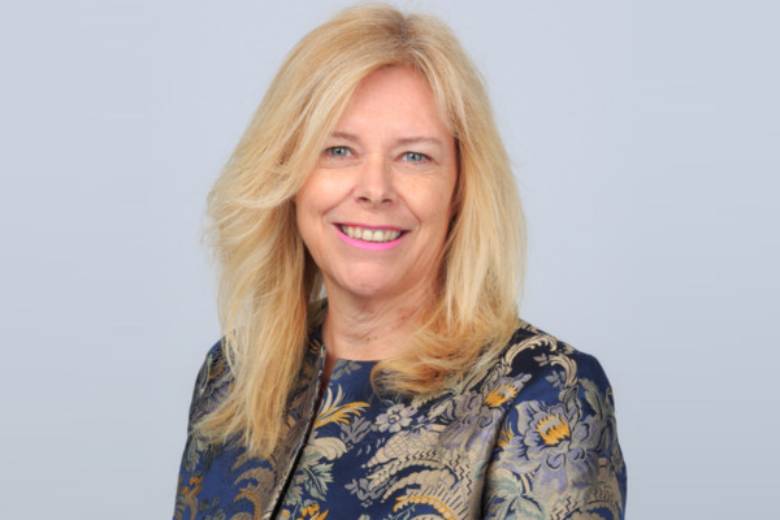 Sarah Brannon is the founding Head of Preparatory School at Brighton College Dubai. She has over 25 years of international school leadership experience to her name, which spans highly successful stints in British curriculum schools in Germany, Thailand and the UAE. With a Masters in Applied Educational Leadership and Management, she has a deep interest in the development of the personalised education journey of young people, with a goal to opening their minds and preparing them for the future. Sarah is passionate about providing regular opportunities for critical and creative thinking and she is the UAE director for the 'Tournament of Minds'.
To read more from Brighton College Dubai