The Federal National Council of the UAE has stated that a uniform healthy food policy will be implemented in both public and private schools. This new policy, which will prohibit the sale of any harmful food in schools and promote nutritional, healthy eating for all pupils, is the latest in a long series of government initiatives launched as part of the five-year national nutrition policy. And because the UAE is not the first country to try to reduce childhood obesity and improve nutrition in schools, there is a plethora of data available on how to approach this challenge.
A recent survey by the Johns Hopkins Bloomberg School of Public Health in the United States examined the cafeteria attributes that both encouraged and impeded students' consumption of nutritious food. The results were both illuminating and disappointing in equal measure, and demonstrate that for any project like this to succeed, extra participation from parents, individual schools and policymakers is vital
The study found that cafeteria variables play a far more substantial role in the success of a school nutrition programme than previously thought, with Susan M. Gross, PhD, MPH, a Research Associate in the Department of Population, Family and Reproductive Health at the Johns Hopkins Bloomberg School of Public Health explaining: "As much as we are focused on menus in the school lunch programme, we need to look more at our cafeteria environments, especially with our youngest children."
---
The whole environment at The Arbor School is geared towards providing surroundings that promote healthy eating
---
Surroundings That Promote Healthy Eating
In the UAE, The Arbor School, Dubai, has taken the bull by the horns by providing a school environment that is geared towards promoting healthy eating, operating a 'farm-to-fork' canteen (The Farmhouse at Arbor) that offers fresh, healthy and delicious meals to students using school-grown produce from the on-site biofarm.
The Farmhouse at Arbor provides seasonal lunches and snacks from a sustainable kitchen, created from the highest quality produce, harvested on-site at the school, with Chef Anna Maria Herreras saying: "This project is giving us the opportunity to educate pupils with the nutritional knowledge they need to not only power their own minds and bodies but to help the sustainability of the environment too. Our concept is simple but powerful – from the farm to the kitchen, to the plate. It gives us the opportunity to provide the children with quality food, that we've produced on the school site, as well as supporting local farmers."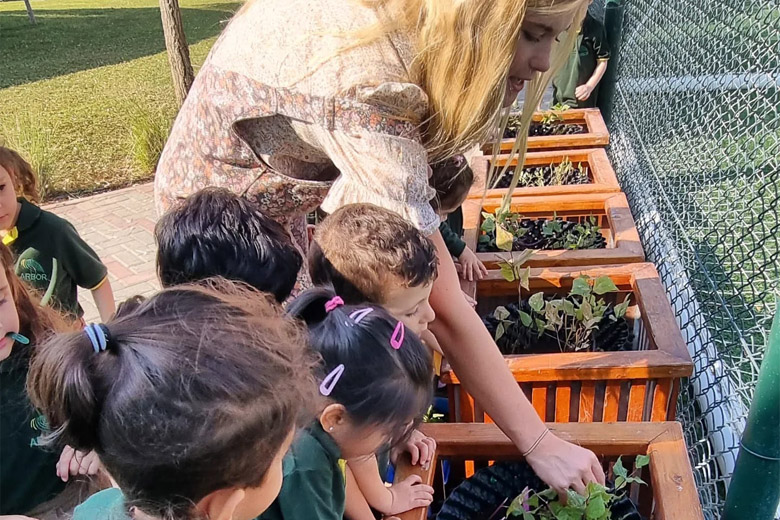 However, not all schools have taken the forward-looking approach that has been implemented at The Arbor School. Despite researchers discovering, for instance, that children ate better when a teacher was eating with them, not everyone has taken this on board. One Dubai teacher said: "Unless it's my 'duty day,' I eat in the staff room unless I'm in the cafeteria walking around checking the kids." As a form of reward, many teachers dine with their students. I do as well, although it only happens about once a month. Lunch is practically the only 40 minutes I have without students. Maybe it's just because I have young ones, but they are so needy I just need that time away from them."
---
Research has shown that children ate more healthily when the lunch break was longer
---
And is 40 minutes long enough? Research has shown that children ate more healthily when the lunch break was longer. They also made more healthy choices if the food was presented in smaller portions.
When it comes to preparing and buying packed lunches, parents and carers in the UAE must be educated, involved, and inspired. Allowing children to select their own fruits and veggies is a simple and straightforward step. Encouraging more veggies in the form of salads, vegetables for dipping, and finger snacks also helps.
"I frequently see cold KFC packed lunches and kids buying popcorn and a juice box from the cafeteria. How can they possibly get through the day on that?" one frustrated Dubai teacher asked. Of course, they can't.
Long Lunch Break, One Set Menu, Low Obesity Levels
As previously mentioned, there is a lot of data from around the world to help in the battle against obesity and poor nutrition. Schoolchildren in France, for example, where childhood obesity rates are low (under 10%), eat a daily two-hour, four-course set-menu lunch. There is no choice, just what's put in front of them, and if they don't like it, there is nothing else!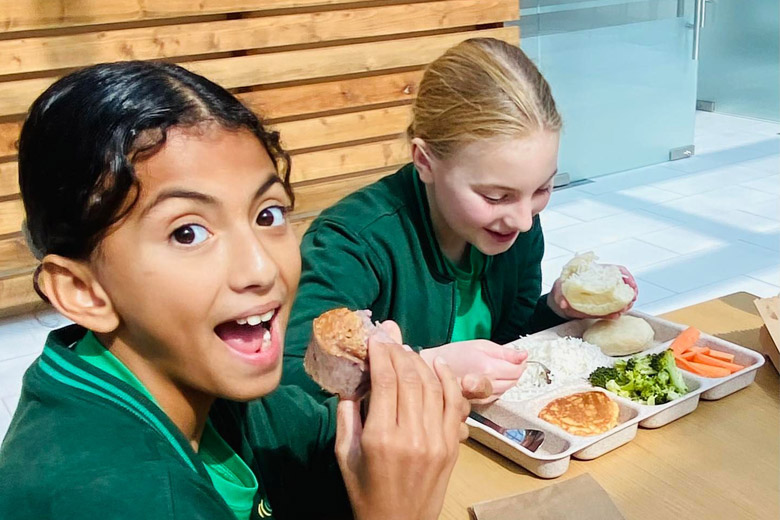 ---
When it comes to preparing and buying packed lunches, parents and carers in the UAE must be educated, involved, and inspired
---
At the other end of the spectrum, we often hear about lunch breaks in the UAE that are so short that children don't get to finish their food. Worse still, some kids don't even make it to the canteen and instead eat at their desks.
Kathryn Henderson, PhD, Director of School and Community Initiatives at the Yale Rudd Center for Food Policy & Obesity sums up the problem: "We can give kids the healthiest food possible, but if they don't have time to eat it or they are distracted by how noisy the cafeteria is, they're not going to eat it. They're on their own and we need to do as much as possible to help them through that lunch period."
To read more on healthy eating