Make the most of your school's corridors
Your school's corridors are no doubt the most highly populated area of your school and see loads of footfall every day. Despite this, many school corridors feature drab white walls that offer little visual stimulation or interest.
But, you can use your corridors to impart curriculum knowledge, improve wellbeing and get pupils in the mindset for learning, before they even set foot in the classroom. Corridor Wall Art by Promote Your School is a bespoke product that's designed for busy school environments.
Here's how it works…
Start with your goal, it might be one or more of these;
engage pupils in a particular subject or field of interest
showcase multiple subjects from your curriculum, so pupils feel engaged in learning
take pupils back in time with a timeline
create a calm environment, so pupils feel relaxed and ready to learn
guide pupils to the right department with clear signage and wayfinding
Once you're clear on what you wish to achieve, it's time to identify the best wall space to use.
"Bespoke Wall Art can transform a school corridor, from drab and dull to engaging, exciting and stimulating. You don't need to spend a fortune and cover the entire length and breadth of your corridors – even a single wall will make a big impact" – Lisa Savage, Director at Promote Your School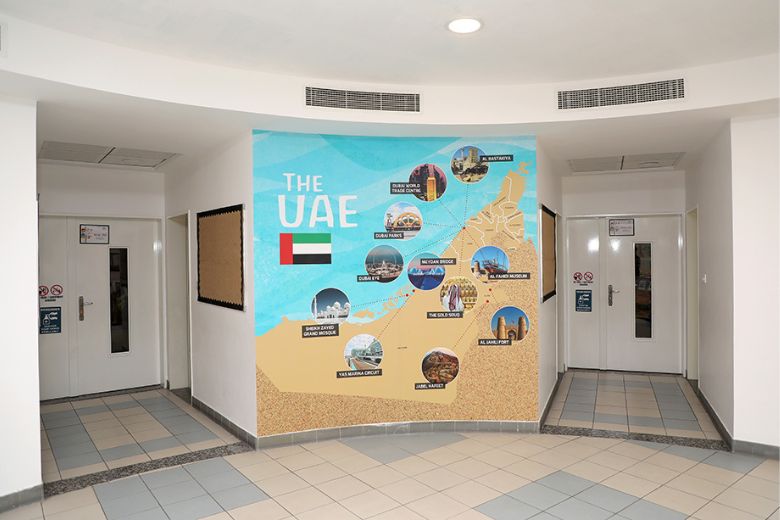 English College Dubai Map Wall Art, designed by Promote Your School
Corridor Wall Art
Corridor Wall Art can get pupils in the mindset for learning, before they step foot in the classroom. It's a powerful visual learning tool that also helps pupils absorb and remember information, without even realising they're learning!
Corridors are particularly well suited to timelines, usually in one of the core curriculum subjects. For example, history is very popular because corridors provide the real estate to walk pupils through every era of civilisation.
Corridor timelines also give pupils a visual sense of chronology. They're able to see which eras overlapped, how long they lasted and their impact on civilisations around the world.
Striking images, key facts and a vibrant colourful backdrop spark interest and cultivate curiosity in pupils of all ages.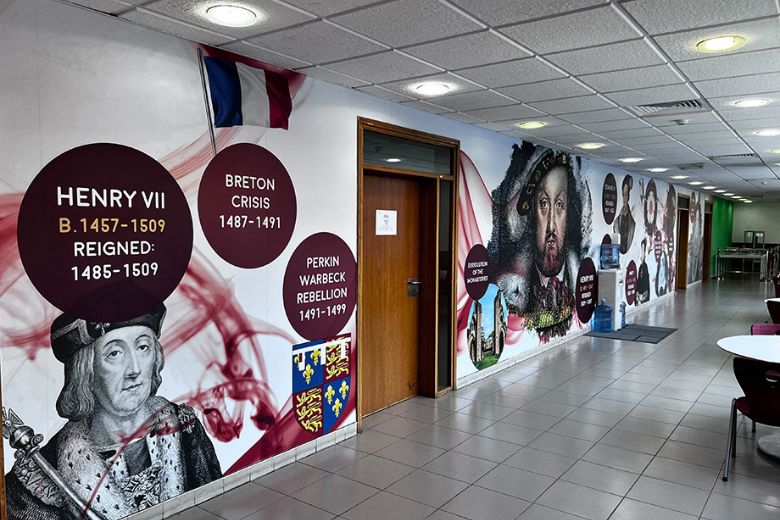 Dubai English Speaking College Corridor timeline, designed by Promote Your School
Nature walls
Spending time in nature is proven to improve mental health and wellbeing. You can bring the benefits of spending time in nature to your school's corridors with nature-inspired Wall Art.
For example, woodlands, rainforests, underwater scenes and other natural habitats can transform your corridors and improve wellbeing.
Nature-inspired designs will help pupils escape the stresses of their ordinary school day and enter a calm, beautiful natural world. And relaxed, calm pupils are able to focus better in lessons and achieve better learning outcomes.
Nature-inspired corridors can improve environmental awareness too, and remind children to appreciate and preserve their natural world.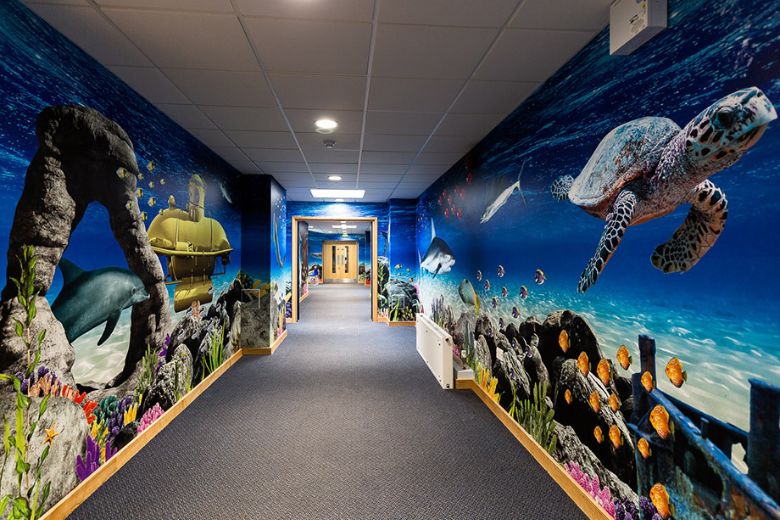 An underwater corridor, designed by Promote Your School
More than walls
If you're keen to create a truly immersive school corridor, it's worth thinking beyond your walls.
Bespoke Wall Art by Promote Your School is also suitable for ceilings, floors, doors and windows.
Wow your pupils with a stunning immersive corridor that focuses on a single subject or theme, or combines multiple fields of interest.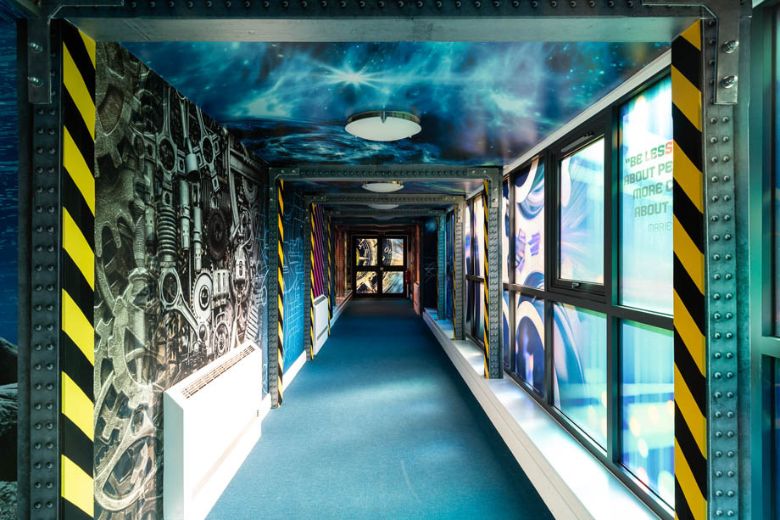 An immersive, STEM themed corridor, designed by Promote Your School
Wall Art for Schools in the UAE
Promote Your School has created Wall Art for some of the leading schools in the UAE, including The Arbor School, Dubai English Speaking College and Ibn Khuldoon National School (IKNS).
Their service includes a free on-site consultation to get you started. This allows them to understand your objectives and review your available space. From there, they'll guide you through their seamless design process, and print and install your Wall Art too.
An investment for the future
Bespoke Wall Art by Promote Your School offers a strong return on investment due to the long-term value it delivers to schools. It requires zero maintenance and doesn't need to be replaced regularly like temporary displays.
If you're keen to promote your school and attract high calibre teachers and pupils, bespoke Wall Art can help. Showcase your values in a branded design, featuring your school's logo, colours and motto, or use your branded Wall Art as a backdrop for open days and recruitment events.
Transform your corridors
Ready to get started? Email [email protected]\ to arrange your free consultation.