Canadian University Dubai (CUD) student, Bhaanvi Rai, who transferred her studies to the University of New Brunswick (UNB) in Canada, has been honoured with the prestigious Sir Howard Douglas Award, recognising her work in advocating for marginalised communities. Bhaanvi joins an exclusive group of eight students who have been admitted into UNB's Honour Society this year, after demonstrating consistent academic excellence while actively participating in extracurricular pursuits such as volunteering.
Following her high school education in India, Bhaanvi chose to enroll in CUD's School of Management, to embark on a pathway to a university in Canada. Now aged 23, Bhaanvi explained the challenges she first faced after graduating from grade 12. She revealed, "I was disheartened that I was ineligible to apply directly to universities in Canada because I hadn't taken Mathematics. It was at that point that CUD enabled me to turn my dream into a reality. Alongside my BBA in Accounting and Finance studies, I completed Mathematics and Calculus, which were prerequisites for Canadian universities, and after my first year at CUD I transferred to UNB."
---
Sir Howard Douglas Award recognises student's advocacy for marginalised communities
---
Using the credits she earned at CUD, Bhaanvi enrolled in the UNB BBA in Human Resources Management and continued to excel in both academic and extracurricular endeavours. Since transferring to UNB, she has served as the Anti-Racism Coordinator for the Government of New Brunswick, and as the Director of Advocacy for Shades of Change, an organisation dedicated to promoting anti-racism.
Speaking about her motivation, Bhaanvi said, "I have always been engaged with giving back to the community in different capacities. In high school, I volunteered for beach clean-ups and at CUD, I was a part of the Student Council. I became interested in diversity, equity, and inclusion after I started becoming more aware of how a lot of marginalised individuals are alienated in the community. This happens in various ways, from being denied basic necessities, to racism or micro-aggressions. As a first-generation immigrant, there were instances when I felt this too, and that's when I decided I wanted to make a positive impact."
---
"…At CUD, I was a part of the Student Council and I became interested in diversity, equity, and inclusion."
---
Named after the former Governor of New Brunswick and founder of UNB, Sir Howard Douglas, the annual award acknowledges previous achievements of scholars, with the primary aim to inspire the recipient to sustain their success, both in academic pursuits and in positively impacting the achievements of others. Winners of the award exemplify the Society's Motto, 'Non-Nobis Solum: Not for Ourselves Alone.'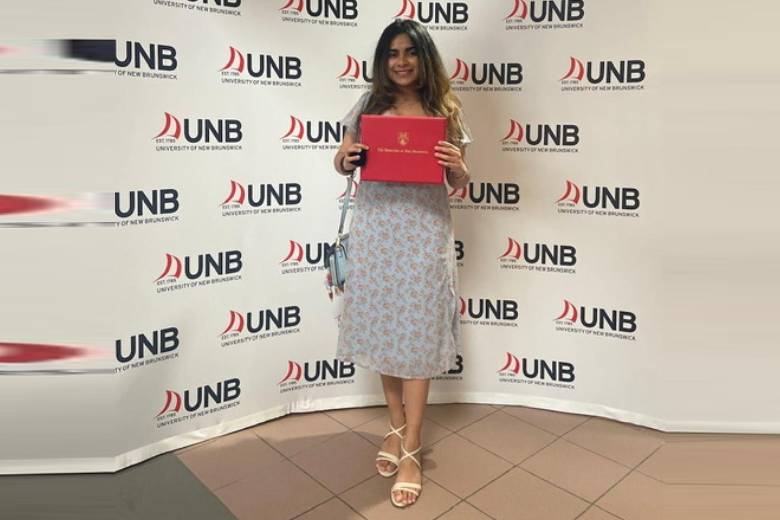 Reflecting on her achievement, Bhaanvi said, "As an undergraduate student, I am honoured and sincerely grateful to be the recipient of the prestigious Sir Douglas Howard Award from UNB. Achieving this incredible recognition required relentless hard work and perseverance. I am wholeheartedly dedicated to upholding the values of this award and remain fully committed to making a positive impact on lives within our community."
---
The annual award acknowledges previous achievements of scholars, with the primary aim to inspire the recipient to sustain their success
---
Bhaanvi is currently working at Deloitte in the Learning and Development Department as part of her internship, which she is scheduled to complete in December 2023, before her graduation from UNB in May 2024. Looking to the future, she concluded, "The opportunity to transfer from Dubai to Canada has opened up remarkable prospects in both my personal life and career. Both CUD and UNB's learning environments have been instrumental in enabling me to grow and aim for my highest potential. My passion is a combination of HR and law, with a particular focus on advocating for marginalised communities and making a meaningful difference in the lives of BIPOC and immigrant populations. I am grateful to CUD for serving as the gateway to my future in Canada."
To read more from CUD