Innovation turns discarded food into renewable energy source
21/12/2022, Dubai, UAE: A team of computer science students from Canadian University Dubai (CUD) has developed a smart solution that aims to reduce food waste by converting it into a source of renewable energy. The technology, known as Digi-Bin, has been created to support the UAE's national sustainable consumption initiative, ne'ma, which aims to half food waste by 2030.
Developed under the banner, 'Resolving food waste while rewarding you', the Digi-Bin is intended to incentivise waste recycling by helping consumers to save on their electricity bills. The solution collects discarded food products and transports them to a biogas plant to be converted into biofuel, which can then be redirected into the power grid. Users are rewarded with carbon credits, which can be applied as savings coupons on their electricity bills.
The Digi-Bin was first conceived by the team of Zahab Khan, Prateek Mishra, and Denver Dias, in response to a competition called 'Future Disruptors', organised by technology firm, Software AG. The competition called on students to form small groups to present innovative projects that focussed on an aspect of the United Nation's Global Sustainable Development Goals.  
Revealing their thinking behind the project, Zahab said, "We were inspired by an article we read that explained how food waste was costing the UAE around AED 6 billion each year. We wanted to create something that would help tackle this, and that everyone in the UAE could contribute to. The solution involves managing food waste at a household level and actively encouraging users to contribute towards sustainability through the award of carbon credits."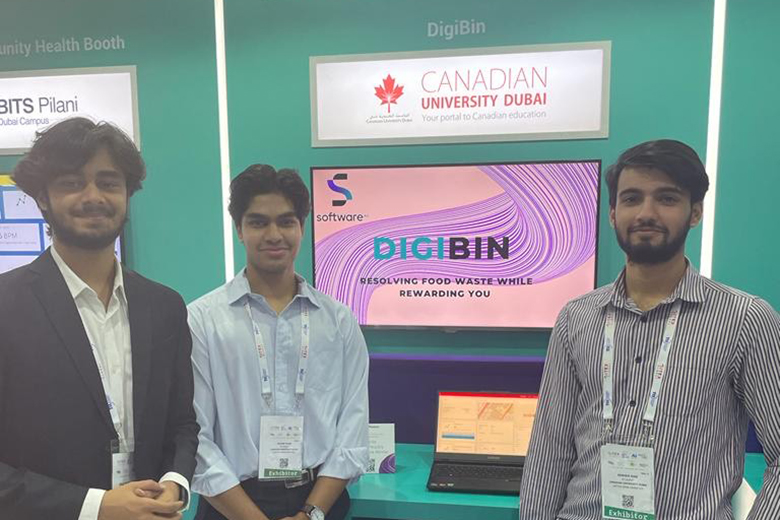 Explaining more about the technology behind the solution, Denver said, "The Digi-Bin uses multiple sensors, which work alongside the Internet of Things to connect the user through a smart app. With the Software AG dashboard, the weight of the food deposited into the Digi-Bin can instantly be calculated and displayed to the user's mobile app. A filled Digi-Bin is transported to a biogas plant to be converted into biofuel and any food waste that is not suitable for this process is segregated to produce fertilisers."
The CUD students were selected among a handful of teams to showcase their prototype at the 'Future Disruptors Zone' during this year's GITEX, where they demonstrated their commitment to tackling the global sustainability challenge. Prateek explained, "The hypothesis of the project is that food waste is generated and populated from all corners of the earth. Our generation has been gifted with substantial advancements in technology, which can be applied to pursue sustainability, and this is the essence of our invention."
Determined to see their project come to life in the near future, Zahab, Prateek, and Denver are now working to refine the technology and build the professional networks that will help take their innovation forward. Zahab said, "At the moment we're still relying on user-segregation of waste, so we would like to build in artificial intelligence to make the process easier. We also hope to see a growth in the number of facilities that can convert the waste into fuel, to help the innovation reach its potential in re-using food waste in a sustainable way." Reflecting on their inspiration for the project, Denver concluded, "Ultimately, we hope that the Digi-Bin can contribute to one of the main goals of the national ne'ma initiative, to mobilise individuals and local communities to take collective action. By promoting new, positive behaviours, we can help contribute to the UN SDG target of reducing food loss and waste by 50% by 2030."