Students from Canadian University Dubai (CUD) have joined together to combine artificial intelligence, mechatronics, and social robotics to develop an innovative solution to sort household waste both swiftly and accurately. Known as the Social Robot Garbage Classifier, the smart bin is the product of a collaborative project between students from the School of Engineering, Applied Science and Technology; and the Department of Public Health.
Created to provide users with an interactive and engaging companion to support waste disposal, the artificial intelligence-driven solution was first conceived by Computer Network Engineering major, Jehad Al Jaghoub, and Public Health major, Abdullahi Suleiman. Designed and developed with support from fellow technology and public health students, the smart bin aims to bridge the gap between humans and technology, making waste management a more engaging and accessible task, where users can interact with the device and provide input on the type of rubbish they discard.
---
AI-driven solution uses social robotics to improve waste management
---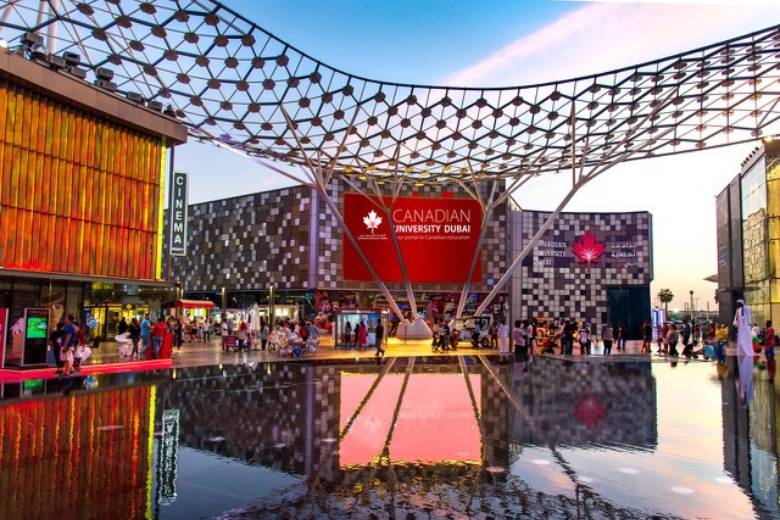 Explaining the inspiration and the technology behind the solution, Jehad said, "Often people will not sort recyclable materials, or will accidentally place items in the wrong bin. Our goal is to improve the outcome of recyclable garbage sorting, and ultimately, to see these smart bins installed across Dubai. The mechatronics system uses mechanisms such as sensors, which allow the robot to interact with users and understand their waste disposal needs. Precision-engineered actuators then translate this input into actions, ensuring that trash is correctly sorted and discarded."
Fellow developer Muhammad continued, "The camera-based waste detection system uses advanced image recognition algorithms to identify items swiftly and accurately, enabling bottles, cans, and other recyclables to be identified with remarkable precision. This advanced system minimises errors, guaranteeing that waste is accurately sorted and disposed of, making a significant contribution to sustainable waste management."
---
"Our goal is to improve the outcome of recyclable garbage sorting, and ultimately, to see these smart bins installed across Dubai."
---
Mentoring the students through the prototype were Drs. Sherif Moussa and Aseel Takshe. Dr. Moussa, Dean of CUD's School of Engineering, said, "I am immensely proud of the innovative work carried out by our students in collaboration with their peers from the Department of Public Health. The creation of the smart bin is a testament to the interdisciplinary excellence that our institution promotes. This project not only showcases the ingenuity and creativity of our students but also underscores the vital role that engineering and technology play in addressing real-world challenges. Waste management is a global concern, and the Social Robot Garbage Classifier is a prime example of how technology can be harnessed to make significant contributions to sustainable practices."
The students' newly developed prototype is set to compete in two forthcoming regional innovation competitions, including the Institute of Engineering and Technology GCC Robotics Challenge, which this year focuses on solutions for socially interactive robotics.
Supporting the students to take the project forward to the competition is CUD Assistant Professor, Dr. Salih Rashid Majeed, who concluded, "This smart bin is a remarkable innovation at the intersection of social robotics and mechatronics system design and represents the university's strategy to harness the power of artificial intelligence to deliver sustainable practices. The social aspect of the robot creates an intuitive and user-friendly waste disposal experience that has the potential to reshape waste management as we know it."
To read more from Canadian University Dubai