A graduation project developed by Canadian University Dubai (CUD) student Mariya Ghanchi, has received the Highly Commended Award in the Student Interior Design Concept of the Year category at the Middle East and North Africa Commercial Interior Design (CID) Awards 2023. The award-winning concept, titled 'The Oasis Student Hub', was designed to cater to students in a constant state of stress, to provide a space for comfort and relaxation to help them regain focus and promote positive mental health.
Inspired by her own experiences of alleviating anxiety, Mariya set out to design a space based on the concept of biophilia, using connections with nature to create a harmonious environment to help visitors unwind and refocus. Mariya explained her motivation for the project: "Rates of stress and anxiety among UAE youth are at an all-time high, and there is a lack of facilities that integrate design to promote productivity and mental health through both physical and visual strategies."
---
Oasis to promote positive mental health receives high commendation in CID competition
---
Sharing her experience, Mariya continued, "When I found myself stressed with university assignments and exams, there was a place in the communal area on campus where the natural light created a soothing space, and I could sit and feel at peace. This encouraged me to research the biophilic design theory and incorporate this, along with other components that promote psychological wellbeing, into the concept for my BSc in Interior Design graduation project."
Explaining the layout of the facility, Mariya said, "The hub is segmented into three zones: The Replenish Zone, encompassing spaces such as the yoga room and meditation area; The Reconnect Zone, comprising social areas and group study spaces; and The Refocus Zone, housing facilities such as the library, and dedicated reading and study areas. It also incorporates elements aligned with the Blue Mind Theory, which describes the tranquil state individuals enter when they are close to, in, on, or surrounded by water. These aspects are integrated throughout the hub, emphasising the courtyard, where water features and water jets create a soothing environment."
Mariya was one of four CUD students among the five finalists shortlisted from hundreds of entries for the CID award for Student Interior Design Concept of the Year. Now in its seventeenth edition, the annual CID gathering is renowned as one of the most significant events on the regional design calendar. The student award was presented for the first time this year in recognition of the emerging young talent in the industry.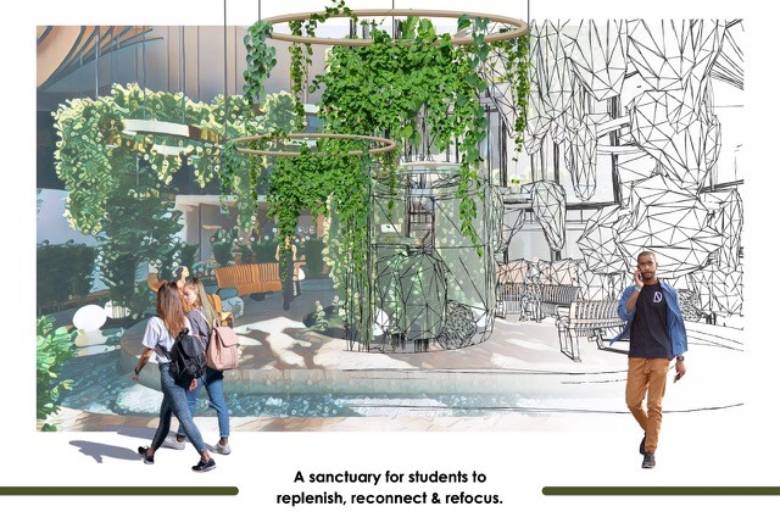 ---
"This recognition motivates me to keep exploring the frontiers of design innovation."
---
On receiving the award, Mariya said, "I am grateful to the CID community for introducing this category to students this year, and I am extremely honoured to be the recipient of this award. Such a milestone would not have been possible without the exceptional guidance and mentorship of my professors at Canadian University Dubai, which has played a key role in shaping my identity as an interior designer today. This recognition motivates me to keep exploring the frontiers of design innovation."
Among Mariya's mentors throughout the project was Assistant Professor in CUD's School of Interior Design, Ms. Sophie Johnson, who said, "We always encourage students to take part in competitions, to develop their presentation skills beyond the classroom and get a first-hand glimpse of the industry in practice. Mariya was extremely dedicated throughout the process; driven by her personal experience, she combined it to create a powerful design concept. It was a pleasure to be part of her journey."
Mariya, who is currently working in the industry since completing her interior design internship, is committed to staying in Dubai to embark on her vocation locally. She concluded, "I am excited for the prospects that lie ahead in the industry's future. This accolade from CID will help drive my professional journey and expand my career prospects in the field."
To read more from Canadian University Dubai