It was a successful first term at Bloom World Academy, featuring the introduction of several firsts in the United Arab Emirates, such as the later school start time of 9.00 am and a flexible school day. The Academy's 'dare to be different' approach has proven immensely popular with parents, students and teachers, allowing for student learning to be in balance with family life. As well as honouring young people's natural sleep cycles, the later start time is considered to optimise productivity throughout the school day, as well as offering a significant improvement to students' overall wellbeing and physical health.
The later start time of 9.00 am is supported by a combination of optional wraparound care and an extensive selection of co-curricular activities including sports, arts and homework club from 8.00 am to 8.45 am and from 4.00 pm to 5.00 pm. To accommodate the dynamic requirements of daily life, families are able to design their own bespoke school timings around the official school day of 9.00 am to 4.00 pm, with wraparound care giving the school the opportunity to widen the curriculum as well as supporting parents who are looking for an extended timeframe of childcare support.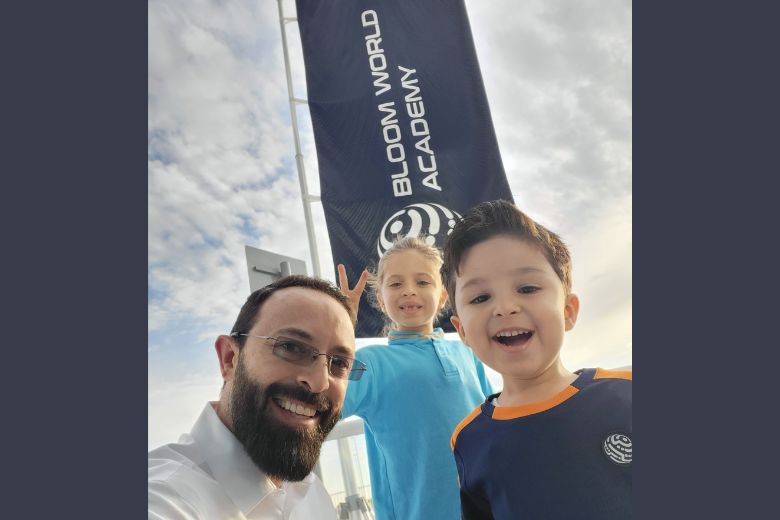 ---
Bloom Education's first own-brand IB school dared to do things differently and was the first school in the Emirates to offer a later start time of 9.00 am
---
Bilal Sabouni, parent of Danny (Pre-k) and Myla (Grade 2) said: "The later start to the school day had an enormous positive impact on our lives. The added sleep has been a major advantage to our kids' health, happiness and wellbeing. The kids' time is now much more aligned with our work timings and therefore we can drop them off on the way to work without getting into the office two hours early. We had been paying huge sums of money for buses that are now no longer needed. The other advantage of dropping them off ourselves is the extra time spent with the kids, which is priceless. I was barely seeing them before with my hectic schedule.
"Overall, we think Bloom World Academy's approach to timing is progressive and logical. It benefits all key stakeholders, including kids, parents, nannies, the school faculty and the administration team."
Myla said: "I really love the later school start because now I never wake up tired. In my old school, I was always waking up tired, and sometimes it was really cold waiting for the bus outside. Now my dad takes me to school every day on his way to work and I love spending more time with him."
---
The flexible school day has proven immensely popular with parents and students alike
---
Farrah McLean-Reeks, a parent of Nikitah (Deputy Head Girl Grade 5) and Declan (Grade 1), said: "Bloom World Academy's later school start has been an ultimate game-changer for our family's morning, and evening, routine. It has ensured a calmer wake-up routine – not only for the children but also for us as parents. The later start allows our children to prepare their own breakfast and enjoy it at a leisurely pace. Having ample time for dressing guarantees the children leave for their school day in a positive mood. Anxiety is avoided as there has been no mad rush to start the day with.
"As my husband works in the city, he does the morning drop-off. However, the later start also means that he can visit the gym for a morning workout before joining the children for breakfast. It also means less traffic. At times we hit the back of traffic at certain spots, but we cannot complain about the traffic flow at all. We are also saving on fuel, emitting less carbon emissions, and less time is wasted generally."
Declan said: "I like that school starts later because I can sleep in a bit, and I get some time to draw and play before school," with his sister Nikitah adding: "I enjoy the later start as it allows me to wake up naturally and have extra time to be ready and organised for my day ahead. We eat breakfast together as a family and laugh and chat before having to get ready to leave for school."
Nilufar Yuldash, parent of Kamronbek Abdugafarov (Grade 3) explained: "As a working mom, my biggest guilt was not spending enough time on weekdays with my son. He would have to get dressed quickly and just grab a bite as he woke up at 6.00 am and had to catch a school bus at 6.20 am, so we had no time together at all on weekdays. Nowadays we wake up without pressure, enjoy our breakfast together and chit-chat. We also have the luxury of watching TV together after dinner or reading a book before his bedtime, which has moved to 8.30 pm. Kamron is a happy child, but I feel like he is even happier since we have been able to spend more time together."
With a belief that education should be dynamic, creative and constantly evolving, Bloom World Academy is an innovative, family-first IB curriculum school for students aged 3 to 18 years old. Conceptualised and created by the expert minds at Bloom Education, Bloom World Academy is a school that dares to do things differently. While providing the high quality of education expected from a premium school, it takes an approach that is flexible and customised for each child, making it the ideal choice for parents who care as much about how their child experiences their education, as the end results.
Bloom World Academy opened its doors for Pre-KG to Grade 9 students at its state-of-the-art campus in Al Barsha in August 2022. Enrolment is now open, with limited spaces available across year groups. For more information, please visit www.bloomworldacademy.ae or contact (+971) 4 371 4774.