American University of Ras Al Khaimah (AURAK) has continued with its expansion by opening two new facilities on the campus: a three-storey Saqr Library building and a dedicated Abdulla Bin Ali Al Sharhan Arts and Sciences Building.
His Highness Sheikh Saud Bin Saqr Al Qasimi, Member of the UAE Supreme Council and Ruler of Ras Al Khaimah, inaugurated both the facilities and toured the sites, reiterating his vision of "education being the main key to human development, and investment in people is real investment carried out by the UAE to meet current and future challenges."
The Saqr Library is housed in a three-storey building spread over an area of 35,000ft2. It stocks more than 250,000 books and 300,000 e-books and journals. It also has an auditorium, conference rooms, study rooms, private collection room, modern café, and lounge area.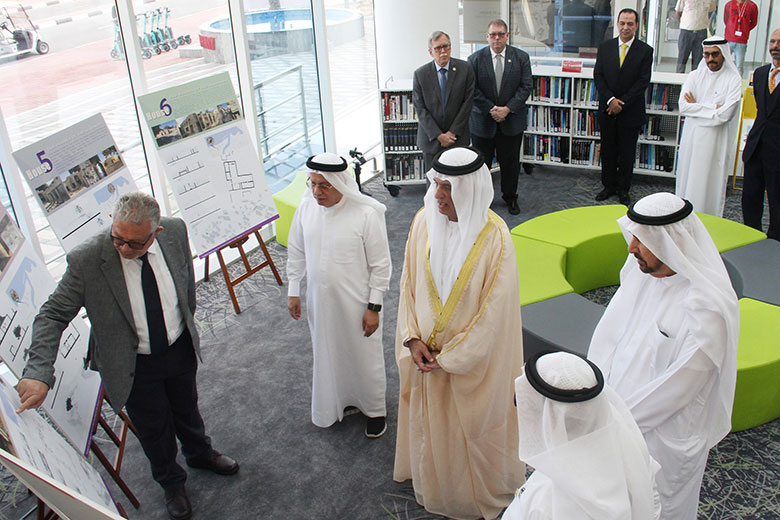 ---
His Highness Sheikh Saud Bin Saqr Al Qasimi, Ruler of Ras Al Khaimah, inaugurates both buildings
---
The Abdulla Bin Ali Al Sharhan Arts and Sciences building is a dedicated state-of-the-art facility, spread over an area of 75,000ft2, and has 16 classrooms, 12 science labs, and two audio and video studios. The labs offer students research tools in microbiology, forensic sciences, cell culture, physics and chemistry, language, etc. The building hosts classes for general education subjects, undergraduate students in Biotechnology and Mass Communication, and master's in Educational Leadership, including Postgraduate Diploma in Education.
The inauguration event was attended by Mr Mohammed Omran Al Shamsi, Chairman of the Board of Trustees, Professor Hassan Hamdan Al Alkim, President of AURAK, faculty and senior dignitaries, in addition to the university's senior management.
Prof. Hassan Hamdan Al Alkim said: "The two buildings with state-of-the-art facilities are a brand new addition to the 1.3 million sq. ft. AURAK campus where students from over 50 nationalities study. The new facilities have been designed to the highest global standards and will enable us to raise the bar further on our integrated American-style undergraduate and graduate programs, accredited by local and prestigious international organizations."
AURAK offers Bachelor, Master, and Post-Graduate diploma programmes in Educational Leadership, Business Administration, Engineering Project Management, Mass Communication, Biotechnology, Accounting, Finance, HR Management, Marketing, Architecture, Chemical Engineering, Civil and Infrastructure Engineering, Computer Engineering, Computer Science, Electrical Engineering, Electronics and Communications Engineering, Industrial Engineering, Mechanical Engineering and Petroleum Engineering, in addition to professional development courses through the Centre for Executive and Professional Education (CEPE).