Wondering what the best laptop is for studies and play? NVIDIA GeForce RTX™ laptops do so much more than boost high-performance gaming applications – they also supercharge studies for students in the STEM field and they are the ultimate laptop for content creation.
Powered by award-winning GPUs paired with exclusive NVIDIA driver technology, these sleek yet powerful machines revolutionize how students play, learn, and create. Students can accelerate and energize their STEM and creative apps for class, and also enjoy the latest PC games with realistic ray-traced graphics and cutting-edge AI features on the same laptop.
GeForce laptops provide GPU acceleration for top applications used in Engineering, Computer Science, Data Science, and Economics. This translates to interactive, real-time rendering for complex component designs and simulations, faster image and signal processing, and the ability to develop larger, more accurate AI and data science models. With GPU acceleration, students can complete their work faster – spending more time learning and less time waiting.
---
GeForce laptops provide GPU acceleration for top applications used in Engineering, Computer Science, Data Science, and Economics
---
Key Reasons Why Students Should Consider NVIDIA Studio Laptops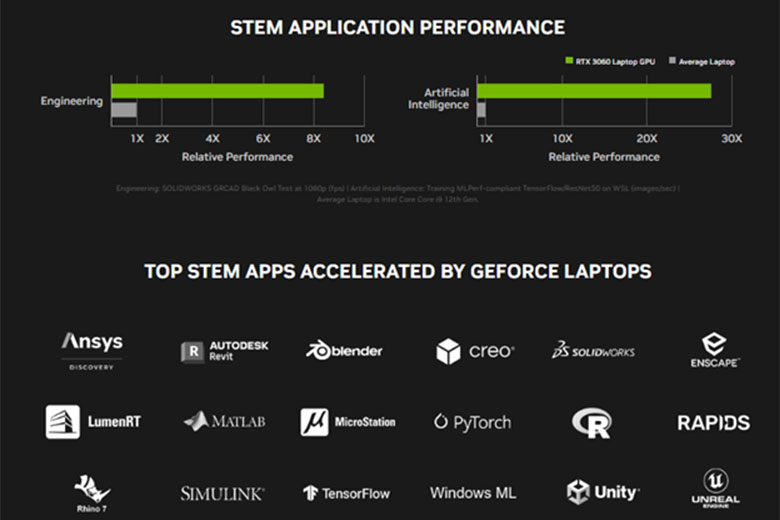 NVIDIA Studio is a complete end-to-end accelerated computing platform to help students create faster and better.
PERFORMANCE – NVIDIA Studio products are equipped with the RTX GPUs: the most advanced and the fastest GPU in the world. They provide 5X faster performance for 3D content creation and are the fastest when it comes to video and photo editing.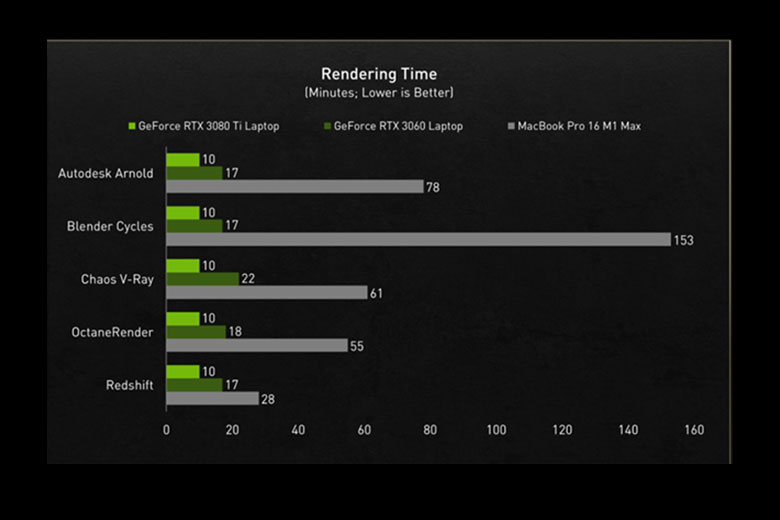 AI ACCELERATED APPS – NVIDIA Studio has over 75 of the top creative applications accelerated for RTX GPUs, including the top apps for photography: Adobe Photoshop and Lightroom; the top apps for video editing: Adobe Premiere Pro and Blackmagic DaVinci Resolve; the top broadcasting app, OBS Studio; and every major 3D rendering app including Blender, Autodesk Maya, 3DS Max, and V-Ray to name a few – and all of this is in addition to over 200 apps that are accelerated for NVIDIA GPUs. Moreover, with NVIDIA Studio drivers, creators can enjoy a super stable experience as NVIDIA drivers are thoroughly tested against a long list of the top creative apps avoiding system crashes or excessive lag while working.
EXCLUSIVE FREE APPS – Another great reason is the fact that NVIDIA Studio has a powerful set of exclusive free apps to support creators in unique ways such as NVIDIA Omniverse to accelerate 3D creation and collaboration, and NVIDIA Broadcast. NVIDIA Broadcast allows users to use AI to enhance their microphone, webcam and speakers, turning any room into a home studio. It's incredibly useful for streamers, but also students, making it easier to engage in lectures delivered online, attend professional meetings and collaborate with lab group members from anywhere. Canvas allows creators to draw beautiful landscapes with a few simple strokes, vastly reducing the time spent on drafting and concept work.
---
NVIDIA Studio is a complete end-to-end accelerated computing platform to help students create faster and better
---
Finally, NVIDIA's world-leading AI software stack comes to Windows 11, helping those STEM students studying artificial intelligence and data science learn with the same tools that they will use in the industry. Watch this video and check out this page to learn more.
Currently, the largest growing sector when it comes to content creation is 3D. We are seeing how several factors are converging towards it – the eruption of virtual worlds, the increase in usage of AR and VR, and the increased accessibility to creation tools that allow artists to dive into 3D. Most content creators will have to start adding 3D creation to their workflow. And to support this, NVIDIA Studio Laptops stand in a class of their own. Let's take a look at the top five 3D rendering apps, and see how the performance compares between NVIDIA Studio Laptops and the MacBook Pro 16 MI Max.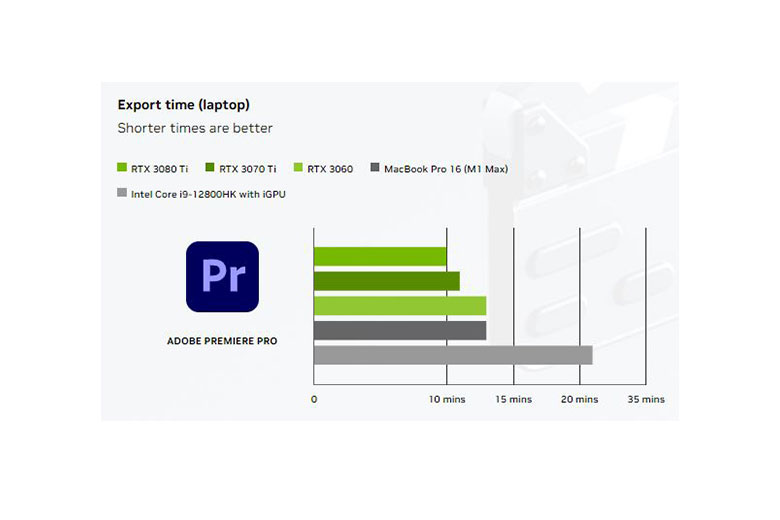 This amazing performance comes from the RTX GPU – which is not only faster but also features dedicated hardware acceleration for ray tracing, and AI de-noising for quick and responsive feedback. On top of this, considering the possibilities that the NVIDIA Omniverse platform provides, there's really only one choice for creators – NVIDIA Studio.
Not only are NVIDIA Studio Laptops perfect for 3D artists, but they are also fantastic for video and photo editing. We can see the benchmark of NVIDIA Studio Laptops in the most popular photo editing apps. In a sample project, NVIDIA GPUs finish the work much faster than MacBook Pro 16s with the M1 Pro or M1 Max.
Another great reason is the extensive choice in form factors, features and performance as NVIDIA Studio is available in a wide array of Studio validated systems: from ultra-portable laptops to all-in-one minimalistic PCs, to ultra-powerful multi-GPU workstations.
Ultimately, NVIDIA Studio is a comprehensive top to bottom platform providing distinct value to creators. To learn more about NVIDIA Studio, click here.
To browse some of the available NVIDIA Studio Laptops at Virgin Megastore and Jumbo
Electronics in the UAE, please see below.