In line with Abu Dhabi University's (ADU) ongoing efforts to provide students with a well-rounded educational experience, ADU hosted the third annual career fair to allow current students and alumni to discover employment and internship opportunities in their fields. Organised by ADU's Employability and Alumni Relations office, the career fair seeks to assist students and alumni in achieving their career goals by preparing them for the future career market by connecting with industry leaders and professionals.
The career fair serves as a testament to the University's strategic goals and objectives, which are centered on providing students with an exceptional education, preparing them for the job market and actively contributing to community development. Similar events serve several priority pillars of the University's 2027 vision including "elevating student success and experience."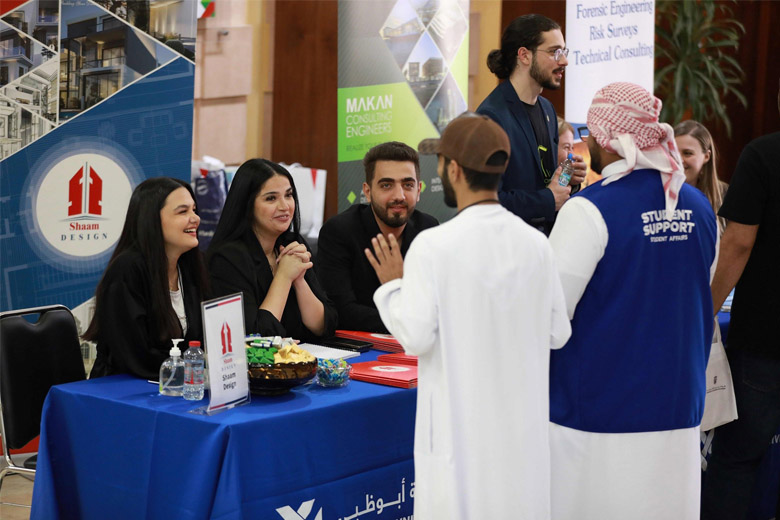 The event witnessed an attendance of over 750 current and graduate students and 55 organisations from the public and private sectors. The career fair engaged with organisations from across various fields including finance, education, engineering, healthcare, media, technology, and many more. During the fair, students had the opportunity to meet with recruiters, learn about job openings and engage in discussions about potential career paths.
The fair enabled students to showcase their skills, build their professional network and gain insights from experienced professionals. The event also served as a platform for employers to connect with talented students and graduates, learn about their skills and qualifications as well as identify potential candidates for their organisations.
Dr. Chakib Farhat, Dean of Student Affairs at Abu Dhabi University (ADU), said:"The career fair offers students an invaluable opportunity to forge connections with prestigious organisations, gain insights into the dynamic job market and bolster their professional networks. The fair serves as a platform for our students to explore new career options and stay informed about the most in-demand fields, empowering them in their career decisions and educational choices. We at ADU are dedicated to evolving our programmes and offerings constantly to provide an exceptional academic experience that empowers students to thrive, excel and prepare for their future careers."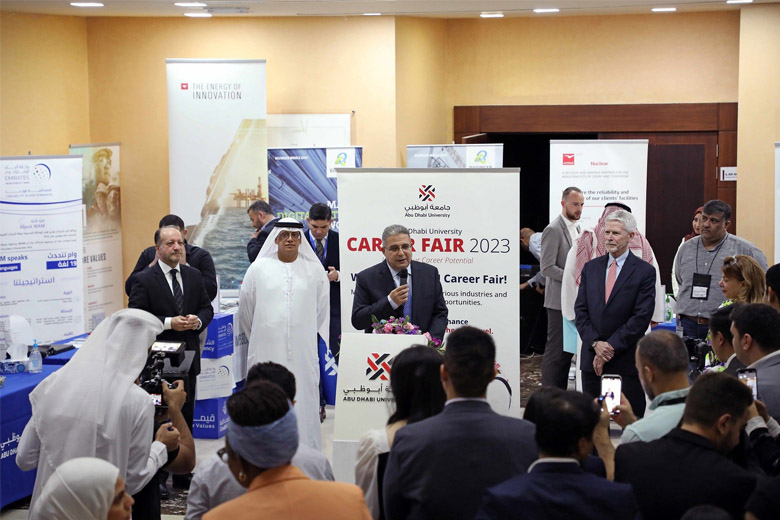 ---
The event witnessed an attendance of over 750 current and graduate students and 55 organisations from the public and private sectors.
---
Dr. Farhat added: "At ADU, students remain a top priority – we continuously aim to foster critical and analytical thinking with a focus on equipping students with 21st-century skills by offering access to a wide range of internships and career opportunities through public and international partnerships with leading academic institutions and employers. We extend our utmost gratitude to all the organisations that generously shared their expertise, addressed student queries and provided important guidance on navigating future job applications."
Nada Heggy, Officer of the Employability and Career Services at Abu Dhabi University, said: "The ADU career fair 2023 under the theme of 'Unlock your Career Potential' served as an excellent opportunity for our students and alumni to connect with leading companies across various industries. This year's fair provided a nurturing platform for students and alumni to explore potential career paths, gain practical knowledge and skills and engage with industry professionals from some of the region's most prestigious organisations. With over 55 participating companies from diverse industries, our students had the chance to learn about job openings and engage in meaningful discussions about their future careers. We are proud to offer our students with such opportunities that support our ADU 2027 vision of Student Success and Experience as a key pillar."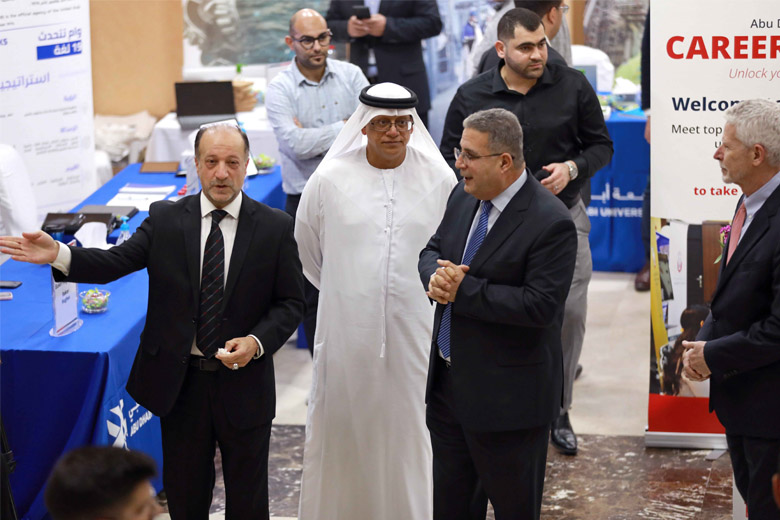 This year, ADU celebrates 20 years of shaping the future through academic excellence and ongoing contribution to the academic sector in the UAE and across the globe. Additionally, ADU provides graduates with the tools and resources they need to become influential future leaders who are aware of the demands of the market of the future. 
For more information about Abu Dhabi University