Why is sport important in a school setting? Well, there are many reasons. Sport develops transferrable skills that children will use throughout life, whether that be hand-eye coordination in Early Years or teamwork, self-discipline and collaboration as pupils progress through Prep and Senior School. It also offers fantastic opportunities to get involved in inter-school and even international events. Being part of a school team (we have 40+ to choose from) is a great way to broaden your horizons, make new friends, build your self-confidence and feel a part of something meaningful.
At Brighton College Dubai we are fortunate to have world-class sporting facilities including a 25m swimming pool, two football pitches, a fully equipped gym, 400m running track, a full-size rugby pitch, and multi-purpose tennis, basketball and netball courts, as well as two brand new custom-built padel tennis courts. Our PE teachers are hugely popular for their fun teaching methods and dedication to every pupil; mentoring, coaching and encouraging them to excel in their interest areas. Indeed our own Head Master, Simon Crane, started his career as a PE teacher and still actively participates by taking classes two or three times per week alongside his leadership duties. He believes that 'sport is the cornerstone of any good school' and champions an ethos of 'sport for everyone' at Brighton, which he describes as 'one of the leading sports schools in Dubai for those who enjoy competitive games'.
---
'Being on the stage makes me feel so happy and passionate about dance, I live for that feeling.' – Olivia
---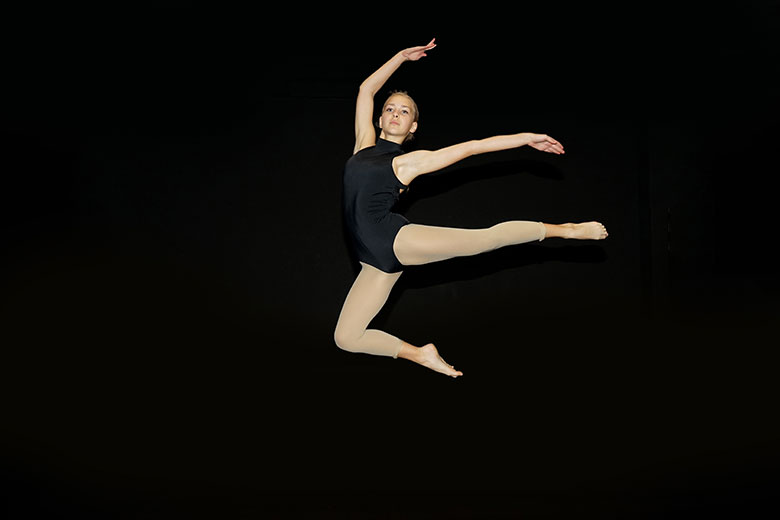 Our most recent sports video showcases not only the facilities and range of sporting activities available at Brighton, but also the enthusiasm and skills of our pupils, many of whom dedicate a large percentage of their time outside of school to the sport they love. We talked to a few of the pupils who made star appearances in the video: Barney, Olivia, Emir and Diya, to find out what drives them to compete and what their experience is of the sporting community and curriculum at the school.
EdUAE: From what age did you start your sport and how did you first get involved in it?
Barney: I started swimming properly and doing competitions for a club when I was around 10 years old. I mainly got involved because my older brother did it. And I wanted to do what he did.
Olivia: I started doing ballet around the age of six, then as a grew older I started doing a variety of styles such as hip hop, funk, cheerleading etc. However, when I got to the age of 11, I began dancing in diverse forms and slowly joined more and more classes. Now I do jazz, contemporary, dance fusion, commercial pop, ballet, pointe, and musical theatre.
Diya: I first got into football at age five as my dad was a big fan and often watched the games on TV. I enjoy the community and the people you meet along the way, as well as the teamwork and quick-thinking skills it develops.
Emir: I started basketball when I was eight, and I was not great at first but with practice, I got better. Now I take part in a league outside of school.
---
'I was proud that I didn't just waste my holiday time sitting around on electronic devices, I challenged myself instead.' – Barney
---
EdUAE: What do you enjoy the most about participating in your sport?
Olivia: I generally just love performing. So, when we have big dance shows, I have so many different numbers full of different styles of music and interesting themes. I dance about and then the feeling of performing and the feeling of being on the stage makes me feel so happy and passionate about dance. I live for that feeling.
Emir: The competitions that we have and the joy I get from playing with my team. We won our second championship at the beginning of this year.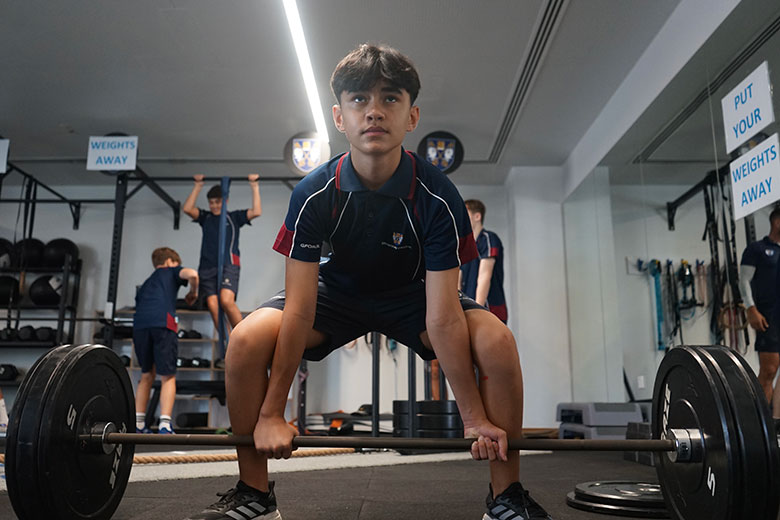 EdUAE: How much time do you spend training per week?
Emir: I spend around 48 hours per week.
Olivia: I train every day except Saturday doing an hour or more of dance. With shows, we have extra rehearsals taking up about two or more hours.
Diya: Three hours per week.
Barney: I train eight to nine times a week within a one and a half-hour training session. Plus three gym sessions per week, which involves waking up at 5.00 am.
EdUAE: What is your proudest achievement?
Barney: I swam 5km in the sea off the Devon coast to raise funds for the Alzheimer's Society last summer. It took one and a half hours to complete and the water was much colder than I was used to in the pool, but I got a real buzz from completing the swim and raising money for charity. I was proud that I didn't just waste my holiday time sitting around on electronic devices, I challenged myself instead.
Olivia: My proudest achievement would be the trophies and medals I have won from dancing in England on multiple occasions.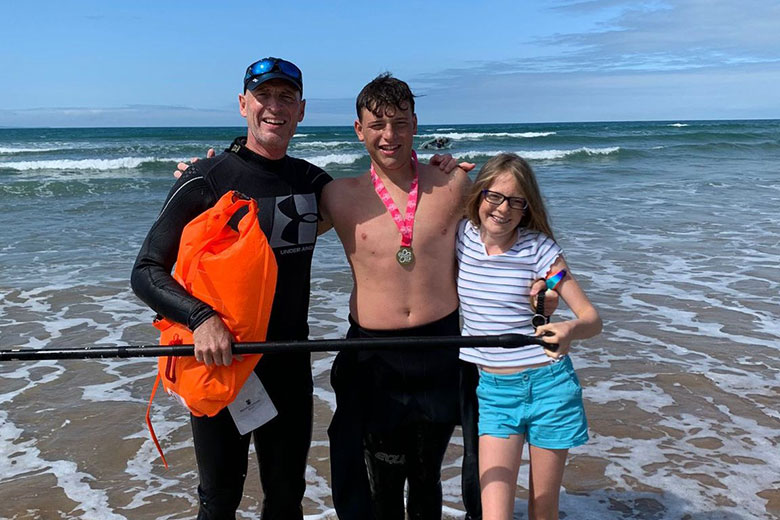 ---
'Sport is the cornerstone of any good school' – Head Master, Simon Crane
---
EDUAE: What is your favourite PE class and why?
Olivia: Even though I absolutely love dance, I also generally love playing sports at school. My favourite would be netball, rounders and basketball. I never really liked them before but now that Brighton has taught me how to play, I really enjoy them.
Barney: Any PE lesson is fun. We always make the most out of our PE lessons, doing different sports all year round, with amazing teachers such as our PE teacher Mr Overton.
EdUAE: What is your experience of studying at Brighton College Dubai?
Olivia: I started studying at Brighton College just this year so I'm pretty new, but what I've noticed here is that everyone is just friends with everyone and it's really like a whole family, everyone was so welcoming when I came. Also, there are some very nice facilities around the school such as a gym, two fields, a dance studio etc.
Diya: I have had a wonderful experience studying at Brighton College Dubai and have seen not just my intelligence grow but my personal resilience; this school has helped me discover my strengths and what I would like to focus on in the future.
Emir: The teachers are very attentive and the environment is great.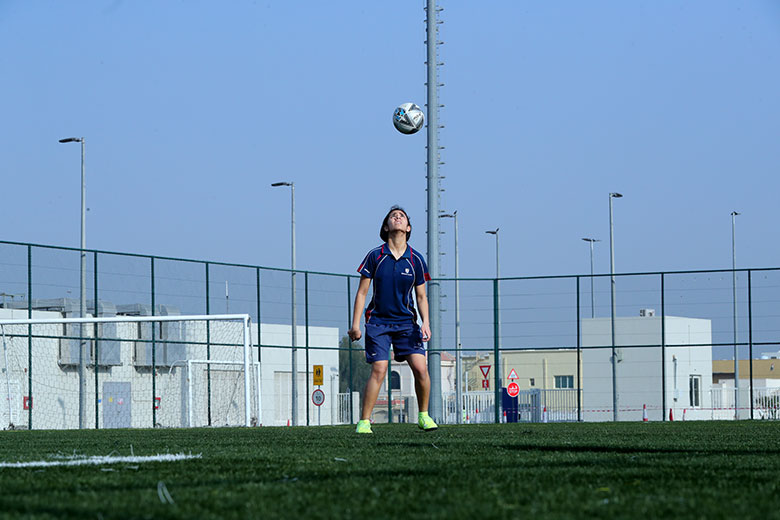 EdUAE: What advice would you give to young people who would like to get involved in sports at a level like you?
Emir: To take the risk and take the sport you do seriously.
Olivia: From what I've learnt in my years of dance, it is a very hard sport and takes so much work and focus, as well as determination, to constantly practise technique over and over until you get it right, it takes a long time, and you need to build on skill over time. When I got moved up to a hard class, I was terrified and had such a hard time in the class as everything was very challenging and I wanted to give up, but I kept going, and over time I worked really hard and now I'm so confident in that class and have improved so much. So, my advice would be to never give up and trust the process because you will improve if you put your hard effort into it.
Barney: I would say never give up. Once you want to do something, get stuck in, go for it- try your hardest.