The 10th edition of the Dubai Women's Run, the largest female sports event in the UAE, took place on Sunday, 5 November, at Dubai Festival City. Organised by Plan b Group, in association with the Dubai Sports Council and the UAE Athletic Federation and supported by the Ministry of Climate Change and Environment, the event welcomed over 3,000 participants who came together to support female health and wellbeing in distance led runs and walks, and ancillary activity events and warm up sessions. 
The event was flagged off by Her Excellency Mariam Almheiri, Minister of Climate Change and Environment, UAE, and alongside her, representatives from the UAE Athletic Federation, Dubai Sports Council and Dubai Festival City were present. 
"It is with great pleasure that I participated in the Dubai Women's Run 2023 in its tenth edition, as this annual event links the pursuit of women's health with the principles of #sustainability and awareness of the effects of #climate_change on women. While we strive to achieve well-being and quality of life, we also bear the responsibility of protecting our environment by working together, and this synergy is vital as we approach the COP28 conference at the end of this month.
---
With its 10th edition, the impactful day celebrated female focused fitness and wellbeing
---
I extend my sincere thanks to all who turned the vision into vibrant action today, and I thank all the women who participated in today's race to raise awareness about sustainability and climate action and the #COP28," said Her Excellency Mariam Almheiri, Minister of Climate Change and Environment, UAE. 
Split into three distance categories, and with a special category for Emirati-only athletes to represent the UAE, prizes were awarded to first, second and third placed participants under the 3km, 5km and 10km distance markers.
3km winners
1st place – Tilly Black 2nd place –Cleopatrah Cornillius 3rd place – Thalia O'Reilly
5km winners
1st place – Emebet Kebede2nd place –Ethiopia Gebremeskel3rd place – Bayise Tolesa
10km winners
1st place – Birtukan Molla2nd place –Megertu Midekisa3rd place – Gerda Steyn
Emirati Category Winners
3km winners
1st place – Alanood Alzaabi 2nd place –Asma Khalifa 3rd place – Roudha Alshehhi
5km winners
1st place – Ruqayya Almarzooqi 2nd place –Shamsa Alqassimi 3rd place – Shamsa Ahmed
10km winners
1st place – Hessa Al Jassmy2nd place –Alya Al Shamsi3rd place – Noura Al Khalaf 
 "We are thrilled at the outcome of the race and are overwhelmed with the support we received! Everyone who attended, whether it was to compete or simply to have some fun with friends and family, they all came together for the greater cause which was to support female health and to promote the importance of exercise. We also thank our wonderful partners who made the event unforgettable," said Dr. Harmeek Singh, Race Chairman – Dubai Women's Run and Founder & Chairman of Planb Group.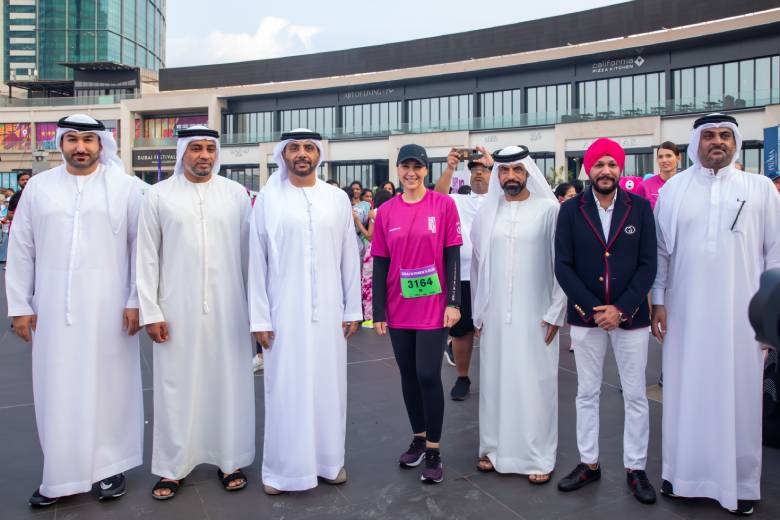 ---
"We are thrilled at the outcome of the race and are overwhelmed with the support we received!"
---
This year's event also included specially chosen ambassadors, including DWR's 10 Women of Substance for Today and 5 Women of Substance for Tomorrow, locally prominent women supporting the mission of female health and wellbeing.  Community Ambassadors were chosen to encourage their own teams to gather in numbers and participate. A Special Olympics Squad with members from Sharjah, Dubai, Khorfakkan, RAK and Abu Dhabi also took part. Joining them were also a number of communities and running clubs, making it a truly community led event. 
Patrons of the event included Dubai Festival City as Venue partner, UformFitness as the fitness partner, Zulekha Hospital as the medical partner, MonViso as the hydration partner, Skechers as the Apparel partner, Sharaf DG as exclusive Tech partner, L'Oreal as the Skincare partner, Chantelle Gulf Trading as Innerwear partner, Gold Collagen as Ant Aging partner, Kaya as Beauty partner, Hunter Foods as Healthy Snack partner, Millennium Hotels and Resorts as the Hospitality partner, Al Ain Farms, Kibsons and Bassam Nader as Support partners, Friends of Cancer Patients as Awareness Partner, Lovin Dubai as Media partner, We Av Events as AV partner, Funun Arts as Art partner and Lolita Events Management as Entertainment partner.  
Stay updated and follow Dubai Women's Run on social media @thedubaiwomensrun.