Looking for a creative way to spend the weekend with fun for all the family? Look no further! With summer fast approaching, XPark by Etisalat will be hosting the 'Back 2 Street' weekend, bringing the season to an end with an action-packed event. Offering a blend of adrenaline-fuelled sports, creative workshops, competitions and crew battles, the two-day event is designed for all ages to enjoy.
Taking place on 13 and 14 May, 'Back 2 Street' is the urban youth festival is inspired by the urban culture and lifestyle around street art, music, fashion, and sports. Developing a space where individuals can express their creativity and showcase their talents, 'Back 2 Street' is another standout activation from XPark by Etisalat to engage the community.
Kickstarting at 2pm, 'Back 2 Street' is the ultimate playground for all things creative and fun. Explore the creative corner and take part in the graffiti workshop which runs until sundown, followed by VR Graffiti and Glow in the Dark wall art workshops, all accessible for AED 30 per person. At a fee of AED 40, music enthusiasts can join the DJ workshop that accommodates six participants per session with individual consoles provided for each attendee. Additionally, for AED 30 per person, 'Back 2 Street' also brings an electrifying B-Boy workshop to keep the rhythm flowing throughout the day.
---
Experience an action packed, fun weekend for all ages from 13 to 14 May 2023
---
Looking for some cool kicks or an edgy t-shirt? Head over to the customisation station where visitors can bring their own shoes to be designed for AED 35 or grab a plain tee for 45 AED to get it spruced up on the spot for an additional fee. Visitors can also expect some jaw-dropping performances with epic battles showcasing dance, rap and beatboxing by top local artists and crews. On 14 May, the festival will host a skateboarding competition from 3pm to 6pm for three separate categories – men, women, and kids under 16 years old respectively. The first winner of each category will receive a Yow Surfskate Skateboard, the second, a Wave Pool Surf experience, and the third, a Rusty Goodie Bag.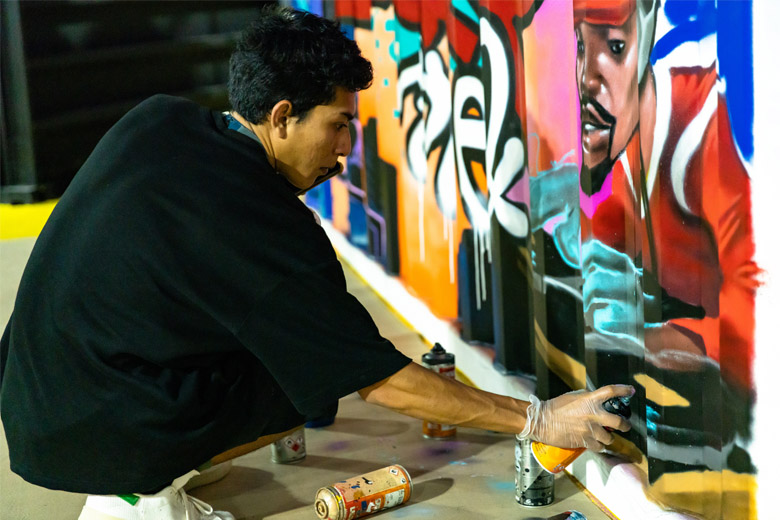 The first of its kind in the region, XPark by Etisalat is situated at the popular beach destination, Kite Beach. Suitable for all ages, it spans 66,000 square feet offering a parkour climbing space, climbing structures, calisthenics and skatepark, while the chill-out zone features a stage, DJ tower and slower paced activities such as giant chess, Jenga and more.
---
Designed to blend urban sports including skateboarding, parkour, wall climbing and more, the venue is taking it up a notch with entertaining activities, workshops, and music
---
XPark by Etisalat's 'Back 2 Street' will take place from 2pm until 9:30pm on 13 and 14 May, Entry to the park is priced at AED 75, with rental of skateboards and scooters available upon request. Don't miss out on a weekend like no other, packed with entertainment, sports, and creativity!
Graffiti Workshop and Glow in the Dark Activity
When: Graffiti workshop is every hour from 2pm to 7pm, then it switches to "Glow in the Dark" activity from 7pm to 9pm, on 13 and 14 May
Where: XPark, Kite Beach – 2nd Street – Umm Suqeim – Umm Suqeim 1 – Dubai
Price: AED 30/person
DJ Workshop
When: every hour starting from 4pm to 9pm, on 13 and 14 May
Where: XPark, Kite Beach – 2nd Street – Umm Suqeim – Umm Suqeim 1 – Dubai
Price: AED 40 per 30 minutes
Clothes Customisation
When: 2pm – 9pm, on 13 and 14 May
Where: XPark, Kite Beach – 2nd Street – Umm Suqeim – Umm Suqeim 1 – Dubai
Price: AED 25/T-Shirt, AED 35/own shoes, AED 45/purchase of new T-Shirt
To read more from XPark